By Beth Holmgren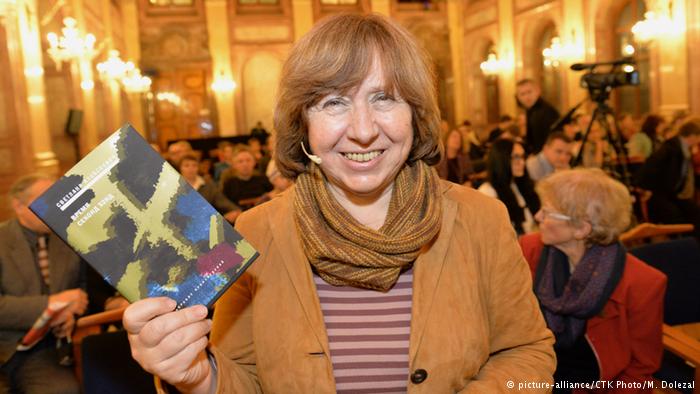 I've long been addicted to Svetlana Alexievich's writing, books that I cannot help but reread and re-experience. Alexievich's winning of the 2015 Nobel Prize in Literature is far more thrilling to me than the same honor bestowed on Aleksander Solzhenitsyn—the Russian-language writer whose work hers somewhat parallels—in 1970. Solzhenitsyn's fictional and nonfictional reconstructions of the Soviet Gulag conveyed urgent information; they inspired awe. Yet Alexievich is an original. In contrast to Solzhenitsyn, the first-person testifier and judge, or Boris Pasternak,
whose preacher-characters in his novel Doctor Zhivago helped net him the 1958 Nobel Prize (which the Communist Party forced him to decline), Alexievich eschews the intellectual's star turn as spokesperson for the Soviet/Russian people. In Alexievich's nonfiction works, she cedes the floor completely to hundreds of eyewitnesses and victims, whom she transforms into storytellers. In response to her patient questions and follow-up questions, her subjects develop into reflective, often conflicted, always riveting narrators.

Alexievich resists being classified as a journalist, though that was how she was trained. Like most Soviet women journalists, she studied to become one (in her case, at the Belarusian State University in Minsk) and then worked at a local newspaper. The Soviet system guaranteed professional training, national circulation, and a sense of connection with the millions whose worldview had been deformed from the outset by the popularized national mythology. Though Alexievich's mother was Ukrainian and her father Belorusian, her native tongue, the lingua franca of her trade, was Russian. Her beat was the entire Soviet Union. With the liberalization of the press in the late 1980s and the fall of the Soviet Union in 1991, Alexievich and other journalists felt driven to disclose the complicated, inglorious truth about the Soviet past and the Russian present.

However, Alexievich's originality emerges quite vividly in comparison with the traditional investigative journalism practiced by her famous contemporary, Anna Politkovskaya (1958 – 2006). Both braved government censorship
and dangerous environments (active battlefields, radioactive fallout) to reach their sources. Politkovskaya made her national reputation reporting on the brutal prosecution of the Russo-Chechen wars, conducting interviews with officials, the military, the police, and Chechen and Russian refugees. Her columns in Novaia Gazeta [New Paper] and the consequent books she created from these columns—A Dirty War and A Small Corner of Hell—exposed abuses on all sides: the Russian military, Chechen rebels, and Chechen leaders backed by the Russians. Politkovskaya's investigative journalism quickly spilled over into pragmatic activism, as she facilitated civilian evacuations and responded to pleas for aid, representation, and even hostage negotiation. That activism also marked her as a target; she was assassinated in her Moscow apartment building in 2006, a terrible measure of the oppositional power she wielded.

Alexievich too cares deeply about the sufferings of her subjects and has risked her life to listen to them. Yet she has cultivated neither the public persona nor the passionate, judgment-rendering voice of Politkovskaya. The famous journalist used her persona and voice to evoke her readers' courage, to make them face her shocking discoveries and to remain unsatisfied with official whitewash and silence. Alexievich is more astute and curious about how the Soviet master narrative has crippled the individual citizen's ability to navigate political betrayal and moral complexity. The Stalinist values of the unquestionable goodness of the state, the self-sacrifice of the true patriot, and the evil of those who criticize the government's handling of wars or other disasters are deeply embedded in the Soviet and post-Soviet psyche—especially among those who served in the military or lost loved ones. While Politkovskaya treated writing as a means to an end, Alexievich approaches writing as an end in itself. In Alexievich's works, the survivors have the last word, as they question the authority and wisdom of official history, rail at its lies, and fill its silence with personal testimony and reflection.

Alexievich's first two books interrogated that Soviet holy of holies, the Great Patriotic War (called World War II in the West), in which, according to the Soviet master narrative, the USSR saved Europe from the Nazi hordes through enormous sacrifice and valor. War's Unwomanly Face and Last Witnesses (still untranslated) articulate, respectively, the stories of women combatants and of those who experienced this ordeal as children. These witnesses' experiences of the war tend to be confounding and devastating, not clearsighted and grand. Alexievich's best-known books to date are Zinky Boys: Soviet Voices from the Afghanistan War, and Voices from Chernobyl: The Oral History of a Nuclear Disaster. Zinky Boys (the adjective derives from the zinc coffins in which the dismembered corpses of fighters were sent home to the USSR) focuses on the 1979 – 1989 Soviet-Afghan conflict, the USSR's rough equivalent to America's Vietnam War. In it, Alexievich draws upon copious interviews with soldiers, officers, nurses, prostitutes, and the families of those fighting—primarily the soldiers' mothers. Voices from Chernobyl ("Chernobyl Prayer" in Russian) unsparingly tracks the horrific toll that radioactive fallout from the Chernobyl meltdown has taken on the disaster's unsuspecting "heroes," area residents, and new settlers who have moved into the sinisterly spacious "zone." Alexievich interviewed more than 500 people, among them workers, scientists, doctors, soldiers, miners, refugees, and new settlers.

Over the long genesis of Zinky Boys and Voices from Chernobyl (which took ten years to complete), Alexievich
perfected her unique creative technique. Some critics compare her texts to collages or mosaics, yet they unfold like narratives, chronologically, over time. Her method reminds me of the approach of the documentary filmmaker Marina Goldovskaya—another keen observer of Soviet and post-Soviet life. For her first feature, Goldovskaya lived with her subjects for months, collecting footage and revealing, insofar as she could, her subjects' characters and inner worlds through her shot selections. Similarly, Alexievich works and lives with her subjects, conducting extensive interviews, returning to certain key subjects to elicit more information, and finally trying out stories as read and recited monologues, then distilling and ordering them for the maximum artistic and psychological effect. Her books captivate readers as riveting, soul-searching, performance-testimonies, as history retold through hesitantly articulated trauma.

In the future, Svetlana Alexievich will continue her "history of human feelings," as she calls it—though it may be decades before her books can be widely distributed in Russia and Belarus. Still, readers everywhere can take comfort in the fact that Alexievich is creating a lasting "antimonument" of the Soviet and post-Soviet experience, a great progression of stories through which the people, so often ignored, search and feel for the truth.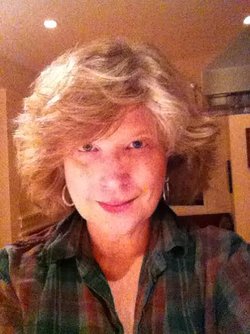 Beth Holmgren is professor of Russian and Polish Cultures in Duke University's Slavic and Eurasian Studies Department. Her recent books include Starring Madame Modjeska: On Tour in Poland and America, which won four national awards, and with Choi Chatterjee, Americans Experience Russia: Encountering the Enigma, 1917 to the Present. She is currently working on two books, one a co-edited volume with Yana Hashamova and Mark Lipovetsky, Transgressive Women in Modern Russian and East European Cultures: From the Bad to the Blasphemous, and the other a monograph, How the Cabaret Went to War, about the experience and influence of acculturated Jewish cabaret artists attached to the Polish II Corps during World War II.