By Linda Gordon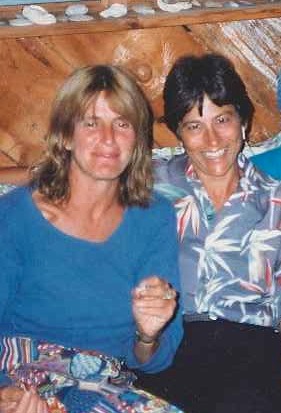 Ros Baxandall (left) and Linda GordonRosalyn Fraad Baxandall, who died on October 13, 2015, at age 76, was my co-author and close friend. Even more importantly, she was one of the founders of the women's liberation movement, an activist for a range of social justice issues, and a historian of gender and women.

Ros's death leaves feminists of my generation bereft, not least because she was so youthful. She embodied the spirit of the women's liberation movement of the 1960s and 1970s, a historical moment both painful and blissful. With one friend from my small part of that movement, Boston's Bread and Roses, we joked about wanting a "consciousness lowering" group, because our raised awareness of the injuries of gender was so frustrating and angering. Yet it was the best of times, for the movement brought us the exhilaration of solidarity, the deepest of friendships, and an unmatched hopefulness.
As I played my small part in helping Ros through her four months of dying, a time in which a brain tumor kept her from sustained conversation, I had a lot of time to think about her contributions and what made them possible.

Ros was a born rebel. Her attraction to risk-taking and nonconformity may well have been inborn. But she also had a personal history that shaped her, and to a historian like me, that background seems worth recounting. Born June 12, 1939, in New York City, Ros was raised in a distinguished left-wing family. Her father, Lewis Fraad, chaired the pediatrics department at Bronx Municipal Hospital, part of the Albert Einstein medical school. Upon his retirement, Einstein named its department of pediatrics for Fraad, although he was a Communist. Committed to providing health care to all, Fraad supported the 1970 takeover of the Bronx's Lincoln Hospital by the Young Lords, an action designed to dramatize its failure to serve the community adequately. Despite his elite background, he was proud to work at a hospital serving a primarily black and Latina/o, low-income neighborhood, and he passed on his sense of social responsibility to his three daughters, Rosalyn, Harriet, and Julie.

Ros's mother, Irma London Fraad, also descended from a radical lineage. Meyer London, Rosalyn's maternal great uncle, was a US Congressman elected in 1915 on the Socialist Party ticket; he was one of fifty Congressmen and six Senators to oppose US entry into World War I. He was also one of few New York politicians to oppose the Balfour Declaration, which established the state of Israel, on the grounds that it was a unilateral move of the great powers that ignored the interests of Arab residents of Palestine.

Well before the explosion of the New Left in the 1960s, Rosalyn's educational path expressed her refusal to become just another elite, educated liberal. She attended Riverdale Country Day School, Hunter High School, and Smith College. But after one year there, she transferred to the University of Wisconsin, then harboring historians who challenged American imperialism and the influential journal Studies on the Left. In 1962 she married Lee Baxandall, a scholar of radical theater, translator of Bertolt Brecht, and later an advocate of nudism, in the intellectual tradition of Wilhelm Reich. They divorced in 1978.

After college, Ros moved into community activism. She first worked for Mobilization for Youth, a community organization on New York City's lower east side. At the same time, she earned a masters degree in social work at Columbia and jumpstarted a feminist day care center, long before groups of women began constructing a renewed feminist movement. In fact, child care was a priority throughout her political life, part of her unflagging effort to convince even recalcitrant men that "personal" a.k.a. "women's" issues are fundamental to social justice.


In the late 1960s, Ros became involved in the earliest New York City-based feminist actions, challenging the peace movement to take on feminist analyses and protesting the Miss America contest in 1968. (Readers can see leaflets from these occasions in Ros's book Dear Sisters, of which more below.) At a time when NOW focused on public-sphere issues, notably inequality in the labor force, Ros aligned herself with what were then called radical feminists who took up private-sphere issues, such as reproduction control, violence, body image, marriage, and love. Naturally charismatic, she became a prominent spokesperson for women's liberation. Naturally comfortable, too, with outspokenness, honesty, confrontation, and even provocation, she was unafraid to challenge standards of propriety. She was the first to testify at the rule-breaking speak-out for abortion rights in 1969. She supported women's sexual freedom and the need for frank sex education at a time when these were radical views. She was a founder of the feminist groups New York Radical Women (1967) and Redstockings (1969). Always attracted to the theatrical and the humorous, always rejecting pomposity and sectarianism, she loved being part of the guerilla theater groups No More Nice Girls and WITCH (Women's International Terrorist Conspiracy from Hell).

But Ros's radical feminism never meant separating herself from the perspectives of socialist feminism, then dominant in Chicago and Boston. Like second-wave feminism as a whole, Ros never broke off from the New Left, as is often alleged, but remained part of the struggles against the Vietnam War and the savage repression of the Black Panthers.

With her master's degree in social work, in 1971 Ros joined the American Studies faculty at the State University of New York's new campus at Old Westbury, Long Island. She was a master teacher. She became a full professor in 1990 and a Distinguished Teaching Professor in 2004. She was virtually always chair of her department, continually reelected because of her chutzpah—and success—in wangling resources from the administration. Like her father, she was proud to be working with students who were mostly working-class people of color, and she cherished what she learned from them. She retired in 2009 and then taught part-time at the City University of New York's Labor Studies Program and in a women's prison, Bayview Correctional Facility in Manhattan.

Ros was also a pioneering historian of women. In 1976 she published America's Working Women, a collection of primary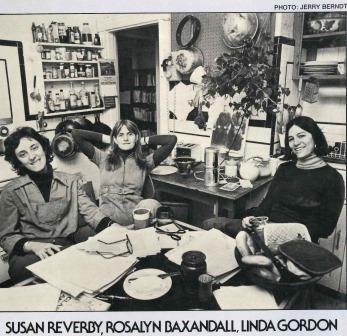 documents edited together with me and Susan Reverby. (We got our contract with Random House through the support of Toni Morrison, who was then an acquisitions editor; always a feminist, Morrison backed our project from the beginning, at a time well before publishers understood that there was a market for women's history.) In 1987 Ros published Words on Fire: the Life and Writings of Elizabeth Gurley Flynn and in 1995, she and I created a revised edition of America's Working Women. In 2000 she and Elizabeth Ewen published Picture Windows: How the Suburbs Happened, a comparative, gender-conscious study of middle- and working-class Long Island suburbs. Most recently, Ros and I collaborated on Dear Sisters: Dispatches from the Women's Liberation Movement, a collection that includes cartoons, posters, art, music, leaflets, and manifestos. (We had other collaborations planned when she became ill.)

In addition to her demanding teaching job (with a long commute) and her research and writing, Ros was an activist also through her hospitality and networking. Always extremely sociable, she made friends among feminists and other leftists throughout the US and the UK, and frequently brought them together. These gatherings usually took place at Ros's summer house in Truro, on Cape Cod, on a charmed screened porch where we feasted on bluefish and fresh corn. For many years, Ros and I would work on our books at that porch, surrounded by disheveled piles of mimeographed leaflets and manifestos. She was the kind of friend who never forgot your children's birthdays, who used her networks to promote you, especially when you needed help, and celebrate your achievements. Her many boyfriends remained her loving friends even after their break-ups. Her political and her personal friendships fused. The old feminist slogan, "the personal is political," was embedded in Ros's psyche.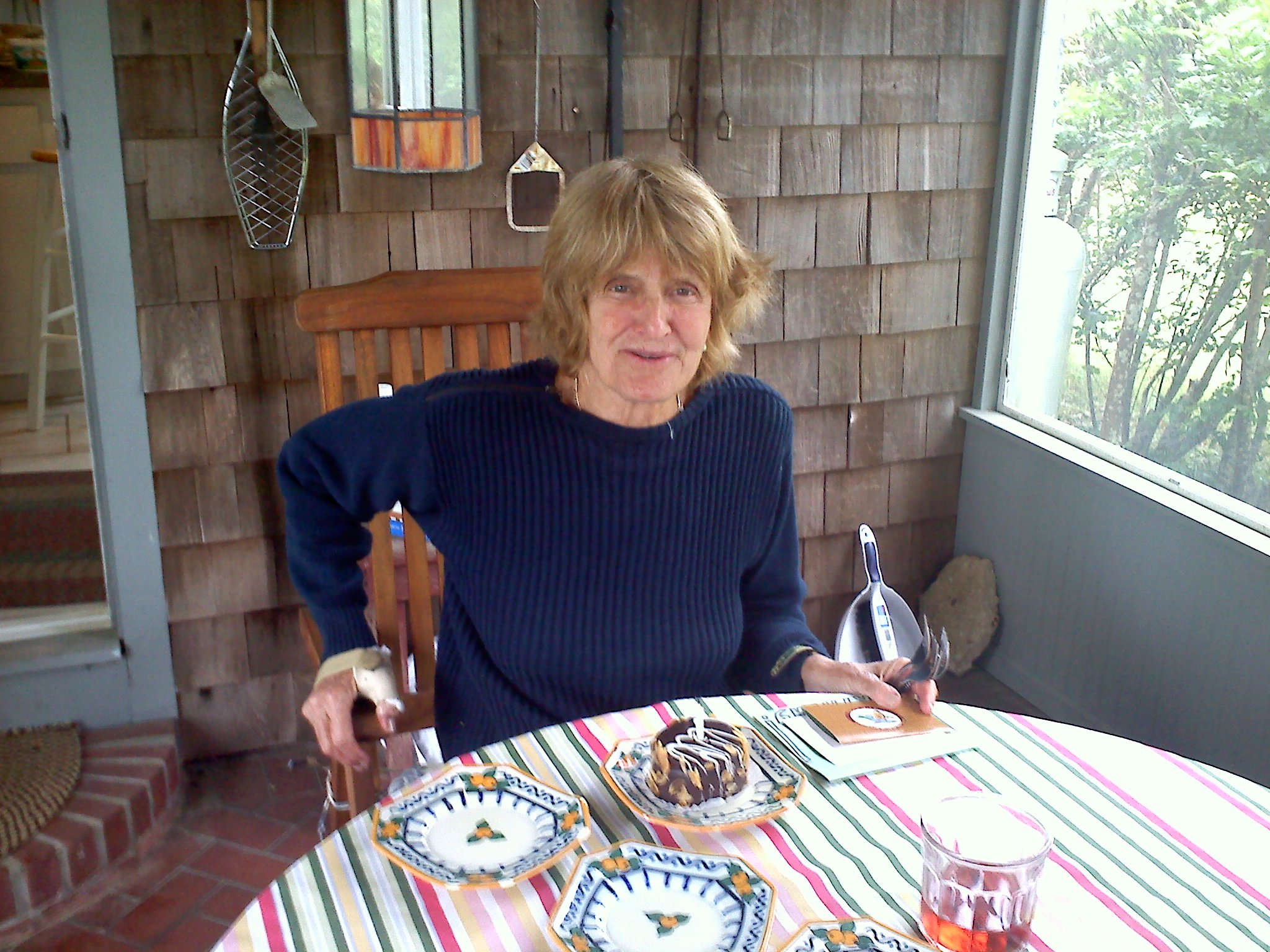 Ros on Her Porch in TruroIt never occurred to her community of friends that she would be the one to die early. A tall, gorgeous, willowy blonde, energetic and athletic even as others of her age slowed down, last summer she at first seemed to have caught a bad flu. When she heard her diagnosis—untreatable, metastasized cancer—she immediately said she wanted a party. Her son Phineas Baxandall, his partner Sarah Hill, and her grandchildren Julian and Nellie, and her adopted daughter Vicki Nichols made that party into a gala event, at the house in Truro that had been the location of so much jollity and political debate.

In my memory, Ros is always at the large table on that Truro porch, railing against the latest political atrocity, sharing juicy gossip tidbits, and laughing affectionately about the foibles of the feminist movement.

In honor of Rosalyn Baxandall and her American Studies colleague Barbara Joseph, a scholarship fund was established at SUNY-Old Westbury. It will help working-class students get a college education.

There will be a memorial for Ros on January 9, 2016, at 2 PM, at the Judson Memorial Church in Greenwich Village, New York City. As Ros would have wanted, everyone is invited—to come together, to celebrate, and to raise our spirits so that we may continue her work.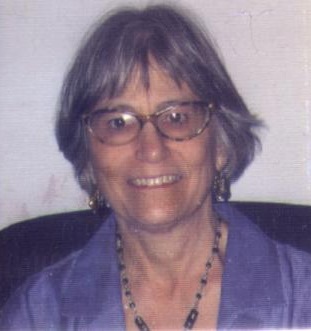 Linda Gordon teaches at New York University. She had worked with Ros Baxandall since 1969.