By Marilyn Richardson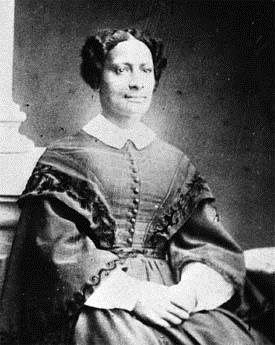 Sarah Parker Remond (1824-1894), a daughter of the most prominent African American family in Salem, Massachusetts, sailed for Liverpool, England, in the fall of 1858, a period when the outlines of an all but inevitable war between the states were growing clearer. Remond had agreed to undertake a speaking tour, describing the horrors of American chattel slavery as part of the campaign to consolidate British antislavery sentiment by arguing the ethical and economic case for British support of the Union.
Between 1859 and 1861 Remond delivered 45 lectures in seventeen cities and towns in England, three in Scotland, and four in Ireland, all to considerable acclaim and extensive press coverage on both sides of the Atlantic. When visa problems threatened her ability to travel to the continent, the dispute was played out in the press. A southern bureaucrat at the American legation refused her the document on the grounds that she was not a United States citizen. Following considerable publicity, Secretary of State Lewis Cass intervened and granted her the visa and "in case of need… all lawful aid and protection."
After her first year of travel and speaking engagements, Remond, based in London, enrolled in classes at the Bedford College for Women, today part of the University of London. At the time she was a guest of Elizabeth Jesser Reid, founder of the College, and a committed antislavery activist. Until the end of the war, Remond pursued her studies and continued her lecture tours, often finding herself near the point of exhaustion.
Another of Remond's London hosts was the equally indefatigable Clementia Taylor, philanthropist, suffragist, women's health advocate, and campaigner for married women's property rights. Taylor's circle included the writer George Eliot, the abolitionist and social theorist Harriet Martineau, and the Italian revolutionary, Giuseppe Mazzini, for whose cause of Italian unification Remond became a speaker and fundraiser. Following the end of the Civil War, Remond sailed for Italy. At the age of forty, she moved to Florence where she embarked on medical studies at Santa Maria Nuovo, the hospital founded in the thirteenth century by the father of Dante's Beatrice, and which later served as Florence Nightingale's model of medical care and training.
By 1873, when Elizabeth Buffum Chace, a human rights activist and former conductor on the Underground Railroad, visited Remond in Florence, she was able to report that "Sarah Remond is a remarkable woman and by indomitable energy and perseverance is winning a fine position in Florence as a physician and also socially." Although she also wrote that Remond "says Americans have used their influence to prevent her by bringing their hateful prejudices over here," Buffum Chace concluded that "If one tenth of the American women who travel in Europe were as noble and elegant as she is we shouldn't have to blush for our country women as often as we do."
By the 1880s, Remond was living and practicing medicine in Rome. She was a close friend of the black American sculptor, Edmonia Lewis. She entertained Frederick Douglass and his second wife, Helen Pitts Douglass, during the Italian stage of their tour of Europe and parts of the Near East. And although it appears she never returned to the States, some among her eight siblings, their spouses and families came to visit for longer or shorter stays.
It had long been reported that Sarah Parker Remond was buried in the 18th-century Non-Catholic Cemetery in Rome. But over the decades, when numerous researchers, including the formidable archivist, bibliographer, and writer, Dorothy Porter Wesley, who published widely on the Remond family, sought out her final resting place, there was no entry for her in the cemetery's excellent records. Instead, the archives there contained decades of a steady stream of letters of inquiry and of visits by scores of people looking for Remond's grave. The mystery was solved only in the past few years.
While it was known that Remond had married in Italy, almost nothing is known of what appears to have been her short-lived marriage to a man called Lazzaro Pintor. She was in her fifties when they wed in Florence, and she was on her own in Rome within three years. Time, distance, and a lack of information about him have led to his near erasure from accounts of her life. He is said to have been from Sardinia, and his given name and surname are traditionally Jewish. Sarah's father, John Remond, born in Curacao, is described as being of African, Dutch, and Jewish heritage, a common lineage on that island. It turns out that the woman identified in US history books and commemorated in memorials in this country as Sarah Parker Remond maintained her married name in Italy. The current cemetery administrators and historians, Amanda Thursfield and Nicholas Stanley-Price, discovered that she is listed in burial records at the Non-Catholic Cemetery (sometimes called the Protestant Cemetery, although adherents to many faiths are buried there) as Sara (sic) Remond Pintor.
Visitors from around the globe flock to visit the graves of the English poets John Keats and Percy Bysshe Shelley, American sculptor William Wetmore Story, novelist Constance Fennimore Woolson and hundreds more of the famous and accomplished personages buried there beginning in the eighteenth century and continuing today. They go equally to see the numerous masterpieces of funerary sculpture in what is considered one of the most beautiful cemeteries in the world. Here, as is common in many older European burial grounds, if there is no fund maintained by family or others for the upkeep of a gravesite, the remains are eventually removed and respectfully, but anonymously, reburied in a designated communal area.
How then to commemorate this extraordinary woman buried here? In recent years, the Roman government has given permission for a few memorial plaques to be placed on the historic cemetery walls. The newest of these, installed at the end of 2013, and deferring to the name by which she is most widely recognized, reads,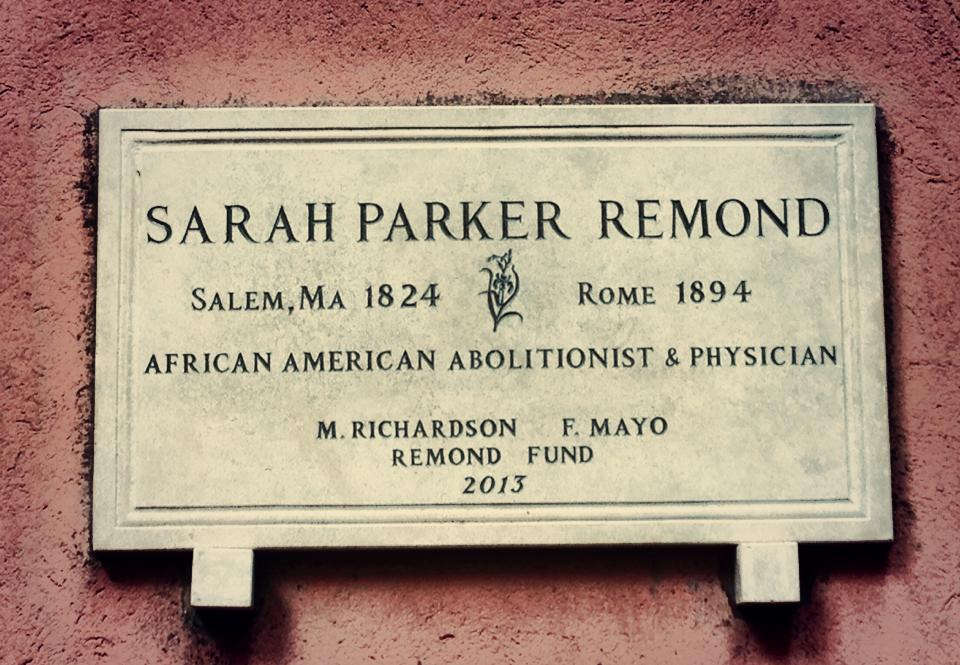 Sarah Parker Remond
Salem, MA 1824 - Rome 1894
AFRICAN AMERICAN ABOLITIONIST & PHYSICIAN

Marilyn Richardson, who writes about art and history, created the fund for the Remond plaque. Her next project is a proper grave marker for the nineteenth-century black American sculptor, Edmonia Lewis. She wonders if she is beginning to see a funereal pattern here.