By Rochelle Goldberg Ruthchild
A long line wended its way into the JFK Forum at Harvard's Kennedy School of Government, past a lone demonstrator holding a sign on which pictures of Stalin and Putin surrounded the slogan, "Restore the Soviet Union." Entry was by lottery; the place was packed with lucky winners and a few who managed to sneak in. When the two Pussy Riot women, Nadezhda Tolokonnikova and Maria Alyokhina appeared, flanked by Tolokonnikova's husband Pyotr Verzilov, and the moderator Jill Dougherty, they seemed dwarfed by the space.
Since their performance in Moscow's Cathedral of the Holy Savior, Tolokonnikova and Alyokhina have endured a trial, imprisonment in Vladimir Putin's gulag, excommunication by other Pussy Riot members, and internal exile, in which their attempts to protest, such as at the Sochi Olympics, have been met with whippings by Cossacks. Simply their appearance in public has incited thuggish attacks. In March 2014, while the women were breakfasting at a Nizhnyi Novgorod McDonald's, a group of young men flung a green antiseptic at them.
Like other dissidents before them, they are celebrities in the West and dishonored in their own country. Nothing that they have endured has changed their basic beliefs about Putin and the direction in which he is taking Russia. They see no future in a Russia ruled by the former KGB agent, citing brain drain, the emigration of many of the educated in their generation, as a major reason for their opposition.
At the JFK Forum, they said little about feminism or gender, answering only
one question about their trial judge's equating feminism with religious hatred. Though they acknowledged that this was a key issue, it was not a major aspect of the discussion. Instead, they talked about their name, chosen for its shock value, in English rather than Russian, as part of their commitment to creating an international movement. They referenced the philosopher Ludwig Wittgenstein and the Slovenian marxist Slavoj Zizek, but not Shulamith Firestone or Simone DeBeauvoir, whom they have previously cited as significant influences. The women made a point of talking about their commitment to protesting prison conditions throughout the world and noted that they seek to combat the idealization of the West among Russian dissidents. They know and support Cecily McMillan, the Occupy activist arrested and held on trumped up charges at Riker's Island prison in New York City. Demonstrating their commitment to opposition activists everywhere, they scheduled a private visit with Noam Chomsky.
Also espousing direct action in the US, after the event they went to the Cambridge police station to demand the release of Roman Torgovitsky, a questioner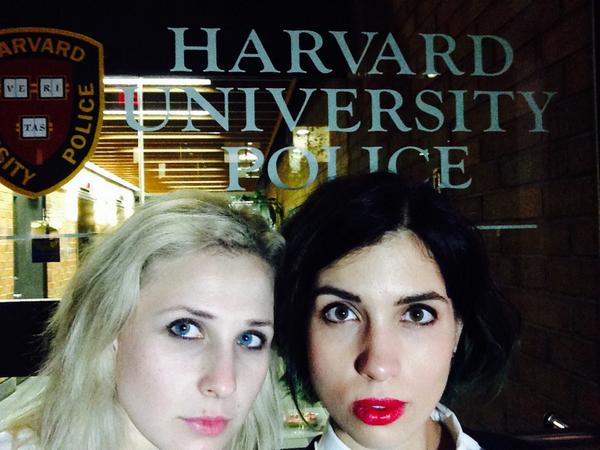 at the Forum and an undocumented Russian student, who had been arrested for trespassing. Torgovitsky had been arrested in May for interrupting the performance of the Russian violinist Vladimir Spivakov at Sanders Theater. The student is part of a campaign against pro-Putin performers generally in the West and specifically at Harvard.
Tweeting throughout their action, at midnight Pussy Riot rejoiced at their success: "We've just managed to free Roman Torgovitsky—police released him, woohoo!"
With Putin's popularity hovering around eighty percent, and the stoking of Russian nationalism with the annexation of Crimea and support for separatists in eastern Ukraine, chances of dislodging him in the near future look dim.
Skeptics assessed Pussy Riot's appearance cynically. Michael Levin of the Huffington Post sarcastically noted that "Pussy Riot Came to Harvard and Got an Incomplete," criticizing them for failing to have an overarching argument against Putin and a serious program for Russia's future.
That's unfair. Tolokonnikova, born in 1989, and Alyokhina, born in 1988, are still in their twenties, very much a work in progress. Children of Mikhail Gorbachev's glasnost and perestroika, and the subsequent collapse of the Soviet Union, they have managed to shine a light on Vladimir Putin and his policies that few other Russians have dared to do. In the process they have articulated a vision for the future of their country, in sharp contrast to Putin's neo-Soviet policies. Their emphasis on participatory democracy, internationalism, and Russian openness to the world; women's and LGBT rights, and coming to terms with the Stalinist legacy, including the horrid remnants of the gulag, reflect traditions of progressive democratic radicalism too often ignored in facile assertions of the Russian propensity for authoritarianism.
Tolokonnikova and Alyokhina intend to stay in their homeland and, following a long Russian tradition of female radical protest, continue to fight for their vision of Russia's future. Will they survive or end up as the most prominent examples of a new wave of Russian exiles, lionized in the west and vilified at home? It's easy to be skeptical but too early to tell.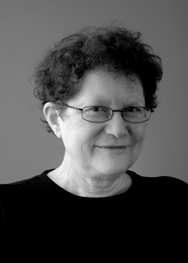 Rochelle Goldberg Ruthchild is professor emerita of Graduate Studies at the Union Institute and University, a research associate at the Davis Center for Russian and Eurasian Studies at Harvard University, and a visiting scholar at the Brandeis University Women's Studies Research Center. She is the author of Equality and Revolution: Women's Rights in the Russian Empire, 1905-1917, and an editor of Aspasia, The International Yearbook of Central, Eastern, and Southeastern European Women's and Gender History. From 1988-1994, she was the director of the Russian School at Norwich University. She is an executive producer of the documentary film Left on Pearl: Women Take Over 888 Memorial Drive, Cambridge. She considers herself quite lucky to be able to live legally with her wife in Massachusetts.