By Jayne Benjulian

In my twenties, I wrote poems and published them under another name. To dredge up those poems, you'd have to know the name I was born with—my father's name and the married name of my mother, who died when I was a child. That was before I quit a PhD program and fled a brutal marriage, and before my former college roommate told me if I wrote commercials, I could earn ten times the money I was earning writing freelance articles.My first assignment in advertising was to compose 100 rhyming mailgrams for Western Union. I had never made so much money and had so much fun. I was no longer living hand-to-mouth.

Those rhyming mailgrams were the last poems I wrote for the next two decades. I moved from New York to California, to write speeches for Apple. I named and branded companies in Silicon Valley and produced an Internet "road show" in which the CEOs of private companies could talk directly with investors.

I became extraordinarily skilled at adapting my voice to others' and especially, mimicking the language of men in power. In fact, I couldn't have described my own voice. Although I continued to work at my day job, which was a night and weekend job too, I decided that I would do something different after that, later: the creative work I was meant to do. My secret kept me going as the stress of working in Silicon Valley—of working for men whose wives took care of their families, grooming, and household tasks, while I took care of my job plus all of the above—overwhelmed the adventure of it.

When the tech market crashed in 2001, I leapt. I had developed a talent for channeling voices and helping other writers succeed, and I became an artist who nurtured other artists. For a time, I worked at the Magic Theatre in San Francisco, where I chose plays and helped move them to the stage. Theater was my halfway house. A writing scheme of my own was still my secret comfort.

But what did I want to say? At night and on vacations and weekends, I began writing poems about my childhood—loving mother, father who betrays his children, wicked stepmother, grandmother with stories about romancing the czar. Within my personal experience, I recognized the myths of European Jewry. I was working in many layers simultaneously, which I had not done when I was young, and the intensity of those personal moments forced up language like steam from a boiling kettle. I showed my work to a few smart friends, readers of fiction and memoir, and revised my poems based on their observations. (I would learn later that poets read poets differently from the way readers of other genres do.) I had taken my work as far as I could with my own resources. I wanted mentors who would kick my ass.

Still working in theater, I pursued an MFA in a low-residency program, in which students come to campus for ten days at the beginning of the semester, then, from home, work with a faculty member. Although to write brilliant poetry you do not need an MFA, for me, the program provided clarity, focus, and mentoring. And you can't get through one of these grown-up programs if you are not driven. I was driven. I was clutching my opportunity to place my own writing at the center of my life, holding onto it like a branch over a raging river.

My collection, Five Sextillion Atoms,had its beginnings there. While I wrote, I read Elizabeth Bishop, Louise Glück,
Miroslav Holub, Yehuda Amichai, James Merrill, Wisława Szymborska: poets who write with stylistic clarity and have an ethical compass. I studied how they broke lines, used forms—or not; how, as the poet Heather McHugh taught me, the order of details and coherence of the poem's curve create its meaning and destiny.

By then, I had divorced; lived as a single mother; raised a daughter; remarried; excelled at a career; failed at a career; made and lost friends to distance, resentment, and death; lived in France and in three stunning coastal regions of this country. I filtered the material about my childhood through these adult experiences. My poems concerned the way memory pans the child's experience for precious instants in which a life changes course and for the details of those instants, which no one but the poet remembers—if they happened at all. I examined the brave heart of the child I had been as if it had belonged to another girl, her stumbles into love and disaster, and her attempts to carve of the native stone of her life, poetry.

Writing after silence in middle age is nothing like writing when you are young and drinking in the turmoil and thrill of becoming who you are. Now I am aware of how the strands of loss layer my voice, of how my daughter and mother are connected although they have never met, not just because my connection to each is primal, but because they are the preoccupations of my collection. The book, as Stanislavski might have said, is my "superobjective," my spine, my through-line, the action that moves the character of the poet forward.

In her poem "Nostos," Louise Glück writes, "We look at the world once in childhood. / The rest is memory." Yes. But. The syntax of life as we live it illuminates the material we write. The poet re-creates the world by building a structure—of language, sequence, story—to make sense of the way things were.

The poems in my new collection-in-progress—about Sally Hemings and her brother James, slaves of Thomas Jefferson—are set in a vastly different time and place from the ones in which I live. One might assume such poems would be as far from personal as any material might be, but they consider a young girl, her biological families, the decisions of those who control her, the mystery of human relationships, moral blindness and physical brutality and their consequences. These are the codes that light up my brain, the syntax that organizes my memory and my imagination. In a book, I can be both child and adult at the same time. I can reassemble the world as it actually was—and at the same time as it never was. I can become a narrator with a new name.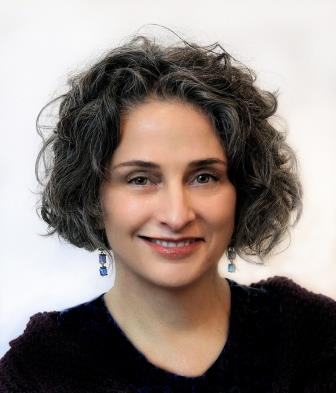 Jayne Benjulian's work has appeared in numerous journals, including Agni, Barrow Street, Poet Lore, Nimrod, the online performance journal HowlRound, and Poetry Daily. Benjulian has been the chief speechwriter at Apple; an investigator for the public defender in King County, Washington; and the director of new play development at Magic Theatre. She was an Ossabaw Island Project Fellow; a teaching fellow at Emory University; a lecturer in the Graduate Program in Theater at San Francisco State University; and a Fulbright Teaching Fellow in Lyon, France. She holds an MFA from the Warren Wilson Program for Writers. Five Sextillion Atoms is her first collection.