By Cynthia Enloe
"Swedish militarism." It sounds like an oxymoron. So do "shredding the
Scandinavian social safety net" and "right-wing Nordic voters." But Nordic feminists were quick to disabuse me of my out-of-touch assumptions. They had come together acutely aware of the threats posed by their current conservative governments and by far-right nationalist parties, which did surprisingly well in May's elections for members of the European Parliament (MEPs). It was alarm that stoked the energy of this June's Nordic Women's Forum.
Beyond alarm, though, there was an energizing feminist defiance pervading
the forum. In those same May elections, an upstart Swedish feminist party had won one of Sweden's 22 MEP seats. The Swedish Feminist Initiative (F!) became the first women's or feminist party in any of the European Union's 28 member states to win a seat in the European Parliament. The winning F! MEP candidate was Soraya Post, a Roma-Swedish feminist activist. Bright bold pink (not to be confused with princess pink) F! t-shirts were a popular fashion statement at the forum.
I arrived in Malmo, Sweden, for the forum by flying from Boston to Reykjavik, Iceland, changing planes to fly to Copenhagen, Denmark, then catching a bus to drive over the long, low bridge to southern Sweden and Malmo—a perfect itinerary to underscore what is "Nordic" about the Nordic Women's Forum. "Scandinavian" refers just to those countries in the region whose people speak almost interchangeable languages: Danish, Swedish, and Norwegian. The Nordic region is larger and more linguistically diverse, including Iceland and Finland. The Finns and Icelanders speak languages that are totally unlike any of the three Scandinavian languages. Thus, half of the scores of Forum sessions were held in English, today's Nordic lingua franca.
Malmo is Sweden's southern port city and the country's most ethnically diverse. Malmo's residents have chosen to tackle its urban economic and cultural problems directly and are proud of their efforts. I discovered populous cafés, a lively arts scene, and a spiffy new train that whisked us from the city center to the conference grounds. Still, several young feminists described to me their friends' puzzlement when they told them they'd decided to move from Stockholm or Goteborg to déclassé Malmo. But that is exactly why the town is so attractive to today's young Swedish feminists, who are determined to weave feminism together with antiracism.
Over the course of the lively, four-day forum, the 6,000 women and men, many in their twenties, who came to Malmo for the forum said repeatedly that they are committed to turning Roma rights and immigrants' rights into full-fledged feminist causes. Roma and immigrant rights, they said, had to be integral to new Nordic regional push to insure gender equality.
Most of us in the US probably imagine that the people of the Nordic region have already achieved gender equality. Internationally, Iceland is a strategic player in moves to institutionalize gender equality in UN treaties; Norway is a major donor to feminist groups in war zones; and the Swedish feminist group Kvinna till Kvinna is pushing hard for local women activists to be at the table in all peace negotiations.
Then there is the World Economic Forum's newest Global Gender Gap Index, which ranks countries by how wide or narrow the gap is between women's and men's conditions in health, education, economics, and politics. Of the 136 countries the WEF investigated, Iceland (for the fifth year in a row) has the narrowest gap between women and men, thus ranking it #1. Finland ranks second, Norway third, and Sweden fourth. Denmark, which Danish feminists at the forum described as facing the region's most stubborn forms of patriarchy and racism, nonetheless ranks eighth. The US comes in an embarrassing 31st (just behind Burundi). Nordic feminists, though, are not sanguine.
My forum hosts had me holding conversations about feminism and antimilitarism at three smaller sessions (those with eighty-to-100 attendees), and then speaking about other transnational feminist issues, such as international domestic workers' innovative organizing and sexist institutional cultures, in the Arena, a cavernous hall designed for rock concerts, where conference attendees could hoot and holler to voice their collective support. Taking part in such a variety of sessions meant I learned a lot.
For instance, I learned that there is dismay among Nordic feminists over the rising tide of militarism in the region. Denmark, Norway, and Iceland (though the latter has chosen not to have its own military) are are members of NATO, but Sweden is not. Well, not yet. My Swedish hosts spoke of rampant "NATO-izaton": their current government sent Swedish troops to fight under NATO command in Afghanistan and allowed NATO air forces to practice bombing in the Swedish North, home of the Sami/Lapp peoples. Swedish feminists active in groups such as Women International League for Peace and Freedom and Swedish Women of the Left (SKV) warned me not to confuse their country's "neutrality" with antimilitarism. They reminded me that Sweden is a major arms producer, and that Saab is not just a car manufacturer: it makes most of its profits from making and selling jet fighters. In addition, "Putin is a gift to Nordic militarizers," Swedish feminist peace activists declared. That is, Vladamir Putin's nationalist aggression in Ukraine is enabling Nordic militiarists to claim that the region is under new threat, and that NATO is a needed protector.
The summer sun brightened nighttime in Malmo. The forum grounds were festooned with multicolored banners. New friendships were forged, and cell phones clicked away to take laughing group photos. But the Nordic feminists were serious. There were new trends to analyze, emergent challenges to meet. Nordic feminists are not resting on their laurels.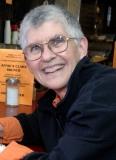 Cynthia Enloe is research professor at Clark University. Her two most recent books are Seriously! Investigating Crashes and Crises as if Women Mattered (2013) and a newly revised and thoroughly up-dated edition of Bananas, Beaches, and Bases (2014).