By Susanna J. Sturgis
I began my Women's Review of Books review of Margalit Fox's The Riddle of the Labyrinth: The Quest to Crack an Ancient Code with a question: "How can something once so well-known become so lost?" Riddle tells the story of the decipherment of Linear B, an ancient script lost to history until Sir Arthur Evans excavated the palace at Knossos, Crete, in the earliest years of the twentieth century. It focuses on the crucial contribution of Alice E. Kober, a professor of classics at Brooklyn College. Within a few years of her untimely death at age 43, in 1950, Kober's name and work had virtually disappeared from the record.
In a May 2013 post to the blog She Writes, Margalit Fox, a journalist and a
linguist by training, recounts how the book she set out to write was transformed by a phone call she'd made six years earlier. The call was to Thomas Palaima, professor of classics at the University of Texas, who founded and runs the Program in Aegean Scripts and Prehistory (PASP) archive there. Said Palaima to Fox: "It's a godsend you called. We've just finished cataloguing the papers of Alice Kober."
To which Fox said, "Who?" She knew nothing about Kober. She had set out to write about Michael Ventris, the young Englishman who in 1952 had identified the language of Linear B as an early form of Greek. Instead, Riddle of the Labyrinth tells how Alice Kober's brilliant, exhaustive work made Ventris's achievement possible.
Why had it taken so long for Kober's papers—described by the PASP archive as "meticulous research materials that are stunning as both empirical tools and works of art"—to be made available to researchers? And how had they made it from New York City to the University of Texas?
Alice Kober worked alone in the Flatbush, Queens, house she shared with her mother. She was not part of a bustling university department. Her colleagues in the study of Linear B were few, her peers even fewer. Kober's closest colleague and friend, John Franklin Daniel at the University of Pennsylvania, had died unexpectedly in December 1948, at age 38.
Kober discussed her work in her correspondence, and in three seminal articles published in the Journal of American Archaeology in the mid-to-late 1940s. But her data and the process by which she analyzed them were unique and irreplaceable. Xerox didn't introduce the first commercial photocopier until almost a decade after Kober's death. Computer databases came even later. Transatlantic phone service was too expensive for casual use. When Kober traveled to England, she went by ship.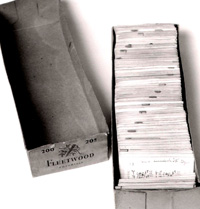 By hand, with pens and pencils, Alice Kober created a database of the signs and symbols used in Linear B, and the relationships between them. Wartime and postwar shortages made paper hard to come by, so she recycled whatever she could find: greeting cards, invitations, checkout slips from the Brooklyn College library. These she cut into two-by-three and four-by-six index cards, which she filed in cigarette cartons. Over 186,000 cards, each recording a datum of Linear B.
Kober brought rigor and intellectual integrity to what one scholar describes as "the absolute mess that has [sic] been made in nearly fifty years of haphazard attacks on the undeciphered Cretan scripts." Theories abounded; hard facts were in short supply. In a 1948 paper assessing the state of the decipherment effort, she wrote: "Before judging a theory, we must therefore know what the facts are." Her methods formed the foundation on which Michael Ventris stood to decipher Linear B. They have since become standard in the field.
And all traces of her painstaking work could so easily have been irrevocably lost.
How did her papers get to Texas? From Riddle of the Labyrinth, I surmised correctly that the first stage of their journey had to be Emmett L. Bennett Jr. In June 1948, Kober read Bennett's 1947 PhD dissertation on Linear B tablets discovered in 1939 at Pylos, on the Greek mainland, by Bennett's mentor, Carl W. Blegen. His work earned Kober's respect as few published papers had. According to Fox, she initiated a "discreet collaboration" with Bennett, then at Yale, that continued till her death—"discreet" because Blegen, like Evans (from beyond the grave), chose to restrict access to the inscriptions in his possession. Of Emmett Bennett, Thomas Palaima told me, "I believe he was the only one on the planet that she knew would make proper use of what she had done."
When Kober died, her brother, William, contacted Bennett. Bennett collected Kober's papers, including those 186,000 cards in their cigarette cartons. When he moved from Yale to the University of Wisconsin at Madison, they went with him, and there they went into hibernation along with his own early work. There was much to be done in the field of Aegean studies and a shortage of hands with the training and the academic positions to do it.
Emmett Bennett's third-ever grad student at Wisconsin, and the first to continue in Mycenean studies, was Thomas Palaima.
Bennett and Palaima became colleagues and close friends; Palaima's son is named after Bennett. Trained in the classics, Palaima explained to me that Aegean prehistory and the ancient scripts were his "side passion. . . . I loved the study of ancient archives and scribes, because one could trace the activities of human individuals and their idiosyncrasies."
In 1985 his side passion won him a MacArthur fellowship. At that time the linguists, archaeologists, and other scholars who'd been involved in the field since before Linear B was deciphered were reaching and passing retirement age. Their papers were dispersed around the world. Palaima decided to use his fellowship to locate and acquire those scattered collections and to create a home for them.
It was only then that he became aware of the Kober material. "I have a hyper-concern for people being treated right," he says. "So for Kober to be rightly honored was important and for her materials to be used by others and made known was ideal."
The bulk of the Kober papers collected between 1985 and 2002 were inventoried and catalogued by archivist Susan Trombley during the 2002–2003 academic year. When Margalit Fox called looking for information on Linear B, they were ready.
A concluding note: Tom Palaima put me on to a novel in which Alice Kober and her research play a role: Alison Fell's The Element -inth in Greek (the title is probably mystifying to anyone who hasn't read about Linear B). The novel is set mostly in Crete; its protagonist, Ingrid Laurie, is working on a biography of Kober. Laurie benefits from Fell's own extensive research into Kober's life and the story of the decipherment, and so did I. I might be turning into a Kober geek.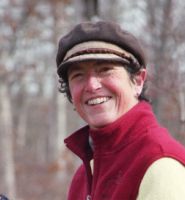 Susanna J. Sturgis is a freelance editor who blogs regularly about year-round Martha's Vineyard. She thanks Margalit Fox and Thomas Palaima for so generously answering her questions.