By Irene Mata
I still remember the first time I picked up José Antonio Villarreal's novel Pocho (1959). The story is a traditional immigrant narrative that follows the lives of
Raul Rubio and his son, Richard, as they work hard to achieve the American Dream. Like most immigrant narratives, the novel traces the linear story of the Rubios as they face and overcome multiple challenges in order to prove their worth as Americans. As an English major, I was used to reading texts by male authors who focus their writing on the lives of men, but something about Pocho really stuck with me: the dismissal of Consuelo Rubio, Raul's wife and Richard's mother. Here is a character who crosses the border by herself with her young children in order to find Raul; who labors in migrant agricultural camps to support her family; who gives birth upon a hill by herself; and who eventually stands up to her abusive husband. The novel, however, represents her as a secondary character in the lives of the Rubio men. In fact, Richard comes to see his mother as a burden and a symbol of old-world traditions that must be rejected in order to become a modern subject of the nation.
I felt an incredible amount of sympathy for the character of Consuelo. Her strength reminded me of the women of my community—women like my mother, who had crossed the border searching for a better life for their families. Like Consuelo, these women worked hard to raise their children in unfamiliar spaces among strangers, and like Consuelo, their narratives did not fit comfortably within the popular immigrant narrative. Traditionally, narratives of immigration have tended to be masculine and centered on the experiences of European immigrants. These narratives cast the immigrant story as one of progress and upward mobility that helps to frame the US as the "shinning city on a hill," a beacon of democracy where opportunities for a better life are limitless.
Growing up in an immigrant community, this story was a familiar one. The message of the immigrant narrative and American Dream was everywhere: in the books we read, in our history lessons, in the television shows we watched and the Hollywood films that entertained us. It wasn't until college that I began to question the ideology of the American Dream. I started to recognize the structural inequalities that make such a dream an impossibility for many immigrants of color, especially women, who face the added burden of gender inequality.
Stories of women like Consuelo and my mother were mostly absent in my literature and history courses. In fact, the immigration narratives of women in my community do not exist in mainstream cultural productions. These are women who work hard and sacrifice for their families but whose life stories are invisible outside of their communities. As women, they work in a gendered system of labor that devalues the work performed in the domestic space. The traditional immigrant narrative favors the labor performed in the public space—labor that is visible and easily recognized. The working bodies of many immigrant women are easily rendered invisible by the private space of the home. The traditional narrative also positions men as primary wage earners within a family wage system that ignores the role immigrant women play in financially supporting their families and communities.
When not invisible, Latina immigrants are most often represented as flat stereotypes of domestic workers. From sexually alluring Latina maids in films like Spanglish and Maid in Manhattan, to feisty spitfires like Rosario in Will and Grace, immigrant Latina domestic workers are reduced to problematic caricatures of immigrant laboring bodies. Outside of the mainstream, however, cultural producers have been creating characters that are complex and multidimensional, and more realistically represent the labor and immigration experiences of Latinas. These narratives offer oppositional stories of gender, labor, and immigration that more effectively represent the nuanced and complicated reality of immigrant Latinas.
As I started the project of excavating these alternative narratives, I found myself expanding the parameters of my analysis beyond works of literature—the genre that is most often invoked when discussing immigrant narratives—to better understand the project of resistance these counter narratives offer. I recognized this narrative in the stories of women like Eva, Telma, and Judith, immigrant Latinas whose labor in the domestic space is so skillfully captured in Anayansi Prado's documentary, Maid in America. As viewers, we are invited to follow the lives of these three women as they negotiate an immigration system that keeps them separated from their families and exposes them to labor exploitation. We become witnesses to their struggles but also to their successes in organizing and resisting unfair labor practices.
Dulce Pinzon's Superheroes photography series captures the complicated
relationship between immigrants, their labor, and the remittances they send to their countries of origin. By portraying a Latina immigrant as an intelligence agent undercover as a domestic worker, Laura Alvarez' creation, Double Agent Domestica (DAS), encourages us to reframe Latina immigrants and their labor as vital actors in our global political economy while reminding us of the gendered division of labor and space.
The narratives of Latina immigrants are represented in fictional characters like Abuela Claudia in Lin Manuel Miranda's Tony Award winning musical, In the Heights—a woman who spends the majority of her life working in the U.S. but never achieves the American Dream and always longs for a place to call home. I recognized the struggle of raising children from a distance represented by Ana, the Salvadorian nanny in Lisa Loomer's play Living Out and the challenges that working mothers who employ Latina nannies face as they try juggling the responsibilities of home and work. The violence that is also a reality in the lives of Latina immigrants is captured in heart-breaking stories like those of Carlota Navarro in Lucha Corpi's Cactus Blood.
All of these cultural productions make up a genealogy of alternative narratives of immigration that call into question the simple myth of upward mobility and assimilation promised by the ideology of the American Dream. They insert the challenges faced by women whose labor is devalued and whose knowledges are rendered invalid based on their race, gender, and position as "other." They illustrate the difficulties of being undocumented, a legal status that denies immigrants legitimacy and rights. Current immigration narratives are as diverse and varied as the women who live them. Refusing to acknowledge the role that gender, class, and race play in immigration erases these realities and perpetuates the absence of Latina immigrants and their labor from our history.
Latina immigrants deserve to have their labor acknowledged in mainstream discussions on labor and immigration and in cultural productions. Their stories expand our understanding of immigrant experiences and remind us of the role gender and race play in the processes of labor and migration. My book Domestic Disturbances: Re-Imagining Narratives of Gender, Labor, and Immigration ultimately seeks to honor the stories of women like my mother and uncover the importance of characters like Consuelo Rubio.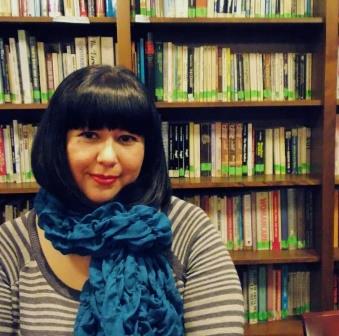 Irene Mata is associate professor in the Women's and Gender Studies Department at Wellesley College, where she teaches courses in Chican@/Latin@ literature and culture. Born and raised in the El Paso/Juárez border area, she earned her BA and MA in English and Women's Studies from New Mexico State University and her PhD in Literature from the University of California at San Diego. Her research interests include the analysis of gender, labor, immigration, and representation in contemporary cultural productions and the ways in which current globalization projects have affected the lives of women on the US/Mexico border area. In addition to Domestic Disturbances:Reimagining Narratives of Gender, Labor, and Immigration, she has published essays on the violence against women connected to the industrialization of the border; race and pedagogy; and motherhood in academia.