By Mandira Sen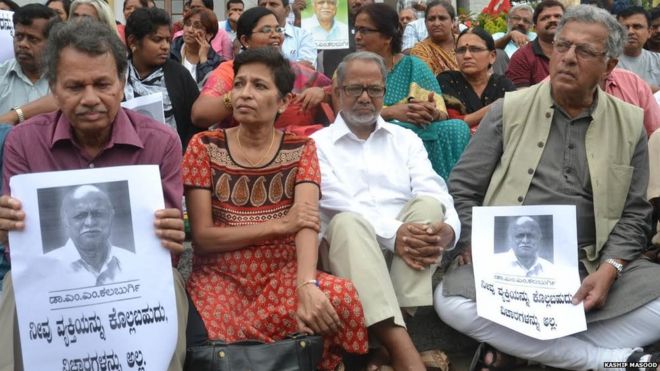 Protesting the murder of M.K. KalburgiThe recent avalanche of protests in India against intolerance and attacks on free speech was triggered by the late-September lynching of Muhammad Ahklaq, a Muslim, in the village of Dardri, because his Hindu neighbors had heard a rumor that he had eaten beef. The murder followed years of right-wing attacks on writers and intellectuals, including Narendra Dhobalkar, an antisuperstition activist, assassinated in February 2013; Govind Pansare, a left-wing politician and writer, killed in February 2015; and most recently, M. K. Kalburgi, a former university vice chancellor, murdered in September 2015.
Indian writers and scholars began returning their awards from the Sahitya Akademi, India's academy of letters, inspired by Uday Prakash, the first to do so. Many others followed, including
The fact that so many writers are returning their Awards or resigning from Akademi posts makes it clear how anguished we are that you have remained silent over the murder and intimidation of writers and the threat that hangs over dissent and debate.
"I want to make it clear that I am not returning this award because I am "shocked" by what is being called the "growing intolerance" being fostered by the present government. First of all, "intolerance" is the wrong word to use for the lynching, shooting, burning and mass murder of fellow human beings. Second, we had plenty of advance notice of what lay in store for us—so I cannot claim to be shocked by what has happened after this government was enthusiastically voted into office with an overwhelming majority. Third, these horrific murders are only a symptom of a deeper malaise."
By now, about fifty writers have returned their awards to register their protest, joined by film makers, artists, and (worse for a government that prides itself on its technological modernity) distinguished scientists. The latter said they joined the protest "to assert that the Indian people will not accept such attacks on reason, science and our plural culture. We reject the destructive narrow view of India that seeks to dictate what people will wear, think, eat and who they will love."
The Hindu right is campaigning against the eating of beef, and had earlier claimed that Muslims were engaging in a "love jihad,"in which they lured supposedly unwary Hindu women into relationships with Muslim men in order to convert them.
An author who did not return her award, saying it was given by a literary jury, not the state, but who also took on the Akademi for its cowardice is Mridula Garg, another distinguished Hindi writer of plays, novels, short stories, and children's stories. Asked what Mahesh Sharma, the minister of culture (under whom the Akademy falls loosely, although it is an autonomous institution) should do, she said boldly, "Resign."

The writers and scientists have also been joined by scholars, who held a conference decrying the attacks on freedom of speech. A group of 53 eminent historians put out a statement speaking out against right-wing distortions of history and a narrow definition of India, saying, "What the regime seems to want is a kind of legislated history, a manufactured image of the past, glorifying certain aspects of it and denigrating others, without any regard for chronology, sources or methods of enquiry that are the building blocks of the edifice of history."

Senior diplomats and business leaders told the government that the country's image was taking a beating abroad, including Raghuram Rajan, the governor of India's central bank and a former chief economist at the International Monetary Fund, and two influential entrepreneurs: Narayana Murthy of Infosys, the champion information technology outsourcer for the West, and biotech leader Kiran Mazumdar-Shaw. Entrepreneurs like her had supported the Prime Minister in the past. Finally, Moody's Analytics told the government that intolerance was bad for investment .

On October 23, nearly 100 writers from across the country marched to the Sahitya Akademi to express their anger against the government for not protecting the minorities and the dalits (formerly called "untouchables") from murderous violence, and for the Akademi's failure to condemn the attacks. A few days later the Akademi finally condemned the killings.

Diversity, pluralism, and tolerance are enshrined in the Indian constitution. It is the only way the country can hold together, including as it does, a plethora of ethnic groups, 26 recognized languages, and all the religions of the world, including Judaism and Zoroastrianism. However, as the conservative Hindu Bharatiya Janata Party (BJP) has come to power, it has attacked those values, while at the same time promoting itself as a "modern" party that shares the neoliberal perspectives of many nations today. In May 2014 it won 31 percent of the vote, giving it an overwhelming majority in Parliament.

The BJP has long cherished the vision of a state dominated in all aspects by India's Hindu majority of more than 79 percent. Indeed, this desire for Hindu dominance was based on a lesson learned under 200 years of British colonialism. It was in the interests of the British to create the infamous two-nation theory of Muslims and Hindus, who could live together peacefully only because of the British presence. This notion was accepted by conservative Hindus and Muslims alike, despite the historical reality. Even today, both adhere to this European interpretation of the Indian past—in contrast to liberal and Marxist historians, whom the conservatives villify.

Yet turning Hinduism into a political entity presents problems. Hinduism is extremely heterogeneous, a vast conglomeration of sects and cults with no common founder, no sacred text, no congregational structure, and disparate belief systems, including atheism. At independence, more Muslims remained in India than left for Pakistan. Indian Muslims form the third-largest Muslim population of the world, citizens of a democracy with a constitution that calls for equal treatment of all religions and equal rights for all citizens. This is irksome to the BJP and other conservative parties, which believe that what they call "pseudo-secularism" has deprived the majority of its rightful inheritance, and that minorities, who should "know their place" and live on sufferance, are being "appeased." These views are shared by the rich and successful Indian diaspora, which provides funding for the conservative parties. Far from being chastised the BJP has released a document blaming the writers for their supposedly biased views. A recent rally led by a distinguished actor, Anupam Kher, denounced the dissenting writers, artists, and film-makers as out to tarnish India's image abroad. During the rally, media people were roughed up.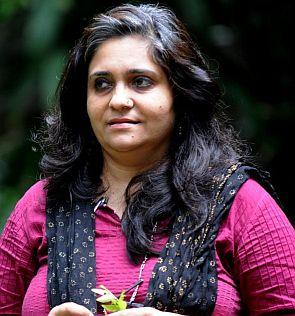 Teesta SetavadMaybe colonial and postcolonial history explains why there is still "tolerance of intolerance" in India. The activist Teesta Setavad, who has accused Modi of causing anti-Muslim riots in Gujarat in 2002, criticized what she called Indians' "strange" silence during periods of inter-religious conflict. It is "very disturbing," she says. "Generations after generations have been witnessing riots since the partition of India [in 1947]. I witnessed riots in Gujarat, my elders have witnessed partition and the young generation has gone through the Muzaffarnagar riots [in 2014]." She added that it is high time for the principles of the constitution to be implemented."The Indian constitution clearly guarantees freedom to different religions, cultures and ethnicities, among other freedoms," she said.

The struggle for tolerance, diversity, and pluralism continues.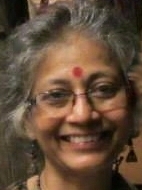 Mandira SenMandira Sen publishes women's studies under the imprint Stree and on cultural studies and dissent under the imprint Samya. She has worked in publishing for over four decades, beginning in the US, and is based in Kolkata.