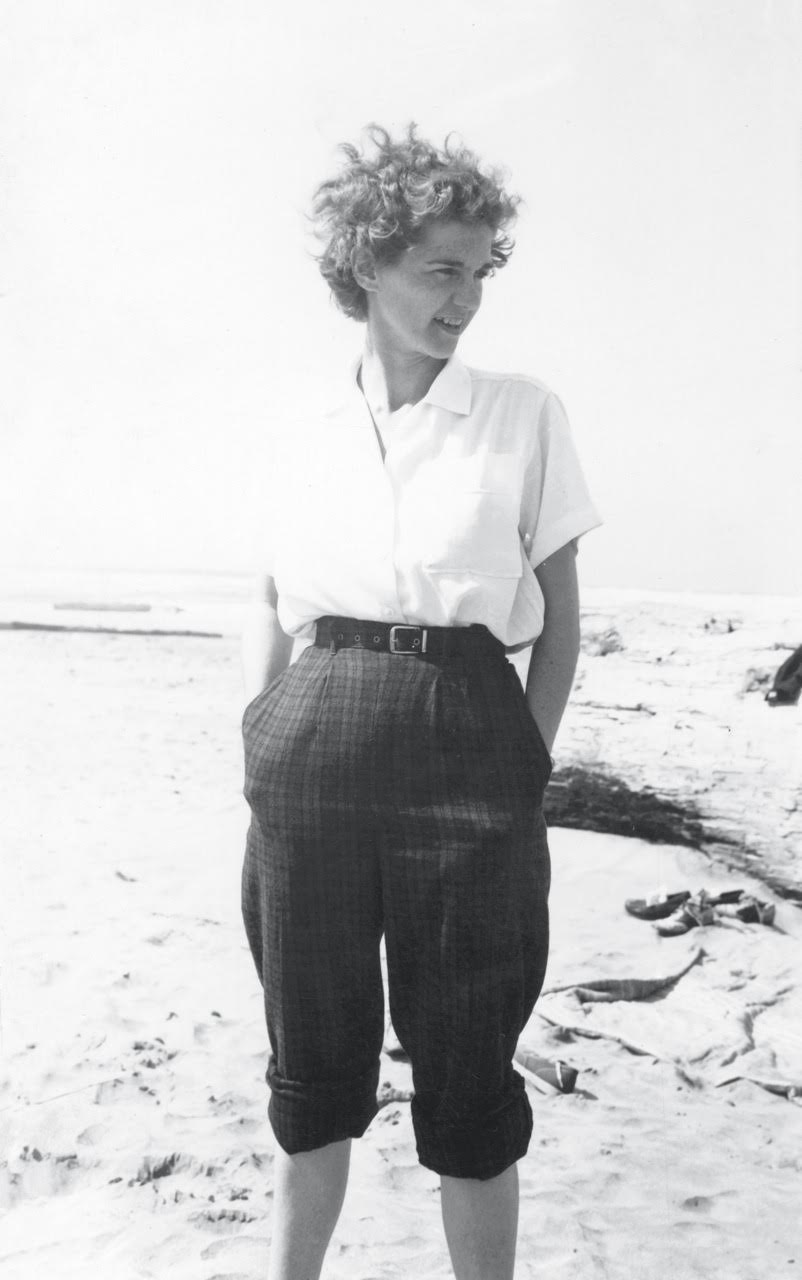 Lucybelle BledsoeFifty years ago, my aunt and namesake, Lucybelle Bledsoe, died in a fire that consumed much of the apartment over a garage in which she lived. She was 43 years old. I was nine.

Throughout my life, I've been frustrated by how little I knew about my namesake. I knew she was unmarried. My father told me that she'd wanted to go to law school, and when my grandfather forbid this because of her gender, she studied for and passed the bar exam anyway, without the benefit of law school. My mother told me that even in the 1950s and 1960s, Lucybelle wouldn't let men hold doors open for her.
When I came out, almost exactly ten years after her death, I began to wonder if Lucybelle, too, had been gay. But I felt a bit sheepish about my wondering. Does being unmarried equal being gay? How about being smart? Passing the bar exam without attending law school? Not letting men hold doors for her? Are these evidence of gayness? Surely not.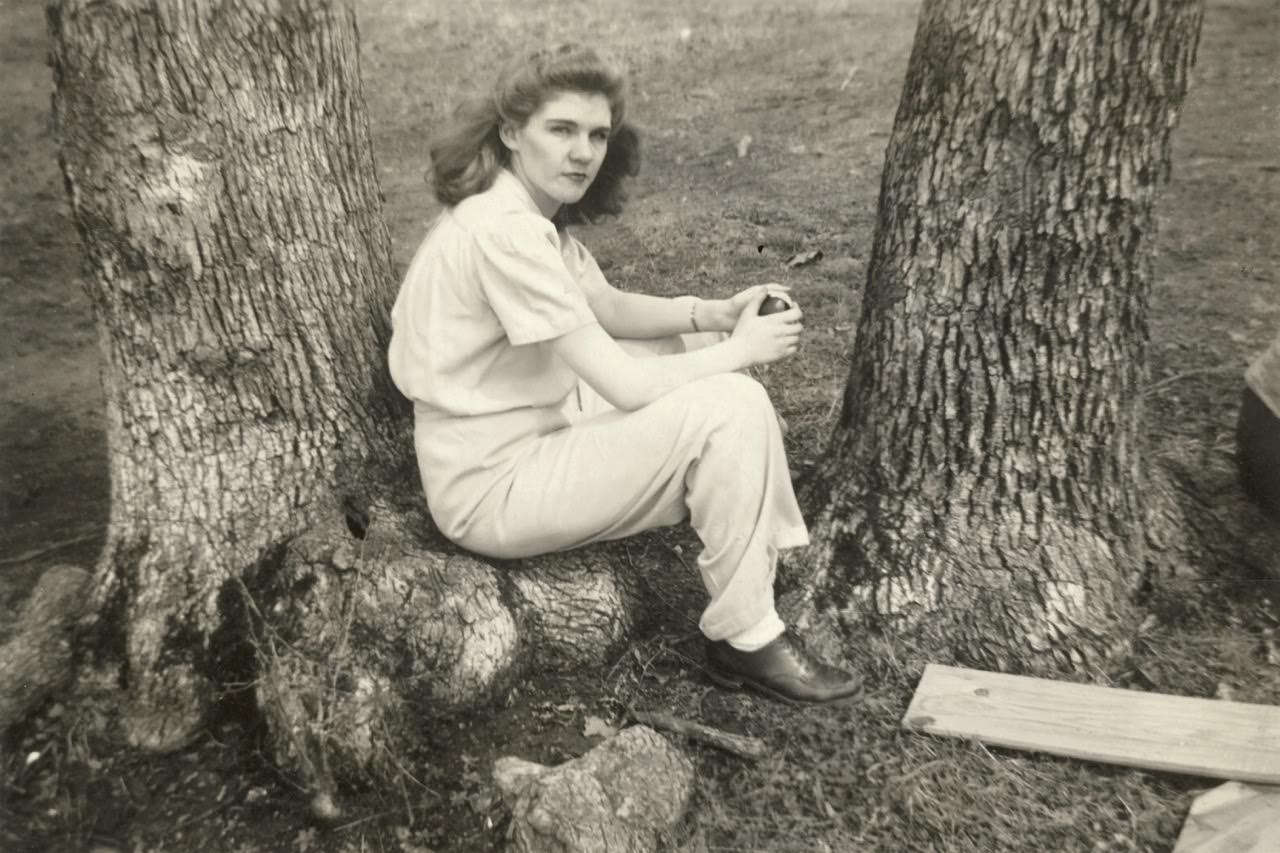 Lucybelle in the 1960sI asked my mother, who allowed that Lucybelle may well have been queer, but, in my mother's words, "I'm sure she never acted on it." How my mother would know something like that about a woman who lived 3,000 miles away was a mystery to me.

If Lucybelle had lived, she'd be 93 today; she'd have been 83 years old when I began my research into her life. I didn't want to force my twenty-first-century worldview onto my aunt's twentieth-century life, but what if she'd had a partner when she died? What if some woman, living in Topeka or New York or Seattle, was grieving my aunt? This question tormented me.

And yet, her obscurity was a wall. She was a thin, pale farm girl who, like so many other women of her generation, used the cover of World War II to escape the Arkansas farm. But I wasn't even sure where she went.

Then I read the work of Stanford historian Estelle Freedman, a crucial turning point in my research. In her brilliant essay, "The Burning of Letters Continues," she argues that when researching lesbian lives, the lack of evidence may itself constitute evidence. Throughout history, lesbians have hidden their lives and burned their letters to avoid detection. This essay rang true for my research. I'd been interviewing Lucybelle's coworkers, neighbors, family, and childhood friends, and every one of them told me how funny, warm, friendly, and smart my aunt had been. How could a person like that have had no intimate life? Freedman's essay made me view the absence of any personal information in a new, intriguing light.

Re-energized, I traveled to New Hampshire—the site of the lab where Lucybelle had last worked—to interview her secretary and some
other coworkers. What a difference talking to people in person makes! My contacts opened up. It made sense: meeting me, they could see that I was a reasonable person, not some crackpot asking questions that were much too personal. I came out to folks in this round of interviews, which helped a lot. I learned that the secretary and office manager, both women, in the lab where Lucybelle had worked, had been a couple.

Lucybelle's secretary told me that she knew "there had been women in her life." And finally, a scientist and his wife, Tony and Marge Gow, revealed that they'd lived next door to Lucybelle and her partner. Marge said, "When Tony was in the field for months at a time, those women were so kind to me." For two hours, over a lunch at Applebee's, the Gows shared all kinds of details about the lives of my aunt and her partner.

When I went back to interview my other contacts again, they all verified the story. They hadn't told me at first, they said, because they had no idea who I was. Why should they reveal Lucybelle to some stranger from California? All these years after my aunt's death, they were protecting their friend and colleague. I was moved by their loyalty.

As I dug deeper and deeper into Lucybelle's life, and discovered more and more—including that her destination after escaping the farm had been Greenwich Village —I realized how much she'd hidden from her family. Still, she persevered, came out, found lovers, did work she loved, made friends, moved around the country, dreamed. I felt more and more grateful for her courage and trailblazing. So many women have lived such amazing lives, yet we don't know about those lives. If, when I was a little girl, I'd had the example of Lucybelle, if others had such examples, imagine what we could accomplish. Instead, we start from scratch, again and again.

A few other accomplished women make cameo appearances in my book, including Djuna Barnes, Lorraine Hansberry, Tiny Davis and Ruby Lucas—but other women linger in obscurity. Understanding how a farm girl from Arkansas made remarkable choices in the midcentury is a powerful model for women making choices today.

My aunt died in a fire that, presumably, burned all her personal effects. Without the fire, would I have found more clues of her queer loves and life? I doubt it. As Freedman so perceptively points out, Lucybelle might already have burned or otherwise destroyed any evidence pointing to her queerness. But by trusting my instincts, while not settling for anything less than firsthand evidence, I was able to find proof, and gratifying details about her midcentury queer life.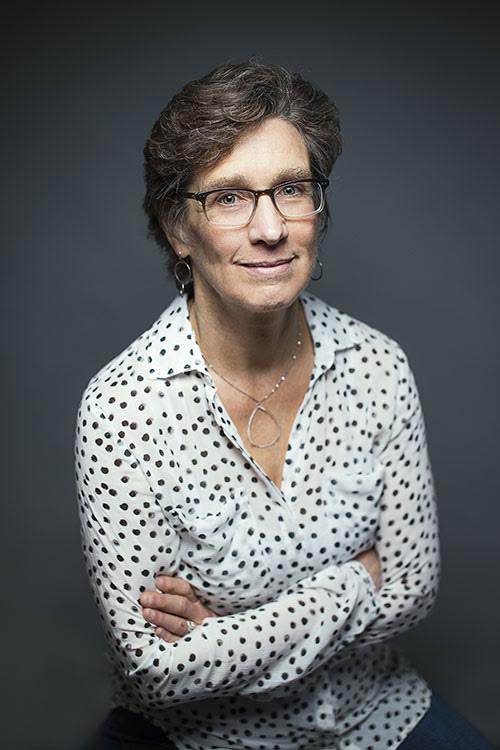 A Thin Bright Line, Lucy Jane Bledsoe's novel about her Aunt Lucybelle, is her sixth. Her fiction has won an American Library Association Stonewall Award, an Arts & Letters Fiction Prize, a Yaddo fellowship, and two National Science Foundation Artists & Writers fellowships. She lives in Berkeley, California.