By Ana Isabel Keilson
One of the advantages of being a graduate student at an "evil empire" university—one of those increasingly corporate institutions with a big endowment, lots of real estate, anti-union policies, a big business school—is that I can travel often to Europe on the company dime. Last March I found myself in Paris as I sat down to write a review of Body Sweats: The Uncensored Writing of Elsa von Freytag-Loringhoven. A fitting place, I thought, to consider her life and work. Paris: the cradle of the avant garde, of Dada, of poetry, performance, and modernism in the twentieth century. Digging back deeper into time, Paris as the symbol of revolutionary efflorescence in the face of dusty and impotent monarchy. Paris as moveable feast. Paris as canvas for the painter of modern life.
Paris was also the place where Freytag-Loringhoven died of a likely suicide at 52. For her, it was the end of her life's journey—one that had taken her from the Baltic coast, to Berlin, Munich, and New York.
Paris was not the mecca of art and creativity it was for so many others in the first decades of the twentieth century. For Freytag-Loringhoven, Paris was a place of pain and isolation, of social alienation she herself cultivated from years of professional anger, frustration and stress. A place where her German identity seemed difficult, In Paris—as in many of the other cities she called home—she lived in impoverished and deliberately unsanitary conditions. She turned to pets when people turned away from her, or she turned from them, embracing as companions the mice who settled into her flat.
Freytag-Loringhoven was ahead of her time in many respects: her poetic choices and use of language, and her outrageous attire, social presence, and the tenor of her lifestyle, all of which were artistic statements as important as the verse she put to the page. Considering her radical gestures in light of Paris, it's interesting to consider how Freytag-Loringhoven perhaps belonged to a Paris ahead of her time. Not Paris in 1926, the Paris before fascism, or today's Paris—associated as often with the Hilton Hotel chain and reality television as it is with its geographical namesake.
No, for Freytag-Loringhoven, Paris belonged to the immediate future: a city of 1936, 1940, or 1946. The Paris of the Nazi occupation. Paris as a center for the pain, suffering and cynicism of the Resistance, a city that was as much a symbol of loss, and powerlessness and isolation as it was of liberty, equality, and brotherhood. A city that was not golden or romantic, and which for many was clouded with an incurable darkness for which the taking of one's own life was also an end.
With these thoughts in mind, I puzzled over the city and my review. Standing in front of Duchamp's Fountain at the Pompidou, I imagined that Freytag-Loringhoven, again ahead of her time, would have done what so many contemporary performance artists from around the globe in the past twenty years have done—urinated on it—when seeing it on display. Freytag-Loringhoven, however, would have one-upped her artist-colleagues of the future: with her head shaved and shellacked blood red, a bird cage tied around her neck, American flag postage stamps pasted on her face, and a clutch of animals as her witnesses, she would have broken through that invisible half inch of social convention that separates museum visitors from art on display. And perhaps done something even more outrageous, and more taboo. And when the police arrived to arrest her, she would have said one word: "orgasmlitter."
For me, when I think of Elsa von Freytag-Loringhoven, I don't think of Lady Gaga, or Yoko Ono, or Marina Abramovic—all powerful female counter cultural figures, to be sure, but all of whom who would be the subjects of their own show at the Pompidou just as soon as they'd crash the party on someone else's. Instead, I think of Michel Foucault, or Rabelais, or the Marquis de Sade. Men, true, but figures who used their pens to liberate the body, sexuality and scatology as forceful modes of expression. Part of what I like so much about Freytag-Loringhoven is her resistance to cannonicity; on the other hand, thinking about her work and life relative to our own gives us an important point of reference for finding acts and attitudes of defiance in an increasingly colorless world. Next time you stand in front of Fountain, think: what would Elsa do? A question we would all do well to ask.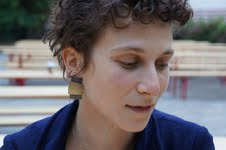 Ana Isabel Keilson is a Ph.D. student in History at Columbia University, writing on intellectual history and dance in Germany. She is also a choreographer.