By Joycelyn K. Moody
This year, my edited edition of Memoirs of Elleanor Eldridge, by Frances Harriet Whipple, with Elleanor Eldridge, was published. Memoirs had long been out of print, and the journey to republication of this significant work about a free black woman entrepreneur, which first appeared in 1838, was a long one.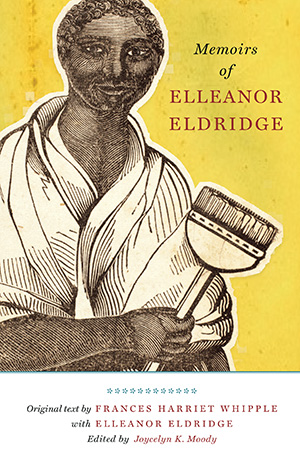 I first encountered the Memoirs of Elleanor Eldridge when I was given a copy by a special collections librarian at Penn State, where I'd gone for a job interview. It was January 18, 1991, the first day of the US invasion of the Persian Gulf, and the librarian was probably one of the few people on campus not distracted by the war that was playing and replaying on televisions everywhere. The librarian likely knew my areas of concentration were slavery, autobiography, and nineteenth-century African American women, and gave me the book as a lure.
It didn't work. I ended up teaching at the University of Washington, not Penn State, and the book—128 pages long, a photocopy of the 1971 Arno Press reprint of the 1841 revised edition of Memoirs of Elleanor Eldridge—languished in my file drawer for a long time. At the time I was writing my dissertation on enslaved and freeborn black women who published spiritual autobiographies, and because the Memoirs was a biography, not an autobiography; not written by the narrating subject; and wasn't about a Christian minister or exhorter, I had neither the time nor the immediate need to read it.
Then I moved to St. Louis University, to edit African American Review, and I was caught up in the black academic project of recovering manuscripts and neglected texts, as part of canon reformation or expansion, if not complete annihilation. I felt called to participate in an academic movement that would challenge existing paradigms by making a space for black women writers and correcting the assumption that we had written nothing until 1970, when Maya Angelou published I Know Why the Caged Bird Sings. I remembered how excited I'd been as a graduate student to learn about Phillis Wheatley, whose poems were collected and published in 1773, and about the black women poets of the Harlem Renaissance such as Helene Johnson and Angelina Weld Grimké. As an educator, I wanted to introduce my students to black women writers, and I wasn't willing to leave it to chance they would read their works in other courses. I wanted them to know of the rich variety of contributions black women have made to the shaping of US literary, cultural, political, and philosophical traditions. We have always participated.
I decided to pull out the document I'd been given at Penn State. November 5, 2005, as my handwritten notes confirm, was the first Saturday morning that I met with my friend and colleague Sue Mendelssohn to read and study Eldridge's Memoirs. I was immediately drawn to its sentimentalism and to the problem of discerning Eldridge's voice behind, beneath, and over that of her amanuensis, Frances Whipple. I'd read The Madwoman in the Attic (1979), by Sandra Gilbert and Susan Gubar, and been struck by their analysis of women writers' use of what they call the palimpsest. Black people's texts, too, even those that are self-authored, often have a lingering, lurking subtext, the shadow of a reply to or engagement with another writer's words. Eldridge, I concluded, spoke through her interlocutor in the ways of autobiographies such as The Narrative of Sojourner Truth (1850) and The Story of Mattie J. Jackson (1866).
Like Truth and Jackson, Eldridge could not write or read, and had to rely on another woman's commitment to tell her life story as she wanted it to be told. But a key difference between Eldridge's and these later women's mediated narratives was that Eldridge had never been enslaved. She had, rather, been an entrepreneur in Providence, Rhode Island, the owner of a business providing laundry services and producing celebrated cheeses, mattress ticking, and other items. With her income, she purchased and furnished a number of homes that she leased to tenants. Her success threatened, perhaps infuriated, enough of Providence's white men that she found herself in court, the target of a lawsuit. Later she herself had to go to court to retain her real estate. With Whipple, she aimed to publish an autobiography that would restore her honor and fund her lawsuits.
Over the years, I researched the social settings Eldridge had negotiated. In March 2011, after giving a talk about Eldridge at Williams College in western Massachusetts, I decided to stop in nearby North Adams, where Eldridge had lived while recovering from typhus. I drove from there to the American Antiquarian Society, in Worcester, through a landscape transitioning from winter to spring. The Berkshire woods were still covered in snow, but the mountainsides were filled with budding plants as warmer weather came on.
Memoirs of Elleanor Eldridge doesn't mention the terrain Eldridge and her brother George crossed together en route from Providence to North Adams, but I was awestruck as I recalled the report in the Memoirs that Eldridge had made the 180-mile journey multiple times on foot, stopping occasionally to work for wages. (That still blows me away!) At the American Antiquarian Society I studied stagecoach records to try to determine whether Eldridge would have been Jim Crowed out of that travel option and to try to trace the roads she would have taken if she'd followed stagecoach routes. I never learned whether 1820s coaches were segregated, but I decided that Eldridge would not have spent money on the fare as long as she could walk: she was nothing if not frugal. (Although she was fashion-conscious; her memoir details the stylish outfit she wore when her brother was inaugurated as Colored Governor in a Rhode Island pageant, sometime in the 1820s.)
By the time I was driving through the Berkshires and envisioning Eldridge there, the production of my edition of Memoirs of Elleanor Eldridge (2014) was well underway. But that road trip confirmed what I had already suspected: it would be the M.E.E. and me for a long time to come.
Joycelyn K. Moody is professor of English and the Sue E. Denman Distinguished Chair in American Literature at the University of Texas at San Antonio, where she is also the director of the African American Literatures and Cultures Institute. She is immediate past editor of African American Review. Besides numerous articles and book chapters on slavery, African American literature and culture, and black feminist issues, her publications include Memoirs of Elleanor Eldridge and Sentimental Confessions: Spiritual Narratives of Nineteenth-Century African American Women. With John Ernest, she is the co-editor of Regenerations: African American Literature and Culture, a book series devoted to reprinting editions of overlooked literary works by early African American writers.