By Rosario Rodríguez de Hall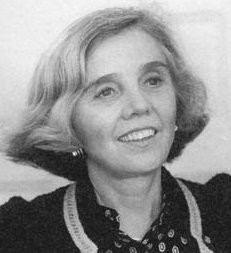 In November 2013, Mexican author Elena Poniatowska was informed that she had been awarded the Cervantes Prize, said to be the equivalent of the Nobel Prize in the Spanish language. She will officially receive it on April 23, 2014, during a ceremony at the Universidad de Alcala de Henares.
Having written my doctoral dissertation on Poniatowska's 1988 fictionalized autobiography, La 'Flor de Lis' (which is not yet translated into English), I am often asked why Poniatowska is not well known by American readers. In response, I retell an anecdote that the author herself shared with the public at a literature conference in Puerto Rico in 2010, where Poniatowska was receiving an honorary doctorate. She had been fired by her agent in the States because, according to the agent, she did not answer emails promptly. Poniatowska tried to explain to the agent that, in her neighborhood, there are frequent outages in Internet service, so sometimes it was impossible to read or respond to email. In fact, Poniatowska and her former agent inhabited two different worlds, of infrastructure and of culture: while the agent had urgent marketing issues, Poniatowska was contending with more immediate problems, as do other Mexicans.
Poniatowska is the fourth woman, and the only Mexican woman, to have received the prestigious prize, established in 1976 and awarded annually on April 23, the birthday of Miguel de Cervantes. But if her name is now slightly better known, not so her life nor her work.
Elena Poniatowska Amor was born in France to a Mexican mother and a Polish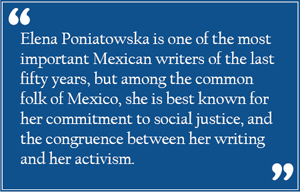 father. Her mother belonged to one of the families that formed part of Mexico's oligarchy during the short-lived reign of Maximilian I of Mexico in the nineteenth century. Her father was a descendant of the eighteenth-century king of Poland, Stanislaw II August. In 1942, due to World War II, when Elena was ten years old, her family emigrated from France to Mexico; from the beginning she identified Mexico as her country.
Her first novel, Lilus Kikus, appeared in 1954. Since then, she has combined her work as a novelist and as a reporter, authoring more than forty books. Her narratives are imbued with her insights as a journalist, especially her works of narrative nonfiction, such as La noche de Tlatelolco (1971)—published in English as Massacre in Mexico (1975)—a compilation of interviews with participants in the student movement of 1968. The work depicts the students' struggles to improve college education, and the subsequent massacre of young demonstrators by the Mexican government during a protest rally on October 2 of that same year.
Though Massacre in Mexico may be Elena Poniatowska's best-selling book in Mexico, her novel, Hasta no verte Jesus mío (1969; translated 2001 as Here's to You, Jesusa) has generated the most intense critical interest. Based on interviews with the Mexican peasant Josefina Bórquez, this novel captures the voice of Jesusa Palancares, as she tells her life story to Poniatowska. Jesusa, whose life encompasses Mexico's major social and historical developments from the 1910 Revolution to the 1968 student movement, has experienced the struggles familiar to so many Mexicans as they have left the countryside for the slums of Mexico City.
Poniatowska has also recreated the lives of artists and intellectuals in Mexico, among them the photographer and political activist Tina Modotti, in Tinísima (1992). Another novel, Dear Diego (2012), concerns the relationship between the Russian painter Angelina Beloff and Diego Rivera.
La 'Flor de Lis' is less known. The protagonist narrates her arrival in Mexico from France and her adjustment to her new home, meanwhile offering a critique of Mexico's classism and racism. Perhaps with the "discovery" of her work through the prize, this novel will finally see a translation into English.
Poniatowska has been recognized as one of the most important Mexican writers of the last fifty years, but among the common folk of Mexico, she is best known for her commitment to social justice, and the congruence between her writing and her activism. Politically she leans to the left, which some see as idealism, others as an anachronism. However, this is precisely why her compatriots feel free to approach her without hesitation on the street and at public appearances. For them she is "Elenita," "doña Elena," or "comrade."
If Poniatowska needs a literary agent to gain readership in English, she probably has a new one by now. And, yes, she does answer email and phone calls just like anybody else, except when her assistant Martina García Ramírez—or señora de la casa, as Poniatowska refers to her—picks up. Even after the caller has provided his or her credentials, Ramírez will still be skeptical and think twice before putting Poniatowska on the phone, just as she did when José Ignacio Wert, Spain's Minister of Education, called to announce that Poniatowska had been awarded the Cervantes Prize. It took him two phone calls to reach the author.
I suppose that, too, would be considered by the US publishing industry to be bad marketing.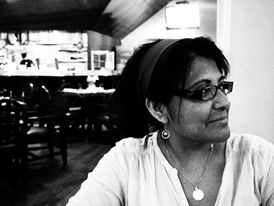 Rosario Hall, assistant professor of Spanish, teaches language and literature at Hardin-Simmons University and enjoys playing soccer with her students and colleagues.