By Carrie Dearborn
If you are twenty-something in the US, chances are good that you know more about disabilities than your elders did at the same age. You've been around people with disabilities, (PWD) and manners toward us have changed. For instance, you ask a PWD if she or he needs help before pushing right in and doing whatever you assume the person needs.
However, your elders are catching up. Recently, a train driver forgot to let me off the train. I rang the bell madly while the doors closed. People saw what was happening, and all of them tried getting the driver's attention. Twenty years ago, this probably wouldn't have happened in Boston. I once tried getting help ringing a doorbell on Tremont Street, and it took thirty minutes.
In the 1980s, disabled people were treated as though we were completely nonhuman. We were still riding in the back of the bus and were only 25 years out of back rooms, and it hadn't yet become obvious that people of color were more rapidly becoming disabled than whites. For a brief period, from about 1995 through 2001, things looked reasonably good for people with disabilities, at least here in Massachusetts, where I live. We had a more racially diverse state house than ever before; gains for the have-nots; universal health care; and increased employment opportunities. But during the past decade or so, things have plunged back to fairly awful. The gains we made were taken back: the state house reverted to all white; disability employment got worse. The coming decade will be a little hard to track accurately. The statistics will take a while to catch up, and too many disability activists have moved, retired, or died.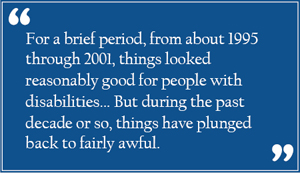 Still, where we stand now is not completely obscure. Some people and institutions have seen few gains at all, and the gains that have been made are not necessarily perceived as connected to disabled activists' forty years of slogging through muck. Take, for example, wages for personal care attendants (PCAs). Back in 1973, when the program started, the workers were paid minimum wage, with no holidays, no sick time, no vacations, no pensions. Every year, disabled activists went to what was called a rate-setting hearing at the state house. Teensy-tiny gains were made. "Teensy" is the operative word. In a good year, PCAs would get a 25-cent-per-hour raise. But even when this happened, the raise would be swallowed up by inflation. PCA wages remained an embarrassment.
All that changed in 2007, when the attendants unionized. Slowly, but not as painfully slowly as before, the PCAs received substantial raises, more holidays, and Social Security. This year, they will begin to receive vacation pay.
Sometimes, today's circumstances look incredibly positive. PWDs are no longer segregated or relegated to backs of restaurants (with the garbage). We no longer automatically live in the worst neighborhoods, in apartments next to the trash rooms, and we're no longer the last to board the bus. It's like all of a sudden, after years of rancid gruel, here's an ice cream sundae!
But the good news is tempered by the bad. Payment for HIV meds is forever in a state of flux, as is funding for education. The fact that condoms and dental dams prevent the spread of HIV may be common knowledge in some circles, but it's not for a lot of young LGBT people. Older activists like me fear the return of the specter of skinny dying youth.
At the moment, the disability rights movement seems top heavy with men (maybe it always was, but it seems to me that women used to be more visible). I think these guys "get it," although I recently saw a trailer for a movie in which a disabled white man I've known for years snarls something cruel—something a patriarch would say to a young girl. It shook me up, until I realized it had to have been that weird sense of humor I have been seeing among younger people, which I just don't get.
So it looks like the pendulum is at the beginning of a swing forward. Discussions I've overheard at PWD conferences reveal that more people are looking at things through gender and racial lenses—quite a switch from the first conference I went to in the eighties, when I was the only person to notice the all-white room. More women of every color are getting into government. I find myself closing my eyes and going with the flow. Most of today's disability activists were born after the passage of the Americans with Disabilities Act in 1990. They are very different—less isolated, more included in society than those, like me, who were born before the act passed. I can't wait to see how they do things.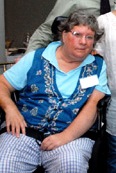 Carrie Dearborn is a writer, comedian, and advocate on disability issues. A former computer operator specialist and downhill ski instructor, Dearborn was 27 in 1981 when she had a stroke resulting from an Arterial Venus Malformation. One of the first AVM stroke survivors, she was kept alive by machines for one month and spent seven months voiceless.
Dearborn has had gigs doing "sit-down comedy" for neighborhood, heathcare, disability, and gay and lesbian groups. She is an advocate for people with disabilities on issues ranging from transportation access to healthcare issues. She has served on the board of the Boston Center for Independent Living, and was an advisor for many Massachusetts Bay Transportation Agency projects. Her articles, essays and book reviews have appeared in Sojourner: The Women's Forum; Equal Times; The New England Women's Yellow Pages; Gay Community News; Lambda Book Report; Jamaica Plain Gazette; This Brain Has a Mouth; and Disability Rag—as well as in the anthology, Whatever It Takes: Women on Women's Sport. Her new book is Quiet in the Tornado: A Disability Primer.
She has a degree from New England College in Henniker, New Hampshire, and lives in Jamaica Plain, Massachusetts, with her caregiver of 26 years. She is a member of the National Writers Union.