By Danielle Legros Georges
[Remarks made on Monday, January 19, 2015, at Faneuil Hall in Boston for A Day of Service and Celebration of the Rev. Dr. Martin Luther King Jr., presented by Mayor Martin J. Walsh, the Boston Youth Symphony Orchestra's Intensive Community Program, and the Museum of African American History]
Good afternoon. I am very happy to be here with you as part of today's Martin Luther
King Jr. Day of Service and Celebration. I am also pleased to be the second poet laureate of the city of Boston. My role as the PL (if you will) is to the raise the status of poetry in the consciousness of Bostonians. I plan to do so today with the sharing of remarks and a few poems in this great space.
I want to begin, however, with a story. It's a story about my mother, whose name I call now, Edmonde Legros Georges Martineau, so she can be with us. She died last year.
My family moved to the States from Haiti when I was a young person. We settled in the Boston neighborhood of Mattapan, and my mother worked for eighteen years at the Federal Reserve Bank. There she made good friends and retired from the bank with wonderful memories of her time there. It was also there she engaged in a small, quiet annual act—an act that has stayed with me.
Every year she chose not to work on January 15—taking the day off as a personal or vacation day, and letting her colleagues know she was doing this in recognition of the birthday of Martin Luther King. She did this for many years before 1986, which as you know, was the year MLK Day became a federal holiday and began to be observed by workplaces in the States.
That quiet act of my mother's crystallized for me the connections between Haiti and the United States, and the histories and the cultures I was negotiating as an immigrant kid. What I saw, through her gesture, was a Haitian woman talking to an American event and experience in a very personal and at the same time political way.
Her gesture allowed a linking for me of the Haitian history I learned from her, my father, our elders—and the history of our new home. It underscored for me the connections between the women and men who made the 1804 Haitian Revolution,
which served as a global beacon for struggles against slavery and colonialism in the nineteenth and twentieth centuries; the women and men in the United States who sought independence; and those here who struggled against slavery and who fought fiercely for their own and others' civil and human rights. It allowed me an entrée into a discussion of African American and American history, politics, and culture.
I believe my mother, like others, identified with and felt the need to honor King because his philosophy was neither foreign to her nor antithetical to her own vision of the world. The ideas of the movement, or movements, in which he was deeply rooted were familiar to her.
I want to note that my mother did not identify as African American. She identified deeply as a Haitian and as a black woman. I believe she didn't identify as African American simply because it didn't occur to her, and because she did not grow up with an African American experience.
I say this less to be provocative than to highlight a transnational or universal aspect of King's work and the work of the US civil rights movement—both in its formulation and in its articulation. King honed his ideas on nonviolent resistance after a 1959 visit to India, where he witnessed the strategies and teachings of the Mahatma Gandhi; and the participants and leaders of twentieth-century decolonization, anti-apartheid, and freedom movements around the world—in Africa, Asia, and the United Kingdom—referenced and were inspired by King's work. In other words, his impact was global.
Back to my mother, who called herself a black woman. Like her, I call myself a black woman. I also consider myself an African American, a Haitian-American, a plain ol' American, an industrial-strength American, an American without prefix, a global citizen, a human being in the twenty-first century. And isn't that what this is ultimately about?
Being able to live in a society, in a country—in a world even—that allows you the freedom to self-identify, to make yourself, to realize your dreams. Being able to live in an environment that does not ignore difference—of skin color, gender, religion, choice of partner—but does not limit you because of it.
Isn't it about living in a society in which your difference or identity does not automatically make you a target for less-than, for lack of due process, for limited access to decent housing and jobs, or enough to eat, or safe streets. Isn't it about the ability of all peoples, as King wrote, to have education and culture? It's about the freedom to express one's full humanity.
Such freedom is not easily achieved, as we know and have seen. It is hard won. It requires courage in its pursuit. King's work and life bear witness to this.
I want to share a few poems that, I feel, while not written about King, nevertheless address, in one way or another, the great continuum of which King was an extraordinary leader.
These first two are written by Sam Cornish, Boston's first poet laureate. They take us back to the times of Harriet Tubman, the American abolitionist and humanitarian, who throughout the 1800s took on the dangerous work of leading colleagues and family members out of slaveholding states and through the network of safe houses and activists we know as the Underground Railroad.
Harriet Tubman Is Moses

Harriet Tubman is General Moses

Moses is coming

Let the moon rise

For the Lord

Moses is coming and I

Have been waiting

Moses is coming

Heard stomping the darkness

Coming to set her children free
Harriet Brings Runaways North
Harriet Tubman trampin' out

of the wilderness

Leaning on the Lord

Get ready for Harriet she

Comes in the night

Harriet sings only twice

Harriet takes you

Where the rain can't wet you

No sun to burn you

When Harriet sings

Runaway it's safe

Harriet

We will follow you

To the grave

Harriet

Journeying North

Walk them easy

Don't leave them

Behind
[poems reprinted with permission from Sam Cornish]
In 1935, the writer Langston Hughes published a poem that explored not the journey from South to the North, but the distance between the American Dream and poor Americans, whether white, black, Native American, immigrant, farmer, or worker. The poem "Let America Be America Again" firmly holds up a mirror to American inequality, all the while maintaining the idea or possibility of a great country, of an America that can live up to its expressed principles, including social justice. I'll read you some portions of it:
Writing later in the twentieth century was Maya Angelou, a poet, renaissance woman, and contemporary and supporter of King's. In 1960 she served in the New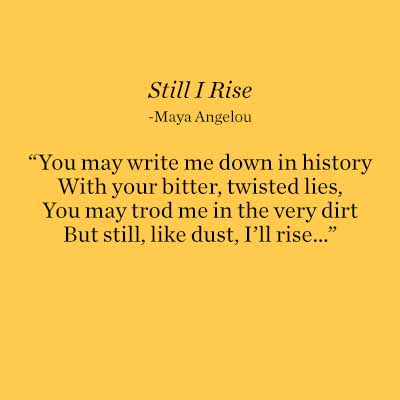 York office of the Southern Christian Leadership Conference, the African American civil rights organization, which King served as first president. "Still I Rise" is a poem you may know. I like it for the sense of personal power and resilience it conveys.
Finally, here is a poem by Roque Dalton, a Salvadoran journalist, and a much-appreciated Latin American poet. He addresses connection, community, struggle, and poetry in "Como Tú," written in 1975.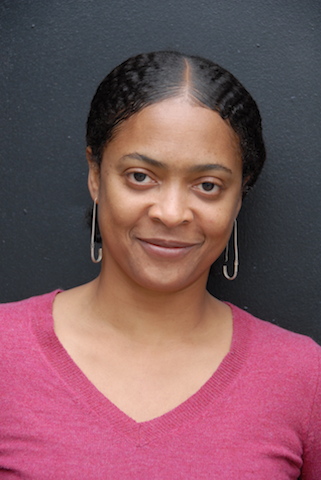 Danielle Legros Georges is a professor in the Creative Arts and Learning Division at Lesley University. Her areas of interest include arts and education, contemporary American poetry, African American poetry, Caribbean literature and studies, and literary translation. A writer and poet, Legros Georges has been recognized for her poetry and scholarship with awards including a recent Massachusetts Cultural Council Artist Fellowship in Poetry. Her poems have appeared in numerous literary journals and anthologies, and a book of poems, Maroon. In 2014 she was appointed Boston's Poet Laureate.