By Bettina Aptheker
Reviewing the recent book, Passionate Commitments, by Julia Allen, which provides critical biographies of Anna Rochester and Grace Hutchins, was a great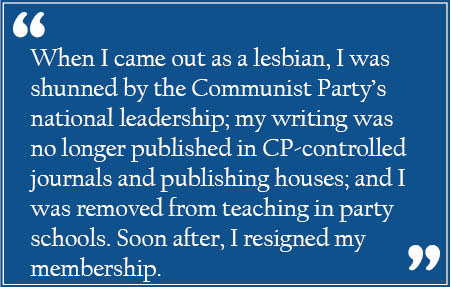 pleasure. Having grown up in a Communist family in New York in the 1950s, I knew Hutchins—a founder of the Labor Research Association and an economist who particularly focused on women worker—when I was a child; and Rochester's many books and pamphlets, including Rulers of America, Why Farmers Are Poor, and The Populist Movement in the United States, were prominent on my father's bookshelves.
What I did not know until I was in my late thirties, though, was that Anna and Grace were a lesbian couple—a secret my father shared with me after I came out to him. He said it casually, in the midst of a conversation, announcing that "everyone knew" about Grace and Anna. Well, obviously not everyone: I had been a member of the Communist Party since I was seventeen, and no one had breathed a word of this information to me. When I came out at age 35, I was shunned by the party's national leadership (although many of my comrades in Northern California remained welcoming); my writing was no longer published in CP-controlled journals and publishing houses; and I was removed from teaching in party schools. Soon after, I resigned my membership.
The point of this story, both personal and political, is to affirm that the Communist Party outlawed gay and lesbian members in its constitution, beginning in 1938, and it did not change this policy until the early 1990s. It declared homosexuality to be a bourgeois degeneracy and worse. Given my personal history, and after an invitation to be part of a panel at a conference of the American Studies Association in 2006, about queer folks on the left, I began more systematic research into gays and lesbians in the Communist left in the United States. The process has been fascinating, and the results astonishing (at least to me!).
In the spring of 2010 I began work in the archives of the CPUSA, which are housed in the Tamiment Library at NYU. I was informed that the party had placed no restrictions on access to its archives—with one exception: the files of the so-called Review Commission, also known as the Control Commission, post-1953. These are the case files of individuals brought before the commission for disciplinary action as a result of some perceived or actual violation of party policy. It was the body that had the authority to suspend or expel members of the party. Those files were sealed.
Yet they were the files I most needed to see: the party did not permit homosexuals to join or to remain members, and it was the Review Commission that would have expelled them. I sent an email to the current general secretary of the party, Sam Webb, whom I did not know him previously, telling him what I was up to and asking if he would meet with me. He was very open and generous with his time, and met me for lunch. We talked together for nearly two hours, and by the end I had complete access to anything I wished to see in the party files, including the records of the Control/Review Commission, with the proviso that post-1953, I not use any names. I had no problem with this. I was not trying to embarrass or "out" anybody.
Through the rest of the spring of 2010, and on subsequent occasions, I have worked diligently in this archive. It is very tedious and painstaking because there are no categories for words such as "homosexuality," "gay," "lesbian," or "queer." Files are organized by name, and occasionally by location. This means I have to look at every file and at least skim it to see if it has anything to do with gay, lesbian, or bisexual individuals. There are thousands of files.
There are also all of the unrestricted files designated by names of individuals
and/or by organizations or events, and I have been perusing those as well, because I have some informed, shall we say, suspicions or guesses about potentially queer party members. I have, of course, also found folks whom I knew or knew of, and whose files I cannot resist examining. For example, in the open archive there was a folder for a woman named Rose Wortis, which I absolutely had to read, because she was the woman who recruited my mother into the party in 1929. And what a flaming, radical, gorgeous, charismatic union organizer she was! She never married, as far as I could tell, although she cut a rather extensive swath of lovers among the men! Alas!
In addition to the Tamiment Library, I have been working in the Manuscript Division of the New York Public Library, which has an extensive
LGBT collection; the Schomburg Library for Black Culture and History, which recently added an extensive LGBT collection; the One and June L. Mazer archives in Los Angeles; the Special Collections at the San Francisco Public Library, which now houses the Gay and Lesbian Historical Society's archives. Specifically, the San Francisco Public Library houses most of the papers of Harry Hay, the Communist Party member who founded the Mattachine Society, the first openly gay civil rights organization in the United States, in Los Angeles in 1951. I have also been in the Sophia Smith College Archives and the Schlesinger Library to study the papers of individuals whom I know were in the party and whom I have reason to believe were lesbians.
The gay and lesbian archives pose the same search issues as the party archives, except in reverse. That is, they have no specific categories for Communist, or even more broadly, left politics.
Given both anti-Communist and homophobic persecutions, politically radical gay and lesbian folks were often closeted in multiple ways. What I have found deeply moving is the extent to which many of them made sure that in their archives the record was explicit and clear. For example, the women's historian Eleanor Flexner, who wrote a brilliant study of the woman suffrage movement, Century of Struggle, and whose papers are at the Schlesinger Library at Radcliffe College, was lovers with Helen Terry for many, many years. Letters between them and Flexner's journal entries after Terry's death give ample evidence of their relationship. Nevertheless, this fact has almost never been publicly acknowledged or mentioned in studies of Flexner and her work. In the Schlesinger's description of the archive Terry is described only as a "friend."
Historians continue to erase these activists' gay and lesbian identities. It is my hope that I will be able to tell at least some of their stories, honor their lives, document their contributions, and re-vision the ways in which we understand both LGBT and Communist histories.
Bettina Aptheker is a professor of Feminist Studies at the University of California, Santa Cruz, where she has taught for more than thirty years. Her most recent book is a memoir, Intimate Politics: How I Grew Up Red, Fought for Free Speech and Became A Feminist Rebel. An activist for social justice and peace since the 1960s, she co-led the Free Speech Movement at the University of California, Berkeley, and in the early 1970s the movement to free Angela Davis. Her book, The Morning Breaks: The Trial of Angela Davis, chronicles that movement and the trial that ended in Davis's acquittal. She and her life partner, Kate Miller, raised three children and now also enjoy the exuberance of three young grandsons. They live in Santa Cruz, California.