By Susan Ware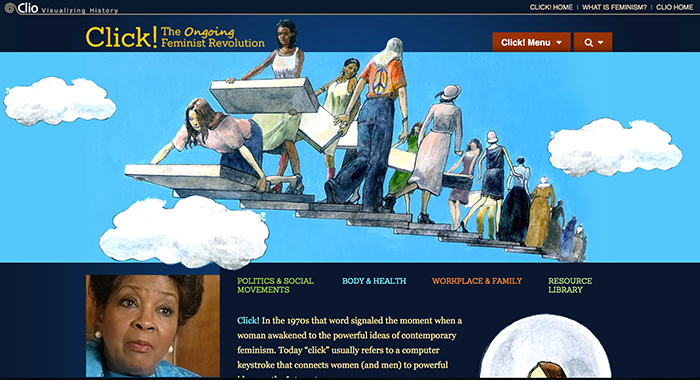 The idea for the web exhibit Click! The Ongoing Feminist Revolution originated in a moment of generational angst. The creative team, all women's historians whose lives had been enriched by participation in second-wave feminism, feared that the history of this life-changing social movement was being lost to younger generations and forgotten by the culture at large. So we decided to use our historical training to answer the challenge. Five years later we proudly launched our creation, named, in the spirit of 1970s consciousness-raising, Click!—for the moment when women discovered the powerful ideas of modern feminism as well as the computer keystroke that connects us all to the powerful tools of the Internet.
The driving force behind Click! was Clio Visualizing History, an education organization founded in 1996 to develop innovative online history projects for multimedia platforms. One of Clio's first projects was a documentary film on the Miss America pageant, which aired on PBS in 2002. Clio initially planned to make a series of documentaries on feminist themes (for example, we wanted to make one about the 1973 "Battle of the Sexes" between Billie Jean King and Bobby Riggs), but our proposals kept getting shot down at the National Endowment for the Humanities.


Ella BakerSo if not a film, then how about a website? We made that transition around 2011, not quite knowing where it would lead us. When we explored resources on the web, we were pleasantly surprised to discover that feminism was alive and well, indeed thriving, there. But we didn't find anything that treated the history of the women's movement in depth. That became our mission.

Although Click! technically covers the period from the 1940s to the present, the exhibit really starts around 1960. Even that is a huge period to tackle, so at an early planning meeting we hashed out a three-pronged organizational structure: "Politics and Social Movements," "Work and Family," and "Body and Health." I volunteered to be head writer and set about crafting the text. By the time I was done, I had practically written a short book.

As anyone knows, just putting blocks of text up on a website doesn't work. We had to figure out how to make the site visually engaging without sacrificing its historical meatiness. By trial and error, we came up with a winning approach. Project team member Melanie Gustafson took charge of the timelines that accompanied each chapter. Clicking on dates vertically stacked like books, on one side of the text, takes visitors to a range of resources, including films, books, and documents. Another team member, Lyn Blackwell, took charge of the resource library, which offers extensive bibliographies and other material related to topics discussed in the exhibit, as well as links to various organizations discussed in the text. After all, our subtitle refers to the "ongoing" feminist revolution, and we want to pass it forward.
The real heart and soul of the website are the film clips. Clio founder Lola Van Wagenen took the lead here, searching out
Dolores Huerta documentary films (Women Make Movies was a key partner), contacting filmmakers, and working with them to edit clips and trailers to accompany the text. The 46 clips from 27 documentary films vary in length from a few minutes to almost half hour, and highlight people such as Ella Baker, Addie Wyatt, and Dolores Huerta and topics such as marriage equality, women in sports, sex education, and LGBTQ struggles. Not surprisingly, the clips have turned out to be the most popular feature of the exhibit. We hope this exposure provides a welcome boost to the filmmakers who worked so hard to create them.

Additional layers of expertise involving artists, web designers, and computer experts went into the construction of the site, and I am in awe of the final result. The exhibit has a striking visual coherence. I especially like the way we used book covers as illustrations to accompany the text, a literal shout-out to the scholarship that underlies it.

So what can you expect when you click on the website? The home page offers an overview of the project, written in language designed to feel welcoming both to a popular audience and academics and students. It prominently features a light bulb, which turns on when you click on it and links to an introduction to modern feminism called "Are you sure you know what feminism really is?" I had a lot of fun writing that section.
After that, the experience is very much of your own making. We realize that nobody is going to read the text all the way through, so it's designed to make it easy to skip around among text, clips, resources, and photos. You can spend minutes or hours at Click!. A search function helps you locate specific topics, but it is fun to see where your clicks take you.

Having launched in October 2015, we are still in the process of learning who our audience is. From the feedback we have gotten so far, the exhibit has been embraced by professors and teachers, who love the ability to show film clips in class. It has been well received among the generations of feminists who themselves participated in the movement. Thank you, Robin Morgan, for calling us "fan-frikkin'-tastic." As we had hoped, it has also proven a good way to open dialogue across the generations and genders.

By far our biggest challenge remains getting the word out. There is a ton of historical content readily available on the web, including quite a lot on women's history and feminism, although nothing quite like what we created. Identifying our core audiences and then driving traffic to the site is our top priority. Once folks come to the web exhibit, we then want them to linger and explore. That is why we are so excited about the reactions from teachers who have already used Click! in the classroom.

In the end there really is no substitute for experiencing it yourself. So on behalf of Clio Visualizing History and the whole creative team, I invite you to start clicking. Prepare to have your historical consciousness raised!




Historian and biographer Susan Ware serves as general editor of American National Biography and is a member of the Schlesinger Library Council at the Radcliffe Institute for Advanced Study. Her most recent book is American Women's History: A Very Short Introduction.