By Kate Rushin


When I walked into Bluestockings Bookstore, on New York's Lower East Side, this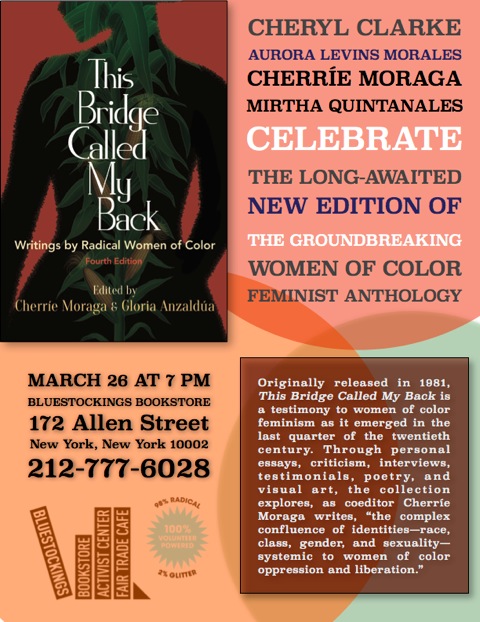 past spring, I found the atmosphere familiar—progressive, multicultural, left and feminist books on plain, wooden shelves; a few small cafe tables for coffee and laptops—yet oddly unsettling. The twenty-something volunteers behind the ubiquitous jumble at the front desk counter did not seem especially interested in the fact that I was there to read for the launch of the fourth edition of This Bridge Called My Back. (The next shift would be in charge.)
I thought back to the excitement that surrounded the original publication from Persephone Press. There'd been a prepublication reading and many others once the book was published, including a huge gathering at the Arlington Street Church in Boston.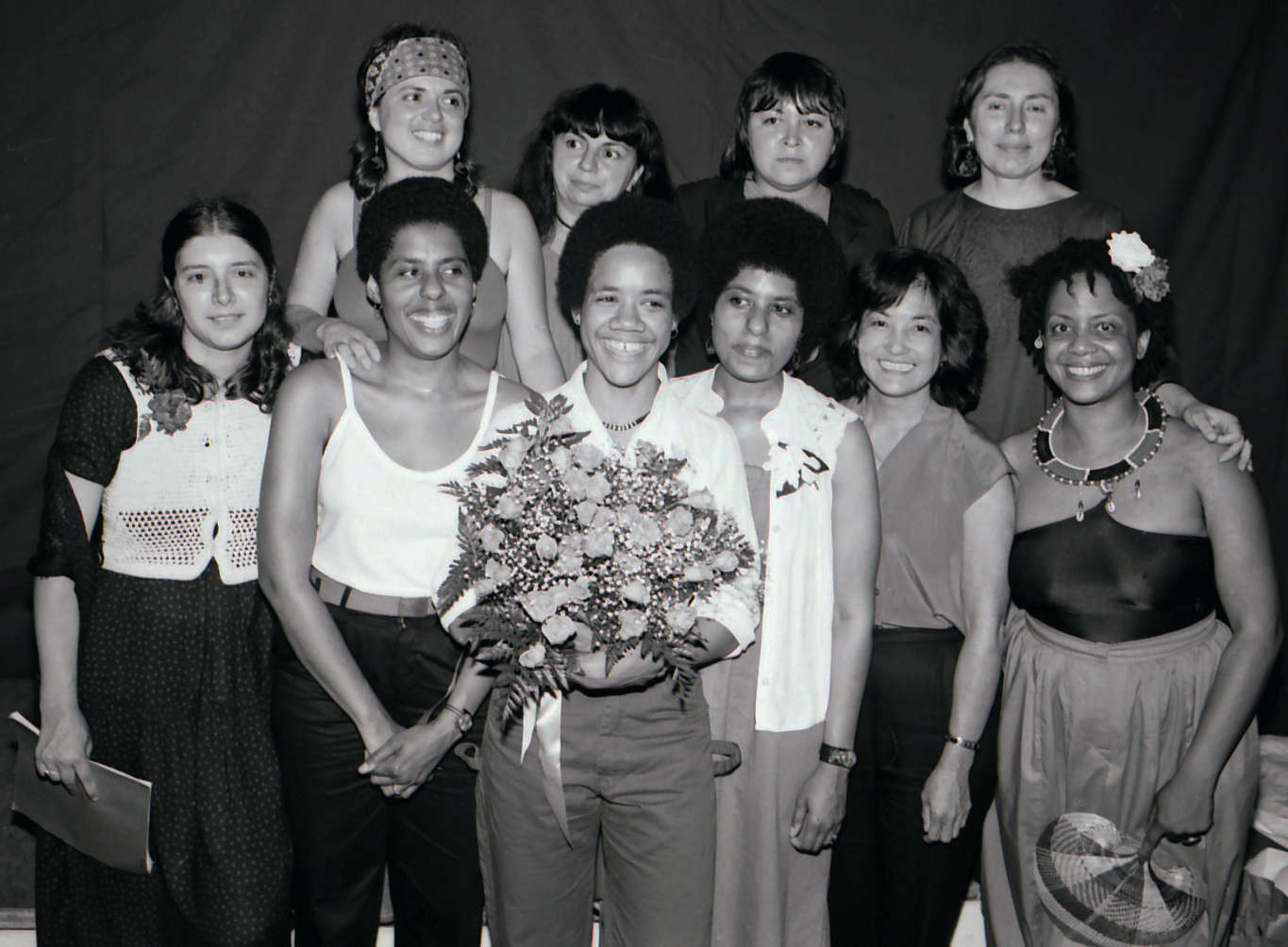 Some of the original contributors to This Bridge Called My Back at the Arlington Street Church, June 5, 1981. Top row, left to right: Cherrie Moraga, Gloria Anzaldua, Barbara Cameron, Rosario Morales. Bottom row, left to right: Aurora Levins Morales, Barbara Smith, Kate Rushin, Beverly Smith, Nellie Wong, Hattie Gossett. Photo by Susan Fleischmann.
I retreated to the street to scope out a good place to eat and to make cellphone contact with Cherrie Moraga, Mirta Quintanales, Yvette Louis (standing in for Aurora Levins-Morales), and Stuart Bernstein (Bridge's literary representative), who were making their way through rush-hour traffic from an afternoon event at New Jersey City University. I settled on a hip, Italian restaurant right down the street at the corner. The group arrived, appreciative for the chance to regroup. Although some of us were meeting for the first time and others hadn't seen each other in years, it wasn't long before we were all laughing, talking, sipping; sharing tastes of dishes and snatches of catch-up stories about life, work, health, and special diets.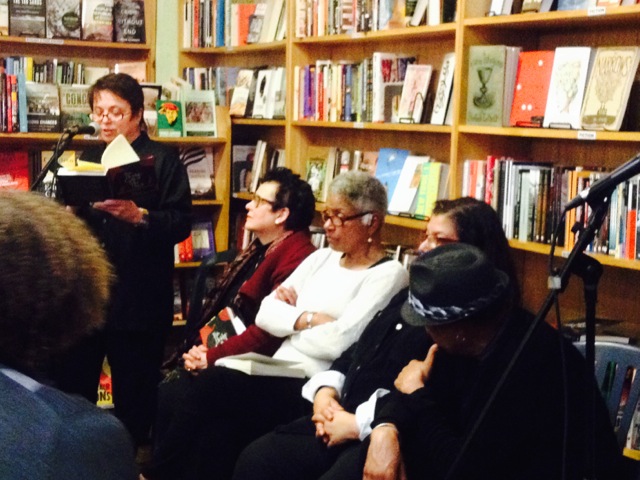 Poet Cheryl Clarke was at the bookstore by the time we arrived. The staff had pushed aside the standing shelves and set up folding metal chairs. We edged our way to the back and stowed our bags and coats where we could, on already crowded hooks and on top of cardboard boxes on the floor along the wall. It wasn't long before the place was packed; standing-room only. It was a great, motley, engaged, energetic New York crowd with some out-of- towners there for the occasion.
Cheryl Clarke (in white sweater) and others listen to the Bridge reading. Photo by Stuart Bernstein.
Remembered, first and foremost, were the Bridge women who had passed in the middle of their lives: Gloria Anzaldua, Toni Cade Bambara, Barbara Cameron, Audre Lorde, Pat Parker, Rosario Morales. As I sat, listening, thinking back, I decided to read a piece by Rosario, neighbor and friend to New Words Bookstore in Inman Square, Cambridge, Massachusetts, where I had worked. Along with Robin Becker (now Women's Review of Books contributing and poetry editor) Rosario had been my poetry-reading friend. (I was honored to lead the 2011 memorial service for her at the Cambridge Y).
I chose a poem that Rosario often included in her readings, "I Am What I Am." It had been years since I had read Rosario's work aloud, but as soon as I began I could hear her voice in my mind's ear: her rhythms, her inflections, her nuances, her wicked sense of humor:

I am what I am/ I am Puerto Rican/ I am US Amercan/ I am New York Manhattan and the Bronx/ I am what I am I'm not hiding under no stoop/ behind no curtain/ I am what I am/ I am Boricua as boricuas come from the isle of Manhattan and I croon Carlos Gardel tangos in my sleep and Afro-Cuban beats in my blood and Xavier Cugat's lukewarm latin is so familiar and dear/ sneer dear but he's familiar and dear . . . .
The audience hung onto every word we read and spoke.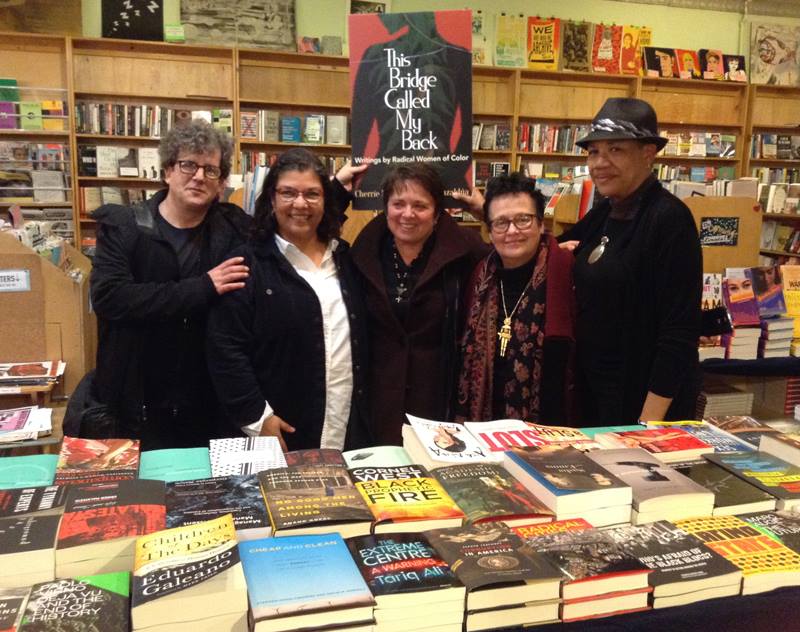 At Bluestockings: Stuart Bernstein, Yvette Louis, Cherrie Moraga, Mirta Quintanales, Kate Rushin.
We listened just as intently to each other. During the question and answer period. I got the sense that some of the students who asked questions were looking for answers we couldn't give. Cherrie had spoken passionately and quite frankly about some of the struggles and doubts that she'd had over the years; she wasn't always certain that she would succeed in bringing the anthology back into print. When we were asked the what-are-you-doing-now question, each of us responded with some variation of "working, writing, living life." Apparently, not one of the five of us had come armed with a particular organization to join, petition to sign, or strategy to follow. I looked down the row at my sister-writers and wondered, with a mild sense of dread, if we sounded vague and out of date. However, I also felt quite certain that each of us was speaking sincerely. We simply had no easy answers to offer.

One young woman spoke of being of a different ethnicity from each of her parents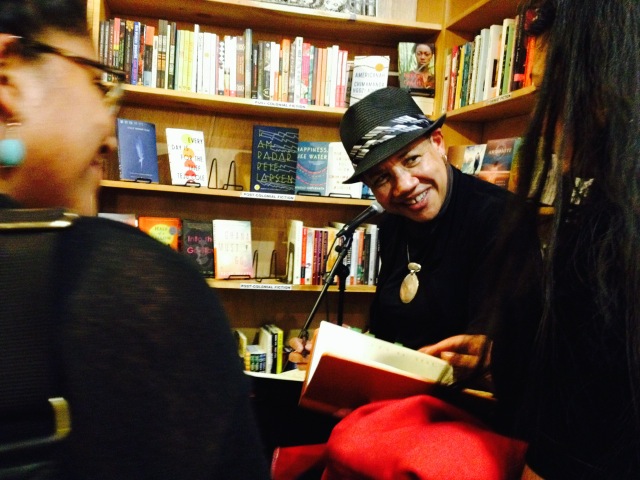 . She seemed to be implying that the composition of her family presented some sort of impediment. Did she think that we Bridge women had advocated or demanded some sort of homogeneity, ethnic or otherwise? The implications troubled me. Despite the critiques of identity politics, I knew that the women present were not advocates of any kind of glib essentialism.
Kate Rushin talks to audience members. Photo by
Stuart Bernstein.

Anyone who knew us, or who had read our work, knew that we had intimate knowledge of fluid lines and shifting categories. We challenged painful and hurtful labels of exclusion. Our perceptions and analysis, our writing, our very lives had given rise to the powerful concept of intersectionality. It was important to me to double back to this young woman's comment. My message to her was, I hope, humane and for real: Talk to your parents; find out about their journeys, their life stories, their choices. Ask your questions. Listen. Look on them, and yourself, with compassion.

Another student spoke of her frustration as she tried to make a difference on the campus of her highly selective, liberal arts college. I knew, too well, what her comment was shorthand for: endless, exhausting debates about definitions, competing theories; academia vs. community, race, gender, class, all the "isms," with the resultant insensitivities, hurt feelings, broken personal relationships. I made sure to speak with this student afterward, asked a few questions, brainstormed a few suggestions: "What about producing a ten-minute radio broadcast/ podcast on an issue agreed upon by the members of the group?" She expressed interest in radio, but, she hesitated. Perhaps this idea was too much, too soon. "Or, you could pick a Saturday morning," I offered. "You could run an activity for kids: reading, art, or sports. The group decides." Again, this educated, energetic, young woman looked dubious. I glanced at the rain sheeting down through the storefront window. The time was short; the night was long. Everybody had to fight their way home. I gave it one more try. "Have the people in your group ever shared a meal?" That question got her attention. Encouraged, I continued. "You could pick a Saturday night or a Sunday midday; have a potluck supper or brunch. Everybody brings a special dish and a story about it to share."

That's it. That's what I had for her. The publication of this new edition of This Bridge Called My Back and the Bluestockings reading reminds me that it's all about a process of connection and reconnection. Generationally. Intergenerationally. Back to basics. Cook. Eat. Talk. Listen. Organize. Act. Women's Movement 101. The personal is political. These lessons will never go out of date. Individuals, no matter who we are or how we define ourselves--no matter how sophisticated our technology--must connect in meaningful ways through these basic, human interactions. The young people of today have the same questions that young people had in the past. What to do and how to do it? "Presence" is always the answer. Being present to ourselves, being present to one another. It's simple—but it's not easy.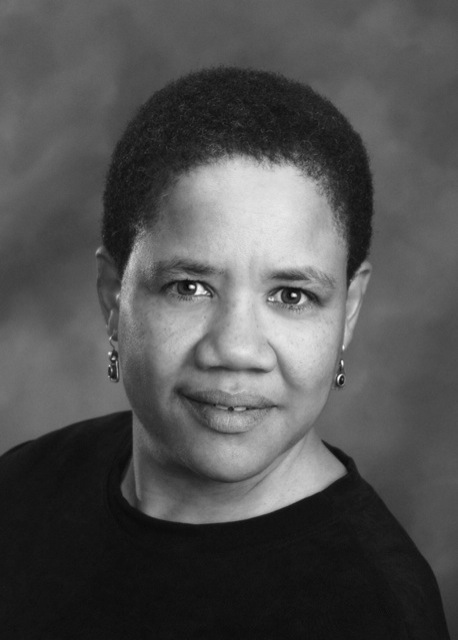 Kate Rushin is the author of The Black Back-ups and was part of the New Words Bookstore Collective for ten years. She graduated from Oberlin College, received an MFA in Creative Writing from Brown University, and has taught poetry and Black Women Writers at the University of Massachusetts, MIT, and Wesleyan University. Her work has been published in Callaloo, Cave Canem, and, most recently,The Feminist Wire, Raising Lilly Ledbetter: Women Poets Occupy the Workspace, and the inaugural issue of WordPeace.