By Barbara Sjoholm


She always planned to write a book.

Like many grassroots activists, Barbara Brenner never had time. As the executive director of Breast Cancer Action, she was too busy fundraising, attending conferences, expanding membership, reading up on the latest cancer research, and devising campaigns like "Think Before You Pink" to expose the multimillion-dollar breast cancer industry.

Yet she also wrote constantly. Every issue of the BCAction newsletter had a column by Barbara, and these added up over the fifteen years she was the organization's public face. Her columns were flavorful and sharp, as she dissected research claims and pointed a finger at corporate sponsorship, at Avon walks and Revlon ads, as she asked where the money went and where in hell were the results?


She took aim at the Susan G. Komen Foundation's leadership and its collusion with the corporations it was funded by. She stood firm in the decision that BCAction would never take corporate money. She derided Breast Cancer Awareness Month, as "Breast Cancer Industry Month," or "October Madness."


As a former lawyer and Northern California ACLU board member, Barbara was alert to fraudulent claims and language misuse, as well as the power of legislation and relentless advocacy.

She wasn't always nice. She talked back. But she was funny and smart, and she had a smile that disarmed her targets even as the words hit home. Some people in the money-making world of breast cancer "awareness" hated her. But a lot more people—women with breast cancer and their loved ones, shattered and hoping––loved her for her feisty optimism.

She was a Baltimore girl, a Jew, a lesbian, a graduate of Smith College and the University of California Berkeley's law school. She was a self-described hell-raiser, a "bad girl of breast cancer." Her first brush with breast cancer came when she was 41, and it changed her life. Her compassion for others with the disease made her a fighter on their behalf as well as her own. In 2010, age sixty, on the verge of retiring to write her book and to spend more time doing other things she loved, Barbara was diagnosed with ALS.

She went on writing. This time it was a blog, Healthy Barbs, where she continued her crusade against those who would profit from breast cancer. But she also wrote freely about her own experiences with ALS, in particular the gradual loss of her speaking voice. She wrote of what she loved—nature, her partner Susie Lampert, her friends, and her religion. As the end came nearer, her beliefs and practices around Judaism deepened. She gave a few speeches using SpeakIt; she accepted an award from the ACLU-NC and one from Smith College; she lived to see the screening of Pink Ribbons, Inc., a documentary by the Canadian filmmaker Léa Pool about the commercialization of breast cancer, in which Barbara herself had spoken eloquently, when she still could.

Barbara died in 2013, and the following year Susie Lampert contacted me on the advice of a mutual friend to see if I could create a book from Barbara's newsletter columns and blog posts. I hadn't met Barbara, nor had I ever edited the writing of someone I couldn't talk to about her work. But I remember very clearly the afternoon I sat down on the floor of my office, surrounded by all the columns retrieved from the electronic archives of the newsletter and all the blog posts printed out, and started to get to know this woman, to trace the trajectory of her activism and her dying.

I think I grew braver reading her words. Like a lot of people, I'd suspected there was something quite wrong about the whole pink thing: the walks, the runs, the ribbons, and the fact that the "cure" never actually seemed to happen; it only got pushed into a future that would never come. My mother died of breast cancer in 1963, when I was twelve, fifty years ago; millions of women have died before and since. Did we need more "awareness?" All of us who did self-exams in the shower, who went regularly for mammograms, and who had lost family and dear friends were plenty aware already. We needed to kick some ass.


From the first BCAction newsletter column in 1995, Barbara's intellectual clarity and incisive critique, her demand for action and accountability, held me spellbound. As an editor I knew the challenge was going to be what to leave out, and how to shape the book. By the fall of 2014 I had a manuscript and by February of 2015, we had a publisher. The team at the University of Minnesota Press, who had published Samantha King's excellent Pink Ribbons, Inc., understood the importance of Barbara Brenner, and immediately wanted to take on So Much To Be Done.

Over the months I worked on the book, I encountered many people who had been close to Barbara, who worked with her on campaigns, who hiked with her, who prayed with her, who hung out with her as a buddy. I felt daunted at times by the challenge of writing about someone I didn't know, who was so beloved and admired. I hoped I was describing her as clearly as I could on behalf of the many, like me, who never met her and now never would, but who could understand and be inspired by her health activism. To do that I used words from Barbara's own writing in the columns and blogs, and quotes from interviews and an oral history she did for Smith College toward the end of her life.

In April 2015, after my edited manuscript was accepted and into the early production process, Susie e-mailed me to say she had found a document on Barbara's iPad. It was about a hundred pages of autobiographical texts, some cut and pasted from columns and blogs, some more recently written. Barbara had listed a few possible titles, including "My Life as a Hell-Raiser," "Living on the Edge," "Challenging Assumptions," and "Not for the Faint of Heart" (which had been at one point my own working title for the book). The subtitle was to be "An Activist Memoir," and below that she'd written its theme: " a political memoir about my work in breast cancer and the effects of ALS on how I work, not who I am."

There was still time for me to incorporate more of her words into my introduction, "A Portrait of Barbara Brenner." I added quotes and memories that I hoped would make the book even more her own, the book she always planned to write. Once I'd feared it might be difficult to create a coherent manuscript from short pieces. I'd worried that I wouldn't get it right, wouldn't get her right. But in the end I felt that we, two Barbaras, had had some of the same ideas about what might make a good book and a good life, from the questions she asked, to the peace she found.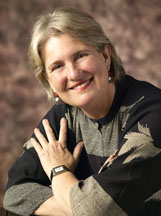 Barbara Sjoholm co-founded Seal Press in 1976. She is the author of many works of fiction and nonfiction, including Gaudi Afternoon, Blue Windows, Incognito Street, and The Pirate Queen. She is a translator from Norwegian and Danish. Black Fox, her biography of the Danish ethnographer and artist Emilie Demant Hatt, is forthcoming in 2017.