By Jan Clausen
I'm discovering that the reissue of an out-of-print book generates even more fodder for self-doubt than the initial publication—especially when your own life is the topic.

"It's written as though there are only two genders!"

A trailblazing transgender rights advocate wasn't thrilled with Apples and Oranges: My Journey through Sexual Identity, a memoir I initially published in 1999. Seven Stories Press, my publisher for the reissue, had forwarded the advocate a copy for comment, incurring this scathing verdict. "It might have been cutting edge back in the 90s, but in 2017, it comes off as reactionary!"

The activist was right about my binary blinders. Apples and Oranges, at its core a memoir of lesbian feminism in the 1970s and 80s, evokes the experience of "falling in love with a gender" and looks at what happens when lived experience—in my case, becoming romantically involved with a man—scrambles not only self-definition but also community connections. Because this is a political memoir as well as a personal one, I reflect on the folly of trying to shoehorn everyone into a binary definition of sexual selfhood (the gay/straight divide) as a frame for the remembered moments of my lesbian feminist life and my eventual "breakup" with my beloved women's community.


Paradoxically, however, as the transgender activist pointed out, there is an even more fundamental cultural assumption about binarity—the either/or of "female" versus "male"—that the book takes for granted, notwithstanding a few nods to trans experience. This is because Apples and Oranges is rooted in what might be called the female nationalism of my political formation in the early years of Second Wave feminism. At a moment when people who "trouble the line" often claim the cutting edge of gender politics, the trans activist's comment gave me pause.

As a complaint about exclusion of a key perspective, it's a valid criticism. At a deeper level, though, I experienced it as the return of an old theme: "just women"—cis women, in today's parlance—are boring, unsexy, unworthy of rapt attention. Would this be the larger culture's response to the 2017 edition of Apples and Oranges?

"Believe: in time someone will remember even us," the early twentieth-century Russian lesbian poet Sophia Parnok wrote in her lyric "Dreams of Sappho." The wistfulness of that line has haunted me ever since I read a 1980 essay on Parnok that Rima Shore published in Conditions, the lesbian literary magazine we co-edited together with Elly Bulkin and Irena Klepfisz. Time and again, I'm astonished (I know I shouldn't be) that the discoveries about self-determination that my feminist and lesbian cohort made in the 1970s and 80s seem so lost to the larger culture. In my more optimistic moods, I believe that my memoir is now more relevant than ever, thanks not so much to its theoretical framework, but rather to its efforts to recall the intimate texture of erotic feeling, creative insurrection, mutual support, and practical organizing knowledge in an intensely politicized community of female human beings nervy enough to think that women, all by ourselves, could take on the world.

I need to emphasize that word: self-determination. It points in two directions, given that "self" suggests the individual, yet the term resonates with the history of decolonization and national liberation struggles in the global South. June Jordan dazzlingly projects this duality in her "Poem about My Rights," spoken in the first person singular but possessing an explicitly collective frame and an aching awareness of the tight weld between personal and public history: "whether it's about the sanctity of my vagina or/the sanctity of my national boundaries…I can tell you that from now on my resistance/my simple and daily and nightly self-determination/may very well cost you your life." Apples and Oranges probes the tension between the ideal of group cohesion—the awareness that in order to make lasting change, the disempowered have only their solidarity to rely on—and the reality that the practice of freedom also needs to foster individuation, making room for idiosyncratic tastes and personal happiness. What does it mean to be free in both a personal and collective sense? And how does membership in a subordinated group inform the negotiation of private self-definition and collective loyalty?

Self-determination: demand the impossible. I remembered what that felt like, at least for a minute or two, last January 21st , in the streets of Washington, DC. I'd taken a union bus down there, and all day long, I was so proud of my people. Proud that women thought up the Women's March, and that more and different women were leading the way in a massive action that welcomed everyone while centering female voice and initiative. And yet...at the same time, I couldn't help seeing through the historical lens of my experience at the Women's Pentagon Action in 1980. This was an
antimilitarist demo held amid the aftershock of Ronald Reagan's first successful bid for the presidency: another sorry moment in the long march of the unthinkable in American politics. Why did it feel like we were having to reinvent the wheel in 2017? And why was that reinvention so partial? Where, for example, was the old radical outrage about US aggression? Why were the marchers wearing the sea of pink pussyhats apparently so minimally concerned with the horrors and dangers of war?

When the film Wonder Woman opened, I read that a theater near me in Brooklyn had scheduled special showings for a female-only crowd. Reporters interviewed audience members who shared their thrill at the novelty of being in a room full of women, cheering on a superheroine while shielded from rude fanboy comments. Spoilsport that I am, I couldn't help comparing this commercialized simulacrum of self-determination with my memory of homemade feminist theatrics, circa 1975. Here's how I describe that scene in Apples and Oranges, my soon-to-be lover and I on the threshold of a dozen-year partnership:

"Now she lay with her head in my lap, and the admission this implied, after weeks of indirection, felt stunningly intimate—the great rejoicing, I'd written, of finding something that seemed lost, of touching something that seemed forbidden, removed forever….The show that night [by a collective called It's All Right to Be Woman Theater] was good-natured, highly creative agitprop, all the more enjoyable for feeling homemade, openly defiant of the standards and methods of
A Crankieprofessional, male-dominated theater. I remember almost nothing of the substance, but I do recall a crankie. A common accessory to political street theater in those days, it was a sort of continuous mural, painted on butcher paper and scrolled around two long sticks. As helpers "cranked" the mural, slowly revealing successive frames, the actors would illustrate the contents. I also recall an opening song—"It's all right to be woman, big belly, rough hands, sore back"—something like that. It sounds simple enough, even simpleminded, an easy mark for snickering putdowns of "seventies feminism" (I Am Woman, Hear Me Roar), but it didn't come off that way. Instead it seemed that all of us there, actors and audience, were discovering something we couldn't have known so deeply without this collective emotional experience. We were acknowledging, together, with humor and anger, how deeply un-all right being a woman has always been."

I got a much-needed shot of creative humor and anger, and a powerful whiff of the emotional interchange that binds together participants in vital social movements, when viewing a current exhibit at the Brooklyn Museum: "We Wanted a Revolution: Black Radical Women, 1965-85."
How badly we need this now, I thought: the fearlessness in describing one's own experience; the will to use any and every available material and tool; the comradeship of outcasts who have vowed not to be swayed by how anyone else defines their place in the world. There's an unmistakable sense that inspiration is, itself, collective--combined, often enough, with bravely individual style, as in Betye Saar's remarkable series "The Liberation of Aunt Jemima," which includes as one of its pieces a green, big-bellied bottle with a grinning mammy image on one side, a power fist on the other, and a rag stuffed in the bottle's neck suggesting a Molotov cocktail on the point of being hurled.

It's not like there isn't a hunger for self-determination palpable across today's political landscape. It bubbles up in radical organizing initiatives under the broad umbrella of Black Lives Matter, in the heroic actions of the Standing Rock Water Protectors, and arguably in the generational phenomenon that Sarah Leonard recently wrote about in a New York Times op-ed: "Why Are So Many Young Voters Falling for Old Socialists?" It's there for sure in the work of Arundhati Roy, whose new novel The Ministry of Utmost Happiness sent me back to read her fiery political journalism of the post-9/11 era. It's reflected in the amazing insurgencies of the many-faceted transgender movement. And yet, while these spaces and actions are frequently infused with what I take to be feminist energy and insights, they don't necessarily call themselves feminist or center women's experiences in the ways that made sense to an earlier generation. Meanwhile, rather than pursuing authentic self-determination, it seems that most political interventions that explicitly adopt the feminist label sit on the reformist end of the political spectrum.

What better time to revisit the efforts, triumphs, and errors of lesbian feminism's woman-affirming moment? I hope that in the reissue of Apples and Oranges, at least a few younger readers will find something they can use, some glimpse of possibilities. Not, heaven help us, a model to emulate, but a resource, inspiration, cautionary tale, and goad as they fashion multiple visions of female self-determination in the twenty-first century.

Jan Clausen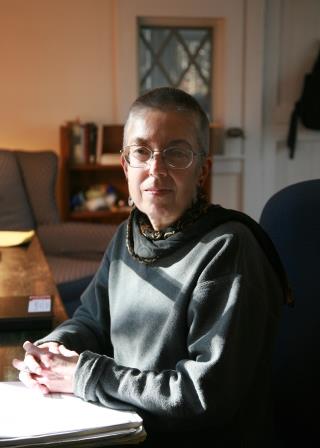 Photo by Joanna Eldredge Morrisseyis the author of eleven books in a range of genres: poetry, fiction, memoir, and criticism. She teaches in the Goddard College MFA in Writing Program. Apples and Oranges: My Journey through Sexual Identity is available from Seven Stories Press in paperback and e-book editions, with a new Author's Preface.