By Valerie Sperling
In the run-up to the Sochi Olympics, Russia's federal law banning homosexual "propaganda" drew considerable international attention. In June 2013, the now-infamous law passed Russia's lower house of parliament by a vote of 436 to zero, with one abstention, before being signed into law by President Vladimir Putin. It outlawed the distribution or expression of information that portrayed homosexuality and same-sex relationships in a positive light, or that equated them in value with heterosexual relationships, and that did so in such a way that minors could be exposed to this information. Curiously, the law did not refer to "homosexual" propaganda, but to that for "nontraditional" sexual orientation. According to one of the sponsors of the law, Elena Mizulina, the reason that Russia's lawmakers didn't use the term "homosexual," was that even uttering it somehow "involuntarily propagandizes" homosexuality.
Where did this law come from? In 1990, nearly half of Russian citizens polled thought that homosexuals should be "isolated from society," whereas by 2005, the proportion who felt this way fell to 31 percent, while 49 percent thought gays should be left to their own devices. The newly independent Russian state's legalization of gay sex in 1993 probably spurred some of this change in public opinion, and by the end of Putin's first presidential term, in 2004, attitudes towards homosexuals had improved significantly, compared to those at the end of the Soviet era.
The trend toward greater acceptance reversed course in recent years. In 2012, public opinion polls showed that respondents regarded gays and lesbians with even stronger distaste than they did people of nationalities or religions different from their own. Sixty-one percent of Russians believed that homosexuality was acquired, and 47 percent believed that it resulted from exposure to mass media and other sources. Only 25 percent believed it was inherent. In December 2012, fans of St. Petersburg's most famous soccer team, Zenit (owned by the Russian state-run gas company, Gazprom), posted a public letter calling for the team to hire only heterosexual, light-skinned players.
In March 2012, the legislature of St. Petersburg, usually Russia's most liberal city, passed a law banning the promotion of homosexuality to minors. This law joined those in a handful of other Russian cities, which in effect outlawed gay rights rallies and the distribution of literature about homosexuality. In June 2012, in a burst of homophobic efficiency, and emboldened by the St. Petersburg law and others, a Moscow city court banned LGBT pride events in the city for the next 100 years. The national law emerged in this context.
Russian public opinion on LGBT rights is not uniform. Liberal activists who oppose Putin and his regime are more likely to support gay rights than their regime-supporting counterparts. But not all of the Putin regime's opponents favor LGBT rights. On May Day 2011, for instance, Russia's annual left-wing protest march for the first time included a "gender" contingent made up of gays and feminists, some of whom carried gay rights posters and a rainbow flag. According to a young feminist participant, during the march people from one of the left-wing groups tried to tear up the posters and pull down the flag, shouting insults and threats such as "Send all the fags to Auschwitz!"
Russian Orthodox Church leaders have supported the new law, and some have even endorsed hate crimes against gays. In October 2012, after a masked mob beat up a group of people at a gay-friendly club in Moscow, a popular Russian Orthodox priest, Father Sergei Rybko,
known as the "evangelist to punks," posted an essay online in which he sympathized with the attackers, saying,
I understand the Russian people's indignation. The Holy Scriptures command [us] to stone all of these people with a nontraditional [sexual] orientation. Until that trash has been cleared off the Russian land, I will fully share the views of those who are trying to cleanse our Motherland of it. If the state doesn't do it, the people will.
He added regretfully that as a priest he "could not take part in such actions."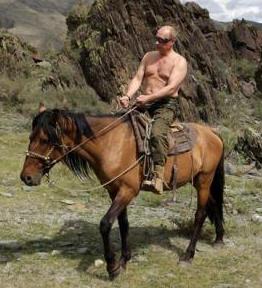 Given this backdrop, it is not surprising that Russian politicians try to gain popular legitimacy by appealing to homophobia. For years the Kremlin's public relations teams have made sure that Putin's public image is a strongly macho one.Witness the bare-chested photos of Putin on various fishing trips, riding on horseback, playing hockey and exhibiting his martial arts skills.
However, machismo only works for politicians because of the implicit contrast to its opposite—namely, to femininity, or being like a woman. Sexism and homophobia thus share a common root: both concepts rest on misogyny. Being "like a woman" is demeaning for a man, since women and femininity rank lower on the patriarchal power hierarchy than men and masculinity.
Putin's handlers have been careful to emphasize Putin's manliness and to present him as the heterosexual male ideal. And reportedly, Russian women find him appealing; in the first year of his presidency, an opinion poll claimed that 3,500 out of 5,000 Russian women surveyed thought Putin was "the sexiest man in Russia," and in a 2012 survey by the Levada Center, twenty percent of Russian women said they would like to marry him.
Meanwhile, those who would undermine Putin's image as a strong, manly, heterosexual leader reliably meet with repression. In August 2013, a St. Petersburg art exhibit was shut down by the authorities because several of the paintings implied that Putin, Medvedev, and other political leaders who had outspokenly supported the antigay law were themselves gay.
One painting portrayed Putin and Medvedev as romantic partners: Putin wears a pink negligee and stands behind Medvedev, running his fingers through Medvedev's hair. Medvedev, who has breasts in the painting, is shown wearing a matching demi-bra and panties in blue with a flowery print. The paintings were carted off by police as evidence of "extremism."
The Russian regime has been encouraging homophobia in subtle and not so subtle ways for the past decade. Homophobia is in line with Russian Orthodox Church doctrine, and homophobic attitudes are quite strong among the public, so politicians' endorsement of homophobia wins points. The upsurge in homophobic legislation and rhetoric is an aspect of President Vladimir Putin's political legitimation strategy.
Valerie Sperling teaches political science and women's studies at Clark University. Her book Sex, Politics, and Putin is forthcoming from Oxford University Press.