By A. J. Verdelle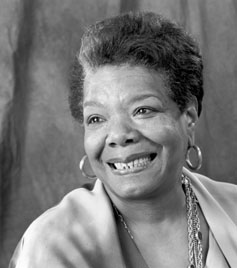 Maya Angelou, who passed from among us this month, led a life of stunning accomplishment, and of opposites. She was both a name-changer and a game-changer. Young Maya Angelou, born Marguerite Johnson, spent a large part of her childhood in the rural and segregated South. She went mute at age seven, entering a trauma-induced silence after being raped by her mother's boyfriend. For five years, Marguerite spoke not one word. Living in the rural and separated South at that tender and tragic time quite possibly saved Maya Angelou's life; in crowded and anonymous cities, children who do not speak and are black are often shunted into contexts in which learning is unlikely and escape is improbable. But mute Marguerite was sheltered and encouraged by her loving grandmother, and was nurtured intellectually by a beloved teacher, Mrs. Flowers.
As an adult, Maya Angelou made both her grandmother and Mrs. Flowers more than proud. Dr. Angelou, as she came to be called, spent decades as a top-notch communicator: her sense of possibility, her commitment to right action, and her devotion to writing made her an unparalleled personality in our time. She spent decades writing and teaching, after starting out on the same rocky road as many African American teenage mothers. Details of Angelou's spates of poverty were no secret, and yet she became a "mother figure" to Oprah Winfrey, one of the richest women the world has ever seen.
Maya Angelou may be among the most famous name-changers of the twentieth century. She made no secret of the vast difference between Marguerite Johnson of Stamps, Arkansas, and Maya Angelou, woman of great dreams and huge accomplishments. Any assessment of the poet, the writer, the former dancer, the larger-than-life personality has to address the reality that she took full responsibility for making and remaking herself, her life, and her eventualities—both triumphs and shocks.
Some people—mostly the glass-half-full variety—consider Angelou solely in light of
her survival: she lived through Jim Crow and came out alive, even though, once, when her grandmother's house was raided in the terrorizing South, the family had to hide her uncle under a mess of potatoes; she lived through America's particular brand of wanton and sadistic attacks on blacks, and arose again in California, having made a supper-club dancer and an actress of herself; she made a living, as a teenage mother, and earned keep, or coins, or currency for herself and her darling son Guy, by way of sex work, which has paid cash money since the beginning of time; she wrote enough narrative pages to cover six decades, practically the whole span of her long life—and then her readers and followers kept up with the last twenty years in real time; she taught in more countries than some of us even visit; she wrote poetry with uplift and clarity enough to inspire and to educate legions of young women, and with cadence and rhyme sufficient to lodge in the memories of young children. Her poems read like anthems, and her memoirs like myth.
Dr. Maya Angelou was the walking personification of the tension of opposites. Who knows whether she ever spoke the word feminist? She definitely spoke the word "shero," coining a popular culture reference to female accomplishment; many writers and readers credit her with the invention of this word. Once the ink cools on the tributes to her life and contributions, once the solemnity before the bier has morphed into the unchanging truth of herstory, someone will investigate whether Maya Angelou considered herself "a feminist." Angelou absolutely lived the feminist ideal.
Some of us date feminism to Susan B. Anthony, a shero and advocate for women's rights. Both Susan B. Anthony and Dr. Maya Angelou cast a bright beacon for women and girl children. Phenomenal women of separate centuries, both Anthony and Angelou lived until they were 86, both passing on a month after their respective birthdays.
Perhaps no one living can speak to Susan B. Anthony's presence, to how she walked through rooms or how she spoke to the women of her time. We do know that Anthony was shero enough to be minted on a dollar coin. Maya Angelou continues to feed our living spirits and is fresh in our minds: she lived regally, flowering through her decades, crowning herself first—as a necessary precursor to continuing achievement—and then welcoming others to participate in a changing society and in the coronation of sheroes.
Maya Angelou spoke active wisdom from the perch of age, where she continued to present all the fire and expectation and power of emergence. She lived as if she had a right to life: to support her son, to see the world, to exchange thoughts with great thinkers, to change this nation. I met with Maya Angelou more than once, but when I was an undergraduate, at the University of Chicago, she invited me to sit down next to her, and she spent an hour giving me advice about the vast potential of that organ between my ears. Her basic message:
You've already stepped up. You're here. You've gotten yourself to this "ill-lust-tree-us you-ni-Ver-city." Now that you've stepped up, be somebody. You have a right, you know, to be somebody.
I was, like many, entranced—by the inimitable cadence of her speech, by the timbre of the voice she ultimately brought to light. But, Maya Angelou's relentless encouragement was one of her major calling cards; in spite of the difficulties of her life, the light of expectation emanated from her clear eyes. She was grand of stature and huge of personality, and she was exactly the woman that feminism has wanted to put within reach of every girl child. Angelou was willful in her youth, determined as she matured, and sweetly powerful as she aged. We have a strange, strained, limiting, and very western idea about aging in this country. But as the swelling ranks of baby boomers refuse to sit back and grow weak from disuse, the nation faces the truth of fit and fast-moving people over fifty—these are folk following the Angelou model. In her interviews, Angelou encouraged us to look forward to age, which feminism also advocates—our right and duty as women to age with self-defined beauty and grace and strength.
Angelou lived out her literary and professional life as a distinguished professor at Wake Forest University in Winston-Salem, North Carolina, taking a seat in the academy in the genteel South, a place more proximal and somewhat less horrifying than the deeper South where she spent her early years fearing lynching and flame, watching out for hooded men outdoors and for rapists in the house. From the stranglehold of roots in the negro-hating and girl-abusing South, Maya Angelou rose—to paraphrase her poetry—and left huts and dust and shame behind her, the only place for demons. Let the devils roar at each other, and let the tormented escape.
In her lifetime, Maya Angelou went from speechless to lionized. As Maya Angelou makes her way into the next world, it's hard not to think of Katy Perry, and young women like her, who've matured in the kind of context that Maya Angelou thought appropriate—we want to hear them roar. Without screaming, Angelou roared—from the page and the podium, literally, and lyrically. Angelou's talent for self-definition was raw and volcanic. She could and did smile in the face of tremendous pressure and adversity, because she was—as the old women used to say—"bound and determined" to cast the oppression of organized misfortune to hell. While other women would rather die, simper, or be destroyed by men and marriages that were expected and demanded of them, Maya Angelou went right to work in a whole quartet of the oldest professions: as prostitute, as bard/thespian, as storyteller, and as prophet/preacher. She had a massive flock of listeners and admirers and attendants: she was a veteran and a sage and a determined independent. For all her public resilience and accomplishment, she was awarded several honorary degrees and the Presidential Medal of Freedom.
Born in 1928 and world traveled, Angelou saw more years, more life, more wars, than most of us can imagine. Born into the barefoot dirt allotted to negroes in her time, she put on her traveling shoes, in spite of the misery meted out to her and to her family and to her contemporaries. There was no holding her, no containing her, no restraining her, no keeping her under a lid of someone else's minor design. Maya Angelou took her pin money and her penis money and her professor money and locked herself into hotel rooms so she could pen the narrative arc of her life, so that she could create poetic lines as precise as a dancer's angles, so she could actualize. So she could make a life equivalent to her desires and her imaginings.
African Americans, née Negroes, are often referred to as "naturals" when they prove proficient. Maya Angelou worked for her achievement, and welcomed all she did and
all she learned with that radiant, welcoming, mischievous wide smile. At the same time, she was a natural feminist, eschewing the learned language of the feminist wave. Instead she was a beacon with plain language and wild commerce: she made all the money and had all the freedom that the whole feminist canon beat on the doors of patriarchy to obtain. She stood tall and wondering, until she retired to her wheelchair, and there, wore wonder like a wrap.
Time has taken away a monument. Time has felled one of the queens of self-definition, has pulled one of our tallest trees to the ground. There are whole flocks of us, feminists and womanists and postfeminists and defiantly self-defined young girls like my daughter, children of the Angelou age of verse and arc, who have walked their whole lives on paths Maya Angelou helped cut through the wilderness, who have grown up reciting the cadence of Maya Angelou's life story, of her self-definition, of her reason and rhyme, of her name-changing, game-changing fierceness. Her will to be somebody—words she used often—was inimitably tied to her drive to thrive.
That's what we feminists and postfeminists, and womanists really want for our little girl children, for them to know that if they can muster the drive, they can absolutely thrive. They can roar, they can be regal, they can be tall as trees. Glass ceiling? Oh, igg-nore tha-at, Maya Angelou might say. Just breathe in this good air, and take yourself somewhere. This world has room for you.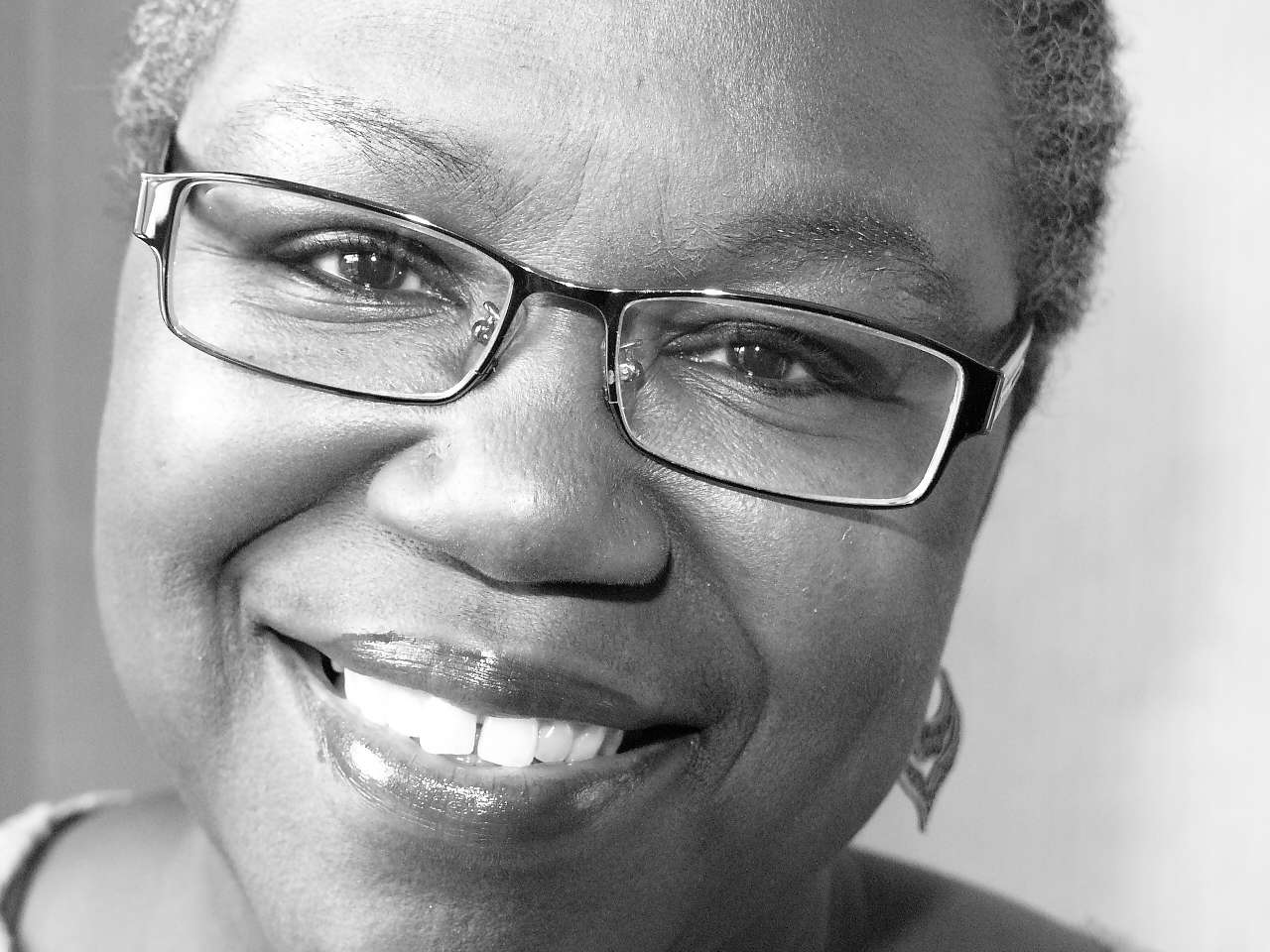 A.J. Verdelle is a novelist, essayist, working mother, and veteran creative writing instructor. Verdelle teaches aspiring adult writers at the Fine Arts Work Center in Provincetown and works with MFA candidates at Lesley University. Verdelle has judged national contests including the PEN/Faulkner Award, the Hurston Wright Legacy Awards, and the Pirate's Alley Faulkner Society Awards. Verdelle won five national prizes for her novel, The Good Negress, and her forthcoming novel is under contract at Random House. Verdelle has taught at Princeton University, the University of Kentucky, the University of Vermont, the summer program at the University of Iowa, and currently is Visiting Lecturer in Creative Writing at Morgan State University. Verdelle lives with her daughter in Washington, DC.
[photo by Thomas Sayers Ellis]