By Alicia Bublitz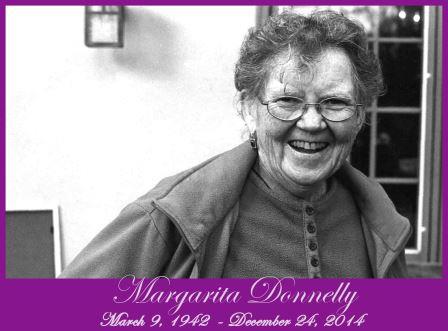 The first time I sat at Margarita Donnelly's desk I began to appreciate what a true force of nature she was. It was late summer, and while Margarita had ostensibly been retired for a year and a half, she was everywhere in the office of
Calyx: A Journal of Art and Literature by Women
, which she had run for 35 years. A stereotypical creative mind, she worked from piles organized by memory and an incredible mental Rolodex. Finding your way around the Calyx office meant you were, by default, entering the annals of the history of Calyx—a place and an idea inextricably linked with Margarita.
Calyx journal and its younger sister
Calyx Books
are, in their way, oxymorons. It was only after the brainstorming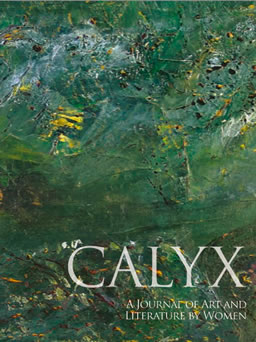 was done and the plans agreed upon that someone pointed out that the poppy chosen for the logo is one of the few flowers without a true calyx, or outer whorl. Inconsistencies of iconography aside, Calyx to this day has remained true to its original editorial and activist vision: collectively run, it protects and nurtures the "bud" of women's creative work and provides a home for voices rarely heard above the din.
Margarita once told me that in 1976, she and Calyx's other founders thought their journal might survive for about five years. There was so much momentum and optimism in the women's movement that they imagined there would be no need for such a specialist press by the early 1980s. When she told me that story, more than three decades later, she was so obviously tickled by the founders' youthful naiveté that I almost missed the rueful note in her voice, as she recounted years spent developing talented women's voices—time devoted to others' creative work rather than to her own.
Through a program sponsored by the National Endowment for the Arts in the early 1990s, Calyx received advice about nonprofit business management and organizational structure. Margarita cried the day the NEA consultants advised her that for Calyx to survive she needed to stop editing and focus full time on administration. Teeth gritted, she changed her focus—but she never did stop editing, and the next ten years became some of the most lauded in Calyx's history: Calyx books received an American Book Award, a place on the Lambda Literary Award short list, a New York Times review, and a movie deal (
Into the Forest
, based on Jean Hegland's 1998 novel and starring Ellen Page and Evan Rachel Wood, is due out in fall 2015!). Accolades in place, Calyx hired more staff and published more books, but stayed grassroots in the truest sense—the staff believed in paying attention to women's words and the power of their voices rather than to market trends, mouse-clicks, or Facebook likes.
At the last editorial meeting Margarita was able to attend, at which we were planning an anthology that would encompass Calyx's forty-year history, she was much as I imagine she would have been during the journal's early years. Piles of books spilling across the table, handwritten (mostly decipherable) notes, she veered from decade to decade, story to story. She held us spellbound with narratives that were sometimes hysterical—being in the bathroom when she was supposed to receive the American Book Award—sometimes mundane—hauling 200 pounds of books up a narrow European stairway to a book fair. Story flowed into story, and suddenly our agenda seemed insignificant in comparison to our opportunity to soak up Margarita's spirit of wisdom and joy. We still haven't covered everything on it, but the editors at that meeting, many of us relatively new to Calyx, accomplished far more that day than if we'd crossed off each of our line items; in an indefinable way, the meeting made us feel truly part of Calyx.
Margarita Donnelly died of cancer on December 24, 2014, at age 72. During her life, she took the best from her lineage and history, combining the Irish gift of storytelling and appreciation of the tragicomic with a passion for social justice born of a childhood in Venezuela. She brought these traits not just to Calyx but to everything in her life and, by lucky extension, everyone she encountered. Though she often worked behind the scenes, she left her indelible mark on the feminist landscape. Calyx was one of a multitude of small feminist presses that came out of its era but, due largely in part to Margarita's passion and grit, it is one of only a handful to survive with such continuity of mission and editorial strength. Now, as we are planning our fortieth anniversary, I feel honored every time I sit down at the editor's desk, which will always be Margarita's, wherever Calyx goes.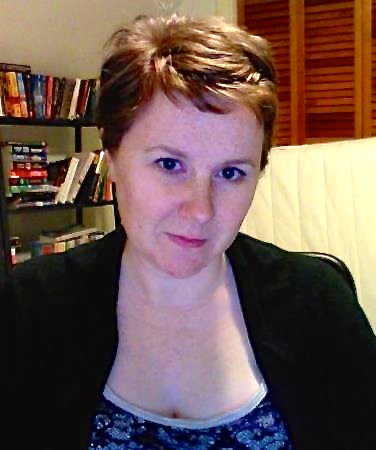 Alicia Bublitz is a feminist, activist, mother, Vagina Warrior, and life-long Girl Scout. After living in Alaska and Hawai'i she decided to move East. She landed in Oregon where she is director and managing editor of Calyx Press, one of the oldest feminist presses in the nation.