By Heather Hewett
I didn't take yoga seriously until both my body and mind were in serious danger of breaking down. I was thirty years old. In many ways, I'd never been happier: newly married, I had just moved to New York City and was working hard at realizing the things I'd always dreamed of: a writing career, a family, making a difference in the world. In other ways, I was coming to the end of two decades of pushing myself brutally hard. I hadn't exactly been kind to myself while striving toward various academic and athletic achievements. Practicing yoga made me realize that taking care of myself meant more than pulling on running shoes or eating Wheaties for breakfast.

I'd always been an athlete who loved competitive sports and physical challenges. I played varsity field hockey in college and spent my twenties picking up new sports and training for various endurance events, including the Marine Corps marathon and a month-long Alaskan kayak trip. During the long, cold months of graduate school in Wisconsin, I began cross-country skiing in earnest, joining a local ski club and training for the Kortelopet, a 24-kilometer ski race. Moving felt easier than sitting still. When I spent time outside—rhythmically gliding over the snow, losing myself among the white-capped trees—I didn't have to face my uncertainties or insecurities about graduate school, academia, or what the heck I was doing with my life.

By the time I arrived in Manhattan, I figured that training for the NYC-Boston AIDS ride would be no big deal. But the knee injury that resulted from that training made me seek out something gentler on my body. When I took a yoga class at a gym, I couldn't believe how bad I was. "Are you a runner?" asked the instructor, noticing my failed attempts to touch my toes during a simple stretch.


At first, yoga provided another challenge. There were countless studios to try out, and fitting yoga into my busy schedule became a routine. Out of curiosity, I sampled multiple yoga styles: Sivananda, Iyengar, Bikram, and what seemed to be quintessential American inventions, like yoga in studios with dimmed lights and pulsing rock music. Some of it felt ridiculous. I still liked to sweat, and I didn't have patience for classes that involved lots of meditation, chakra talk, or savasana (corpse pose). I was drawn instead to more athletic yoga, vinyasa-style classes that kept me moving.

Manhattan in the 1990s and early 2000s was a mecca for yoga. The year before I'd arrived in NYC, the storied Jivamukti Yoga Society had moved to 404 Lafayette Street, right above Crunch Gym in the East Village. Celebrities and hipsters alike toted yoga mats on the sidewalk. Classes were packed. I was suspicious of this trendiness, bothered by instances of exoticism, and put off by the cultish fervor with which some people talked about their gurus. Still, I liked how my body felt after practicing, even though I continued to think of myself as the worst student in the class.

Slowly, it dawned on me that yoga was, in fact, not about accomplishment but about breathing; not about perfecting my headstand but about accepting my body and myself. My body wasn't the only thing that was tightly wound, and I began to seek out teachers who could help me learn to calm my busy, anxious mind. When my body changed dramatically—during three pregnancies, one miscarriage, and two births—prenatal yoga helped to ground me during the rollercoaster of hormones and emotions.

Yoga is not the same as my feminist politics, but it deeply informs how I have come to understand feminism. Yoga has taught me to respect the
capabilities and limits of my body and the bodies of others. It has given me a way to practice living with acceptance, compassion, self-love, and that seemingly simple but maddeningly elusive skill: being present.

Michelle Goldberg's biography of Indra Devi, The Goddess Pose, which I review in the January/February issue of WRB, provides a context and a history for my individual practice and our collective fascination with yoga. Perhaps more than any of the better-known yogis (mostly men), Devi spread a particular kind of yoga in the postwar United States that borrowed from multiple cultural traditions and practices. Yoga as an antidote to the stress of modern living; yoga as an alternative to the aerobics boom of the 1980s; yoga as a ritual not only for men but also (predominantly, these days) for women—these transformations occurred largely because of Devi. Her particular approach to yoga reflected what we might call her feminist leanings: while she fell short of advocating radical self-acceptance or social change, she challenged many of the gendered norms of her time.

Goldberg's biography of this fascinating and contradictory figure raises more questions than answers about Devi and the complex relationship of feminist movement to yoga. But Goldberg's perspective on yoga as a global phenomenon, as a remarkably flexible and hybrid practice, convinced me of one thing: that yoga, perhaps like feminism, will continue to morph with the needs and desires of its very human practitioners.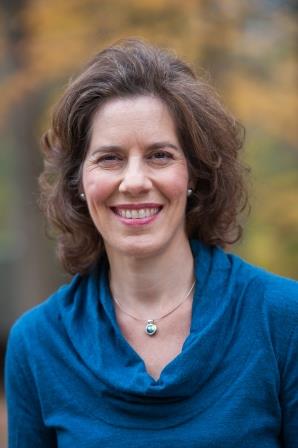 Heather Hewett is a writer and an associate professor of English and Women's, Gender, and Sexuality Studies at the State University of New York at New Paltz. She still practices yoga.