By Emily Douglas for WOMEN = BOOKS
Posted on April 19, 2010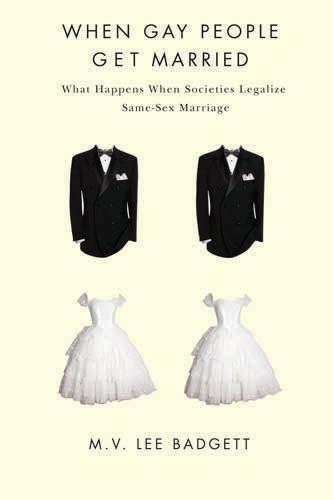 Several months since the publication of M.V. Lee Badgett's When Gay People Get Married, which I've reviewed for WRB, the debates she weighed in on—whether gay people will fundamentally alter marriage and whether marriage fundamentally alters gay people—are still raging.
That's not surprising, given that the US is embroiled in a generation-long struggle over LGBT civil rights. Badgett's book attempts to defuse the political drama surrounding marriage for same-sex couples with a calm assessment of data from countries in which same-sex marriage has been legalized, and her conclusion—a lot of graphs and charts later—is that while gay people don't change marriage, marriage doesn't change who gay people are, or how they live, very much, either.
Has Badgett's message landed?
Not quite. Foes of marriage equality are still fuming, though more and more, their arguments are looking like so much hot air. The latest twist in the fight is the highly publicized California lawsuit seeking to invalidate Proposition 8, the ballot initiative that made gay marriage illegal in the state (six months after the state Supreme Court struck down the state's gay-marriage ban, and gay couples began to marry). Perry v. Schwarzenegger is as notable for who filed the case—two attorneys,one a conservative who at first failed to secure the blessing of LGBT rights groups—as for what's on trial——to put it plainly, gayness itself.
The case is testing the equal protection provision of the Constitution and therefore asking Judge Vaughn Walker to rule on whether gay men and lesbians constitute a "suspect class" who are eligible for special consideration when laws that may discriminate against them are passed. As Gabriel Arana has written in The American Prospect, "In effect, the court's primary undertaking will be to define 'gay'—and to determine whether it is in the interest of the state to discriminate against people who fall into that category."
That makes the proceedings worth paying close attention to—they were not televised, but you can follow along at the National Center for Lesbian Rights blog. Writes NCLR Legal Director Shannon Minter :
[The trial] is the first time a federal court has heard, first hand, from real live witnesses, about the harm that the denial of marriage equality causes lesbians, gay men, and their families every day. It's also the first time a federal court has heard the arguments in favor of marriage equality presented live in court by an array of internationally renowned scholars who are truly experts in their respective fields.
The trial began on January 11, and closing arguments are yet to be scheduled.
Meanwhile, among the other squabblers Badgett sought to reason with—the "dissidents" in the LGBT community who argue, for a variety of reasons, that marriage is not the family policy that the LGBT movement should be fighting for—there's still plenty of constructive criticism of the institution, and its advocacy groups, to go around. The "Against Equality" Facebook group continues to amass followers, and Georgetown Law Professor Nan Hunter and others have kicked off a "queer bully pulpit" group blog that features, among other things, a "Freedom to Marry Our Pets Society" page.
Some people have all the fun.
If you're interested, here's some testimony from the Perry v. Schwarzenegger Trial: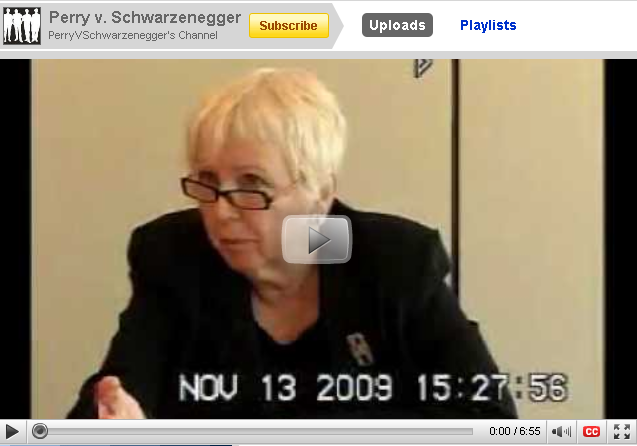 Emily Douglas is the web editor at The Nation. She blogs for The Nation's Notion blog and has covered LGBT rights for The Nation and for The American Prospect.
Read Emily Douglas's review of When Gay People Get Married by M. V. Lee Badgett in the March/April 2010 issue of WRB.