Column: Nothing But the Toth
By Emily Toth for WOMEN = BOOKS
Posted on July 19, 2010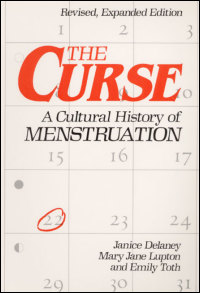 "In this hip, hilarious and truly eye-opening cultural history, menstruation is talked about as never before," reads the publisher's hype. "Flow spans its fascinating, occasionally wacky and sometimes downright scary story: from mikvahs (ritual cleansing baths) to menopause, hysteria to hysterectomies—not to mention the Pill, cramps, the history of underwear, and the movie about puberty they showed you in 5th grade."
That sounds like a terrific idea for a book—but it's a book I already wrote, even down to a similar subtitle. Flow, by Elissa Stein and Susan Kim, is subtitled "The Cultural Story of Menstruation." Way back in 1976, I wrote, with Janice Delaney and Mary Jane Lupton, The Curse: A Cultural History of Menstruation.
My co-author Mary Jane had had the inspiration one Baltimore morning when, looking into a Bloody Mary, she asked Janice and me, "Why don't we write a book about menstruation?" And so, meeting monthly in Janice's study—which had red walls—we did.
We wrote all about mikvahs and menopause, hysteria and hysterectomies—which, we said, were two of the five H's, ways to stop the flow. The others were heroin addiction; "hacking" (tuberculosis); and "Hiroshima," being near an atomic bomb. We also covered the Pill, cramps, underwear, and sex-ed movies.
So what's "never before" about the new book?
Well, except for a source listing, it gives no acknowledgment to our Curse. It also doesn't credit Karen Houppert's The Curse: Confronting the Last Unmentionable Taboo, Menstruation for info about dioxin in menstrual products.
I'm irritated by the lazy silliness of Flow, and I'm embarrassed by the prose: "Menstruation is everywhere! Why, in 2007, they even ran a nationwide commercial promoting menstrual suppression right before the Oscars, for Pete's sake!"
I don't like to trash women's books, but who is this ditzy tome being written for? Our Curse does have genuine humor, including a roundup of crass jokes ("Red Humor"), a field trip to the menstrual-products industry ("From Rags to Riches"), and a breakthrough chapter on famous menstruators in history ("The Menstrual Hall of Fame.") We did that research solely through gossip, since the Internet hadn't been invented. We're still the only biographers of the menstrual flow.
There are good books that came after ours. Chris Bobel's New Blood: Third Wave Feminism and the Politics of Menstruation is a detailed, engaged look at health activism, spiritual interpretations, cycle-stopping, and trans men. Lara Freidenfelds's The Modern Period: Menstruation in Twentieth-Century America includes 75 fascinating interviews with women and men ranging in age from 30 to 100 (yes, born before 1910). Her youngest interviewees had not read our Curse (she asked), though they were the right age.
How can we build knowledge if we don't read what other women knew? And if we treat contemporary women as if they're airheads?
Cheers, though, for Bobel and Freidenfelds. They respect women's minds and bodies, and their treatments of the curse are a blessing.
_______
Full disclosure: This spring The Modern Period won the Emily Toth Award, a prize given annually by the Popular Culture Association for the best full-length feminist study. I'm not part of the process at all, but I'm proud of the judges.
Emily Toth is the co-author, with Janice Delaney and Mary Jane Lupton, of The Curse: A Cultural History of Menstruation (1976, 1988). Their book, continually in print for 34 years, still generates royalty checks in the low two figures.