Column: Fiction from the Front Lines
By Rebecca Meacham for WOMEN = BOOKS
Posted on November 15, 2010
It was mile four of a summer afternoon run. The pavement was steaming, the sun high and bright. Suddenly, I had to stop. I doubled over.
Laughing.
It wasn't the first time I'd stopped jogging to laugh. Since 2002, when I heard humorist David Sedaris read his nonfiction live, I'd begun listening to his audiobooks during my runs. Today I can't imagine running without the spoken word to move me.
Before 2002, I ran to music. Music was my metronome for breathing. Plus, I'd never listened to an audiobook in any setting—road, plane, or living room. Back then, I thought audiobooks were for two kinds of people: fuddy-duddies who already liked droning voices (NPR, stock reports) and fanatics who couldn't make it though the carwash without the newest space thriller on the woofers.
But Sedaris has a voice that's inviting, almost cuddly, even as he describes drowning a mouse in a bucket. I wanted to hear more of him but needed chunks of time to do so.
Soon I was listening and running—and laughing. I imagined my neighbors glancing out their windows at me, the small, slow jogger who grinned and muttered "Brilliant!" and "Wow!
My, how she does love running, they'd say.
Listening to Sedaris engaged my mind in ways that music couldn't. I stopped focusing on the rhythm of inhale, exhale. Instead I wondered where all his outrageousness would lead and thrilled at the ways his narrative threads connected. I listened to be entertained—and to learn, as a writer, how to shape pieces that were funny, textured, and meaningful.
So it was no surprise to find myself doubling over at Sarah Silverman's The Bedwetter, her memoir of her childhood and rise through comedy clubs to become, as she puts it, "the woman who gave Barack Obama the election."
As I rounded a curve, Silverman explained how, through a series of improbable yet wholly logical actions she stabbed fellow comedian Al Franken in the head with a pencil. At home, I'd have rolled on the floor. Instead, on a loop where I wave at retirees on their lawnmowers, I had to feign a cramp. Like Silverman, who stammered to her bewildered colleagues as Franken's head dripped blood, it was just too hard to explain.
As I listen and run, what begins as entertainment becomes something interactive, even creative. In this way, Silverman's story activated another part of my mind: the teacher. Known for her clueless stage persona who makes cracks about taboo topics, Silverman candidly discusses her clashes with race activists and television censors alike.
As I jogged by a golf course where executives teed off, I considered her take on ethnic jokes—and the surprising craft involved in writing them—for my spring literature class. Her chapter on diary writing (it's just not interesting, not even to the writer) could clarify intention and audience to a nonfiction workshop.
Running past miniature horses grazing in weeds and pine-shadowed million-dollar homes, my body stays the course, while my mind zips ahead and skips all over the place.
Recently, I've hit milestone distances with Rebecca Skloot's The Immortal Life of Henrietta Lacks (http://rebeccaskloot.com/the-immortal-life/), the story of the family behind the most important cells in science. Skloot's book is a marvel of construction, alternating scientific explanations of genomes with scenes of faith healing and daughterly yearning. The book is so rich that I added it to a syllabus and planned a campus-wide symposium around it, all while pounding 5, then 7, then 10.5 miles of pavement.
When I ran to music, songs helped me move my body—nothing more. I love music: My youth was like so many episodes of "Glee," and I sing with my small daughters daily. Yet though I've run through beautiful scenery in Ohio, Arizona, Rhode Island, Connecticut, California, New York, Colorado, Missouri, and Wisconsin, I can't recall a single sound.
Now my landscape is infused with jokes, discoveries, human stories of heartbreak and delight. Sure, this curve might seem like a nice shady stretch in a long hot run. But for me, it's where Henrietta Lacks's searching, suffering adult children, Zakariyya and Deborah, looked tenderly at a photo made for them by a cancer researcher. In it, they saw their mother's chromosomes stained in bright colors—the literal essence of a mother they never knew.
In three miles, my own daughters will greet me at the door. They'll ask, as always, "Mama, were you exercising?" I'll be grateful for the sound of their voices— and the chance to answer "yes!"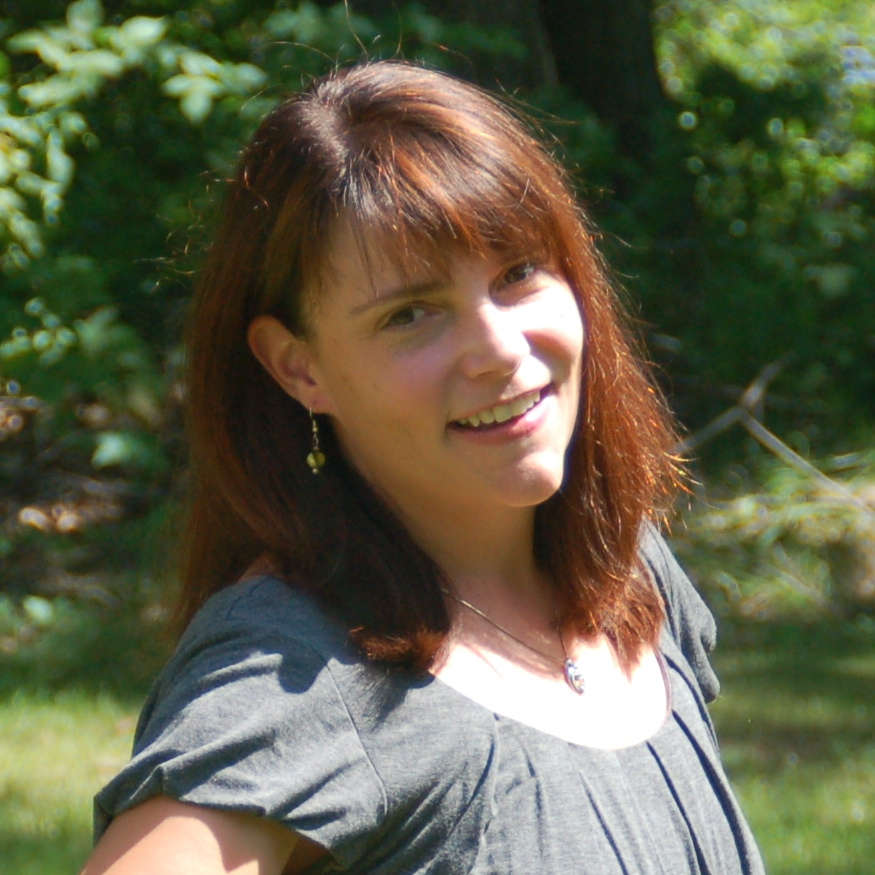 Rebecca Meacham
Rebecca Meacham's debut story collection, Let's Do, won the Katherine Anne Porter Prize in Fiction from UNT. She is an associate professor and the director of the Creative Writing program at the University of Wisconsin-Green Bay. A former fiction editor of Mid American Review, she is now Fiction Editor at the online magazine Talking Writing.