By Salamishah Tillet for WOMEN = BOOKS
Posted on November 29, 2010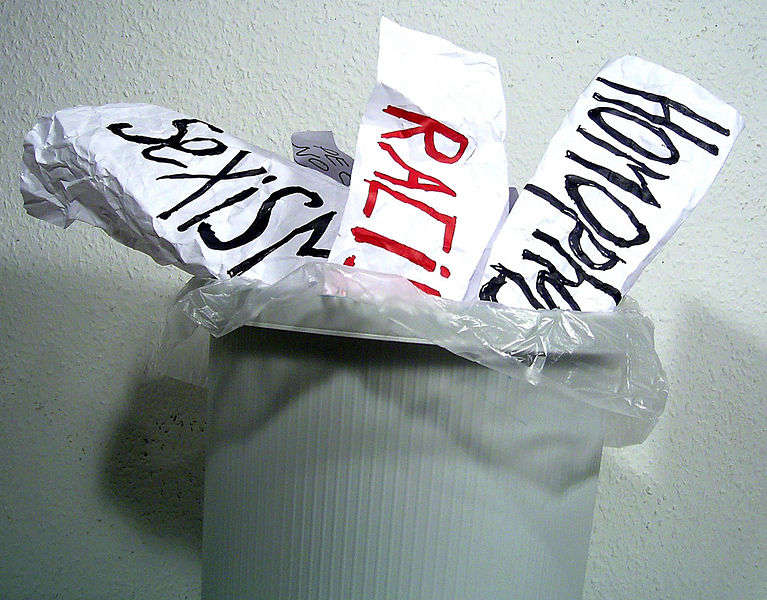 Photo courtesy of
Queereaster Media Working Group 2006
In 1965, Nina Simone released Pastel Blues, her least successful album at that time, rising only to number 139 on the Billboard charts. While the album closes with the ten-minute-plus version of Sinnerman, a song whose lyrics Simone learned growing up at her mother's revival meetings, the rest of the songs on Pastel Blues were covers.
In classic Simone style, her covers played with the originals. For example, her version of the gospel "Trouble in My Mind" lies somewhere between and beyond the vaudevillian Bertha "Chippie" Hill's original and Rosetta Tharpe's bluesy version.
By taking on the greats of Hill and Tharpe, Simone joined their legacy as self-sufficient, creative, and trendsetting blues women singers. But it was her cover of Billie Holiday's famous, 1939 anti-lynching anthem "Strange Fruit," that helped catapult Simone into her position as the chanteuse of the Civil Rights Movement.
Born in the interracial bohemian subculture of New York's café society, Holiday's recording of "Strange Fruit" was considered, as jazz critic Joachim Beredent once praised it, "the most emphatic and most impassioned musical testimony against racism."
While Simone would later vehemently reject comparisons to Billie Holiday, when asked about her musical influences in 1965, Simone quickly announced:
"I know, as people have often told me, that I'm similar to Billie Holiday. I suppose that's because we have identical lives. In one or two ways I have gone through things that she went through, musically and personally; always pushed down and rejected. That's the way it is. When you are stuck at such a point, you sing with a sort of resigned, disillusioned air about you."
Early in her career, Simone would identify Holiday as her musical kin and predecessor, as familiar and family, a musical intertexuality that can be traced back to Simone's 1958 cover of George Gershwin's "I Love You, Porgy" (which he had titled, "I Loves You…"), on Little Girl Blue and ostensibly culminated in Simone's 1972 release Nina Simone Sings Billie Holiday: Lady Sings the Blues.
However, by the time Simone published her memoir in 1991, almost thirty years after Pastel Blues, she had completely excised Holiday from her song list (with the exception of "Porgy") and fully resisted comparisons to Holiday. She writes, "They only compared me to her because we were both black. They never compared me to Maria Callas, and I'm more a diva like her than anybody else."
Such are the stories of revision and rebellion that fill Nadine Cohodas's Princess Noire, the most comprehensive and thoughtfully researched biography on Simone to date, and which I review in the September/October 2010 issue of WRB. Cohodas goes on to show that Simone's distancing from Holiday was not simply a matter of circumstance but was an important moment in Simone's political transformation.
Though linked by the seeming obstinacy of American racism, Simone's version of "Strange Fruit" was born in a different era than Holiday's. Simone recorded it at the height of the Civil Rights movement.
Musically, the songs differ as well. Simone uses no instrumental lead-in, no small-band encasement, no pulling the listener into the scene of burning flesh, plucking crows, rotting bodies. Through a literal sleight of hand, with Simone's "Strange Fruit," we are no longer silent witnesses but active subjects.
The most important departure here is Simone's rewriting of and premature climax in the second to last line ("for the leaves to drop")—a peak that Simone maintains for a longer period than Holiday. Simone is simultaneously contained and unconstrained; it's not an outburst but a cry; not a lamentation but an indictment.
Unfortunately, instead of seeing Holiday, as Farah Griffin reminds us in If You Can't Be Free, Be a Mystery, "as a model of woman who is simply too complex to be contained by the tragic victim narrative," Simone spent the rest of her career refusing to be defined by the myth of the fallen victim that still shapes Holiday. Simone rejected the mandate that a black woman who resists aesthetic constraints and social restraints must have a tragic end.
Cohodas writes that Simone chided Holiday by saying, "I'm certainly not in love with anybody, and he certainly has [not] left me out in the cold and all the junk."
Despite her later disassociation with blues, jazz, and all things Holiday—and her alignment with what Simone describes as "Vladimir Horowitz, with Rubenstein, with Maria Callas, everything to do with opera, Wanda Landowska, Marian Anderson, Leontyne Price, Oscar Peterson, Ray Charles, certainly, Thelonious Monk, the master of jazz and the masters of classics, including Bach" — Simone repeated and reckoned with Holiday more than any other musical figure.
In the end, by covering "Strange Fruit," Simone ultimately acknowledged Holiday as the foremother of black musical protest and sonically situated herself as the heir apparent for generations to come.
Salamishah Tillet is an assistant professor of English and Africana Studies at the University of Pennsylvania and the co-founder of the nonprofit organization A Long Walk Home, Inc. She is the author of Peculiar Citizenship: Slavery and the Post-Civil Rights Imagination (forthcoming) and working on a book on Nina Simone, Odetta, and Miriam Makeba. Follow her on Twitter.
Read Salamishah Tillet's review of Princess Noire: The Tumultuous Reign of Nina Simone in the September/October issue of WRB.