By Martha Gies and Poppy Dully for WOMEN = BOOKS
Posted on April 26, 2010
I was so charmed by Incantations, the anthology of poetry written by Tzotzil women which I review in the March/April 2010 issue of WRB, that I asked an American friend traveling in south Mexico to look up Ámbar Past. Ámbar is the poet who served as editor and midwife for the book. She is also the founder of Taller Leñateros, an artists' workshop in Chiapas that makes handmade paper and books.
Poppy Dully, who agreed to undertake this errand, is a painter from Portland, Oregon, where we both live. The ideal ambassador, she is bright, warm, and curious about people. She has traveled twice to Mexico for my Traveler's Mind workshops where, in the little colonial town of Papantla, Veracruz, and the beautiful mountain capital of Xalapa, she was always sketching and photographing. So I was sure to receive some images from Chiapas.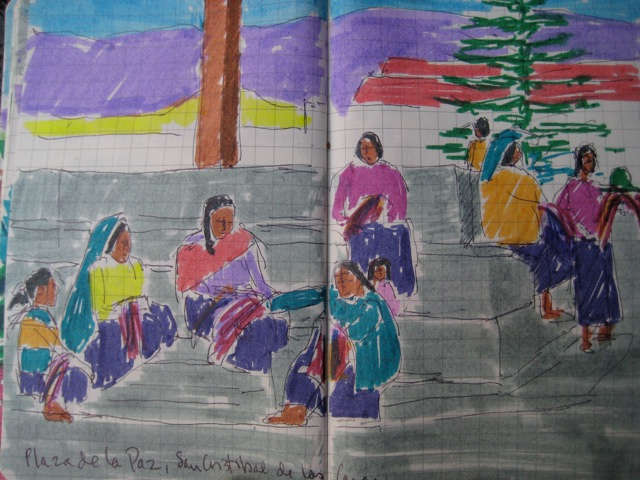 Plaza de La Paz, sketch by Poppy Dully
Poppy saw Ámbar Past in San Cristobal on February 18 and emailed me right away. Her account of the visit appears below. The photos and drawing here are also Poppy's.
I have just finished an hour and a half visit. But first, the Taller Leñateros, which is a visual delight with a colorful tienda and a production area that is both simple and luscious. The women, in native dress and aprons, work tearing up corrugated cardboard and soaking it in water, mixing in beautiful flower petals and stems, then dry the mash on racks to form handmade paper.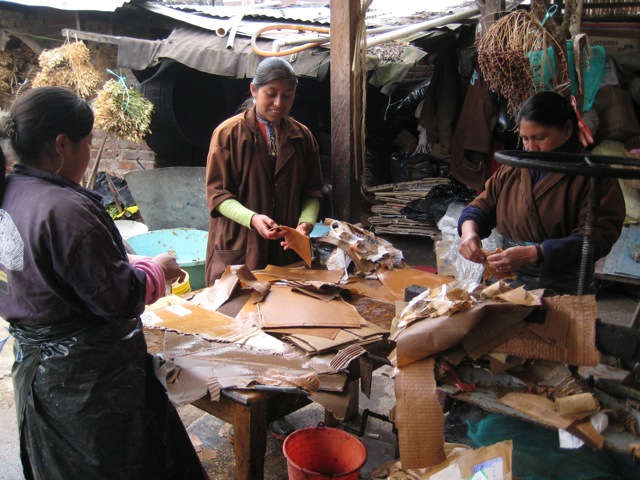 Working at Taller Leñateros
Ámbar arrived at our B&B at 5:30, dressed in multiple layers of clothes, hat, ear warmers, scarf, heavy coat, sweater, cloth bag slung across her chest and wearing the coolest square-frame glasses. She looks younger than her years [b. 1949], with her long brown hair braided down her back. We had commandeered the dining room, made a beautiful twigs and blossom tea, had cookies set out on a plate, and a fire burning in the chimenea. We talked and talked.