Column: Nothing but the Toth
By Emily Toth for WOMEN = BOOKS
Posted on November 1, 2010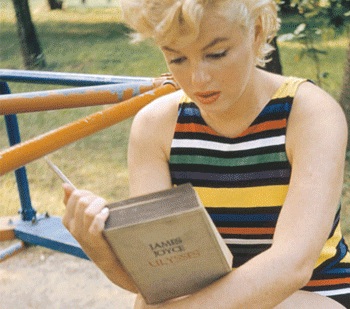 Marilyn Monroe and Ulysses
I'm thinking about the lads who love James Joyce, and what he and they don't know about real women. In particular, they love to froth and slaver over Molly Bloom's soliloquy at the end of Ulysses. She runs on and on about sex, and concludes with, "Yes, yes I said yes I will Yes," which I was told in grad school was The Super Turn-On Comment in All of Literature.
OK, there was a fancier litsy-critsy term. But the point was that the best thing a female character could do was to say—Yes.
I don't think so.
The easiest thing for a woman to do in real life is to say Yes—to hook-up sex, to Christmas stress, to beating ourselves up about our looks. Women's duty has always been to be pleasing, to say Yes to everyone else's wants and demands.
(Sheesh, a lot of us still think that if we're loving enough, we can turn abusers into saints. We should be running away, screaming, "Noooooooooooo!")
Throughout my adult life, a lot of women have been saying Nah (or Nay or Nyet)—not necessarily to relationships, but to demeaning ones. Date rape, sexual harassment, and domestic violence were considered "just life" when feminism roared into our lives in the 1960s. We gave those things names, and we called them crimes. Now a woman has the legal right to say No.
But even when women's discontent was only the vague murmurings that Betty Friedan called "the problem that has no name," we did have literary and historical women figures who said No.
Except for a few like Henrik Ibsen's Nora in A Doll's House, most were created by women. From the late nineteenth century, we have Kate Chopin's Edna in The Awakening and the proudly independent "spinsters" in Sarah Orne Jewett's and Mary E. Wilkins's stories. Louisa May Alcott's Jo in Little Women knuckles under (marries)—but what we most remember are her tomboy ways.
And, of course, it's the unruly women who said No who made our history.
What does a woman get if she says Yes? She gets a conventional life, maybe a secure and contented one. Most women do say Yes, in fact. That's what "conventional" and "average" mean. But for them, there's none of "life's delirium" (Kate Chopin's term). And no one ever produces an edge-of-the-seat drama starring The Woman Who Loved to Fold Sheets Again and Again and Again.
Yet even women with the most vivid imaginations are plagued by internal devils telling us to do the chores first. At one of the best writers' workshops I've ever attended, lawyer-novelist Nancy Wagner (aka "Hailey North") peppered us with questions like these: "Do I first have to do the laundry before I can sit down and write?" or "Do I have to fret about the cat litter and dust the doilies before I start writing?"
After each question, our job was to say No, because nothing should come between a woman and her writing time.
At first we said No in a normal, gentle voice, but as the exercise continued, we grew louder and madder and more self-confident, until the room rang with women roaring, "Hell, No!"
And so, since I have this little forum, let me exhort every woman to say No today, at least once. Say it first. Have your characters say No. Say No to someone's ridiculous, impertinent request (there are always some). I like the idea of rolling down the window and shouting, "No!" into the street, and then hunkering down with your computer to finish your masterpiece.
No isn't the end of anything. It's the beginning.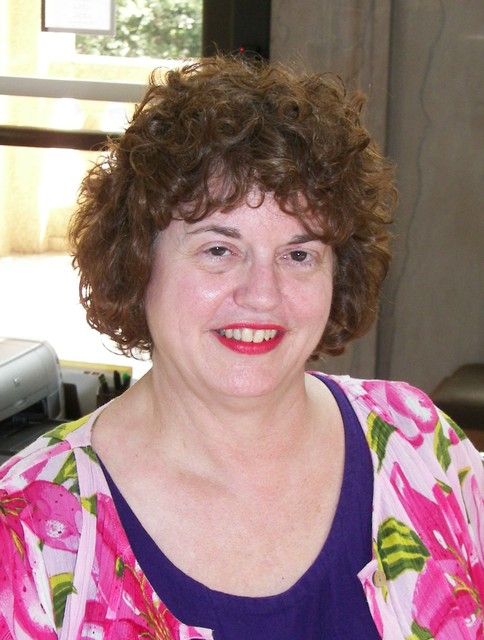 Emily Toth
Emily Toth, professor of English and Women's Studies at Louisiana State University, has published biographies of Kate Chopin and Grace Metalious, and two advice books (Ms. Mentor's Impeccable Advice for Women in Academia and Ms. Mentor's New and Ever More Impeccable Advice for Women and Men in Academia). She writes the Ms. Mentor online advice column in the Chronicle of Higher Education.