By Margaret Randall for WOMEN = BOOKS
Posted on May 24, 2010
After I wrote my review of Barbara Kingsolver's new novel The Lacuna, I happened to be on Amazon.com one day and it occurred to me to take a look at what other readers were saying about the book. I was stunned at the dramatically contrasting nature of the comments. Roughly half of those who responded loved the book, and half hated it. The positive reviews were exuberant, the negative ones often vitriolic.
Well, I thought, if nothing else this novel has elicited strong feelings from a lot of readers. I wondered if such intense opinion would have been there for a novel that was not political. Indeed, many of those who didn't like the book accused it of being too political, even pamphlet-like.
The Lacuna is a profoundly political novel. One of the ways in which I feel it is extraordinary is Kingsolver's ability to write about intensely political times and people in a way that makes them deeply human. We don't get to know the same old Frida Kahlo of romanticized fame, but a passionate woman and unique artist who has all the petty jealousies and suddenly generous gestures anyone might display. Leon Trotsky comes alive in his ideological speeches but also as he lingers feeding his chickens in order to avoid seeing someone who has come to visit.
I do not deny the fact that I am a great fan of Kingsolver's work. I was hooked years ago by her first novel, The Bean Trees. Subsequent titles thrilled me—all political but never descending to diatribe—especially The Poisonwood Bible. I feel it is one of the truly great novels of U.S. literature.
I found Prodigal Spring and Animal, Vegetable, Mineral much less compelling. The first is a good novel but not the kind that particularly attracts me. The second is a sweet advertisement for raising one's own food and eating right. I hoped the woman who gave us The Poisonwood Bible would return. And she did.
What makes a good political novel? Intimate knowledge of subject, beautiful writing, and depiction of the personal idiosyncrasies behind all political personalities and events. And then there's that hard-to-describe something that separates every great book from those that are only modest or good: sheer genius.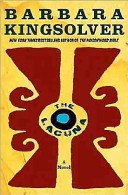 Margaret Randall is a feminist writer, photographer and social activist. She lived in Latin America (Mexico, Cuba, Nicaragua) for almost a quarter century, returning to the U.S. in 1984 only to face deportation because of the content of some of her books. With much support she won her case in 1989. Since then, she has taught at several U.S. universities, written a number of books, and traveled widely to speak and read her poetry. Among her most recent titles are To Change the World, Their Backs to the Sea, and My Town (forthcoming). Her web page is www.margaretrandall.org.
Read Margaret Randall's review of The Lacuna in the May/June 2010 issue of WRB.