By Sandra F. VanBurkleo for WOMEN = BOOKS
Posted on August 2, 2010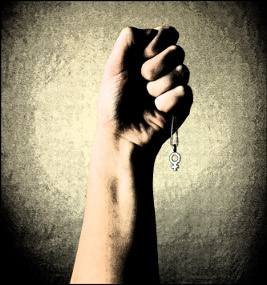 On July 23, 2010, Peggy Ann Pascoe died in Eugene, Oregon, of ovarian cancer, the pernicious disease that she had battled for years, and against which she had struggled valiantly while finishing What Comes Naturally and many other significant works of history and political commentary. She was only 55 years old.
Both the academy and the human community have lost one of its gentle giants. Peggy will be remembered, not simply for what she wrote, but also for what she was, what she gave daily to students, friends, and compatriots, and what she leaves for us to finish. She might say—her modesty was never an affectation—that the last is by far the most important. She left as many questions as she managed to answer; it's now up to younger scholars and activists to follow her lead, to pick up the reins. Western allusions are deliberate: Peggy was an historian of the west, where it's sometimes said that the sky's the limit.
Those who knew her better than I did will be inconsolable. But she did have faith in the integrity of younger scholars, in their good sense and breadth of vision. Who can say that she was wrong? And so the work will move forward. We nevertheless are diminished by her death. This is an indescribably sad moment.
I wrote the post that follows before Peggy's death. I prefer to leave it as it is, noting that she is "very ill" but still working—to honor what she's done and, perhaps, to spark others to follow in Peggy's path.

A few years ago, Peggy Pascoe and I had one of those close encounters that can shove our work, and sometimes our lives, onto fresh terrain. Before then, we barely knew one another. While I don't think I'd call us close friends even now, we certainly moved into a closer orbit that day.
The occasion was one of the annual meetings of the American Society for Legal History, a professional organization that is now much more forgiving of femaleness than it used to be. I offered a paper about aspects of the book project I'm still struggling to finish—something that I'm probably going to call Gender Remade, a title suggested by another amazing historian, Suzanne Lebsock, after a laid-back lunch at the University of Washington faculty club.
Suzanne, Peggy, and I crossed paths because, at that moment, we were all tied in one way or another to the Pacific Northwest. For me, it was the book—one of those serendipitous stumbles over an intriguing body of evidence that snowballs into a major research project. Suzanne was a member of the history faculty at UW in Seattle, and Peggy taught the history of the West, women's history, and Pacific Northwest studies at the University of Oregon in Eugene.
It was a temporary convergence: A few years later, Suzanne moved to the East. I no longer fly back and forth to Seattle, Pullman, and Spokane like some kind of bookish gypsy.
But, as Peggy approached the podium to offer comments on my work, we were still on the same life-plane. I had said, rather blithely, that, from about 1879 to 1883, women in Washington Territory had approached equality in their civil and political relations with men. Legislators, after all, had adopted a civil rights act and universal suffrage in those years. Women were sitting on juries. Women were running for office.
Listeners must have thought I was describing some kind of late-Victorian jubilee. But not Peggy. She sounded some warm, encouraging notes, and then added, without missing a beat, "Surely you don't mean to suggest that women enjoyed perfect equality. What about the sex right?"
What about it? Of course she was right. The fact that Washingtonians had done nothing to relieve women of their traditional obligations at home—including the obligation to provide exclusive sexual services—formed part of their undoing by about 1889, when the territory became a state with an all-male electorate.
Peggy's two-sentence comeuppance radically changed the direction of my work, and eventually its line of argument. In Washington Territory, as elsewhere, legal and political equality without more proved to be the proverbial barn into which women rushed, only to have the door shut behind them. But why hadn't I seen this rather obvious fact?
What Peggy had said, really, was that I had been led down the garden path of academic history, away from oppositionist feminism, and early incarnations of women's history, towards a more integrated, academically respectable, and substantially depoliticized ("objectified") sub-discipline, indistinguishable in its central mission and construction from, say, cultural history, the history of technology, or legal history.
In many departments, women's history is set apart by topic and perhaps by its contribution to women's studies (or gender studies) programs. It is one specialization among many, not a skeptical participant-observer situated deliberately at the margins.
All of Peggy's articles and both her monographs—the deeply subversive Relations of Rescue, and the recent, even more profoundly destabilizing What Comes Naturally—take their place in that original, unapologetically political (and critical) intellectual stream. To be sure, What Comes Naturally, which I reviewed for the July/August 2010 issue of WRB, has won virtually every academic award worth winning. But it has done so, I would argue, by refusing to compromise.
Indeed, in the case of miscegenation law, the primary subject of What Comes Naturally, she argues that attempts to impose a mindless equality on people with disparate liberty needs resulted in yet more decades of patriarchal subjection.
As I contemplate retirement—indeed, as I look back over my academic career—and think anew about Peggy's book, I wonder whether and when the present academic landscape will be shaken loose from its appetite, as my mother might have put it. Here we are, in the midst of a landmark financial as well as political and cultural crisis, seemingly unable as a society to stem flood tides of petroleum, hatred, racism, sexism, and classism—as if feminism, the civil rights movement, green politics, and the New Left had never happened.
At two universities that I could name, an equality-seeking rule requires that a woman or person of color sit on every university committee, even though the available number of such people is pathetically small. Historians of women offer courses in "women's history," much as other scholars teach "foreign relations history" or "early modern European history," thereby expressing the equality principle in the classroom—as if the battle is won.
Is Woman to be treated as yet another academic topic? She is both a subject of and subjected to the constitutive processes that we call "history." She ought to be present in the lecture notes of "political" and "economic" and "social" historians, but very often she is not, precisely because "women's history" occupies an "equal" office down the hallway. Not long ago, for instance, a man about to end his teaching career told me that he greatly admired the work I was doing with women and law.
"Did it change the way you teach?" I asked.
He looked at me with maddening kindness. "Well, no," he said. "But then I'm an old guy, and you're doing such a good job."
Peggy Pascoe has been very ill. She finished What Comes Naturally in the throes of chemotherapy, and has been working hard on related accounts of the history of cultural-legal hostility to same-sex marriage. There, as with miscegenation law, the question remains: What about the sex right and an underlying patriarchy? Equality-seeking doctrines—the idea, for instance, that civil unions equal marriage, or that no-fault divorce ensures equality—have not yet called into being the world that the founders of modern feminism envisioned.
How can we honor what she has done?
We might begin where academic feminism first emerged – in universities. In the academy that I will leave whenever I can finally afford it, it has been difficult indeed to resist tacit pressures to impersonate men or to perform masculine academic rituals. I had found male-female "equality" in Washington's civil rights statutes precisely because I had been "trained" by traditional legal historians to do just that. Women struggle for tenure, for money to buy children's clothing, for the semblance of day-to-day civility in committee meetings. And so the oppositionist wall originally erected between feminism and the academy steadily erodes
All of this, I hope you can see, is a cautionary meditation about a general failure to make good on the promise of what Joan Wallach Scott once called an equality founded in difference—among human beings, to be sure, but also among all living creatures.
How can we not be undone by mounting evidence of the entrenchment of inequality and injustice—by the powerless and doomed brown penguins in the Gulf of Mexico, where yachts carry loads of tourists who've paid to see the spill, much as hunters used to pay large sums to shoot buffalo from railroad cars? The modern equality principle permits legislators and judges to view BP as a legal individual, with rights and immunities virtually indistinguishable from mine or yours.
And of course the sex right claimed by white men of a certain standing and deportment—let's call it an inheritance—still conditions relations with everyone else. Incredibly, the same world that gave rise to Peggy Pascoe (and Suzanne Lebsock and dozens more who march to the same ancient drummer) still naturalizes heterosexuality, patriarchy, whiteness, and hierarchies within the animal kingdom—as if "equality" attaches only to people.
We're not finished.
Sandra F. VanBurkleo teaches legal history at Wayne State University in Detroit. The author of Belonging to the World: Women's Rights and American Constitutional Culture and a number of other works, she's completing a new book provisionally entitled "Gender Remade: Citizenship and Statehood in the New Northwest, 1879-1912." She also owns a studio that actively supports female fiber artists, for which she designs big wooly sweaters in knit and crochet. See her new blog, Notes from the Road.
Read Sandra VanBurkleo's review of What Comes Naturally in the July/August 2010 issue of WRB.