By Maxine Kumin for WOMEN = BOOKS
Posted on October 4, 2010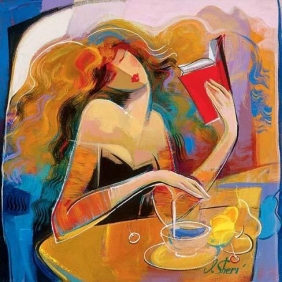 Featured: Poetry Reading by Irene Sheri
For me, the hardest part about putting together Where I Live: New & Selected Poems 1990-2010, was the death, early in the process, of my old editor at Norton, Carol Houck Smith.
We had done eight books together. Assembling one of them—I think it was Connecting the Dots—when I was in New York to do a reading, we kept bumping hips as we circled the double bed in the tiny room at the old Gramercy Park Hotel (pre-renovations), where we were laying out the poems to see what went with what and how to put the various sections together.
Carol was tiny, tough, funny, and dear to me. Each time a book was ready, she'd say conspiratorially, "Shall we call Wolfie?"
Wolf Kahn's remarkable paintings grace the cover of every one of my Norton books, except for the memoir Inside the Halo and Beyond: Anatomy of a Recovery, on which, at Carol's insistence, there's a photo of me and the horse who almost killed me without meaning to.
On one occasion, walking up Fifth Avenue to a gallery of Wolf's work, Carol sensed my rising agoraphobia—I don't do well in big cities—and asked, "Would you like me to hold your hand?" I gratefully assented.
Although my current editor, has been very up front and supportive, I think Carol's death ignited a little poetry death in me. Somehow my muse has left me, possibly for a sabbatical, possibly for longer.
But it hasn't dampened the writing fire entirely. My heart leaps up as I look at my new children's book—in prose—What Color Is Caesar? It's about a black-and-white dog with an identity crisis: Is he all black with white spots or all white with a great many black ones? The illustrations by a young Brit are suitably goofy and hilarious.
And my title for The Roots of Things, a new book of essays, many about poets and poetry, is taken from a poem by a poet I deeply admired, May Swenson.
She once wrote me that she envied me my horses; all her steeds were dream ones. A lifelong lesbian, she fought free of her Mormon upbringing in a repressive era most readers of this blog will not be old enough to remember. Almost all of her rich love poems are encrypted in the form of great cats and circus performers, which enhances their passion.
Maxine Kumin's seventeenth poetry collection, Where I Live: New and Selected Poems 1990-2010, was launched this past March at the National Arts Club in New York City. Her new children's book, What Color Is Caesar?, is now in print. Her awards include the Pulitzer and Ruth Lilly Poetry Prizes, the Poets' Prize, and the Harvard Arts and Robert Frost Medals. A former US poet laureate, she and her husband live on a farm in New Hampshire with two old horses and three rescued dogs.
Read Wendy Vardaman's's review of Where I Live in the September/October 2010 issue of WRB.