Madame X

The Recent Work of Carrie Mae Weems
By Cheryl Kaplan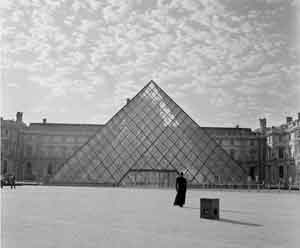 Her back to the camera, Carrie Mae Weems seems at first like an incidental tourist or an extra. Her place in the photographs appears secondary, her long black dress a consistent icon in each image. She is John Singer Sargent's Madame X in reverse, ignoring the viewer and blending in seamlessly to become both the onlooker and the one who is observed. As the elusive protagonist, Weems places herself on equal footing with historic time, drifting from museum to monument and city to city in this latest series of photographs entitled Roaming and Museum, as well as in her film Italian Dreams, set in Cinecitta in Rome, where Federico Fellini made most of his films.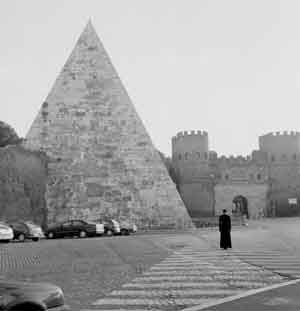 Weems's migration is a form of expulsion and a method of monitoring the world. She appears in the ancient world of Matera, Italy, and in proximity to contemporary sites such as I.M. Pei's glass pyramid in front of the Louvre. She then shows up at the Ostia entrance to Rome, at the site of a second pyramid built by a private citizen during a neo-Egyptian moment. Ricocheting among historic frames, Weems inspects obsolete social and political orders, as if to expose a faulty past. This process of inspection is a subject Weems knows best, as seen in her earlier photographs and videos, from the Jefferson Suite to After Manet.
Here, Weems acts as surveyor, plotting and questioning social and cultural boundaries. Her pattern of fleeing and following recalls Alfred Hitchcock's 1958 film Vertigo, in which the detective John "Scottie" Ferguson (James Stewart) trails his friend's wife, Madeleine (Kim Novak), as she flits in and out of "madness," apparently possessed by a dead relative whose portrait we see in a museum. Madeleine's wanderings mirror the detective's anxiety. Weems's procession is part crusade and part myopic perception of the intolerance of time. She telescopes a world simultaneously monumental and usurped by its own grandeur.
Cheryl Kaplan is an artist, writer, and producer based in New York. Two films Kaplan produced were official selections at the Tribeca Film Festival 2006: Hidden Inside Mountains, written and directed by Laurie Anderson, and Mariners & Musicians: Rosanne Cash. Kaplan has written books on Uta Barth and Tom Sachs, among others, as well as a recent volume on contemporary photography and fashion titled Th(e) Influencer.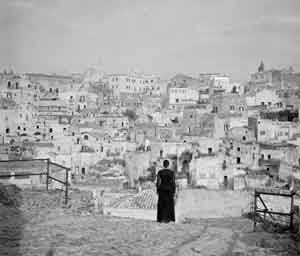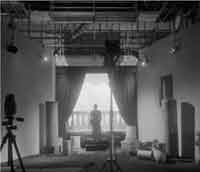 Carrie Mae Weems's photographs and installations have been exhibited widely in the US and internationally in more than 50 one-person shows and many group shows. Her numerous awards and fellowships include the Women in Photography International Distinguished Photographers Award, a National Endowment for the Arts Visual Arts Fellowship, and the Photographer of the Year Award from the San Francisco Friends of Photography.