Who We Are
The Wellesley Centers for Women is a premier women- and gender-focused, social-change oriented research-and-action institute at Wellesley College.
While women's and girls' perspectives and experiences are at the center of our institutional identity, we recognize that the conditions of women's and girls' lives are shaped not only by their sex and gender, but also by other important factors: race, ethnicity, and culture; social class and economic status; nationality and religion; sexual orientation and gender expression; age and ability status; level of education; geographic context (urban, suburban, or rural); and a host of other factors. We share the conviction that the lives of men and boys – indeed, people of all genders – are as valuable and important as those of girls and women.
We work with the understanding that the change we seek occurs simultaneously at micro and macro levels, encompassing individuals, dyads, families, communities, and society-at-large. Only when social equity and equality, psychological wellbeing, peace, and freedom from violence and want evince for all people will our research and action programs have reached their true aim.
Our work is sustained by funding from federal, state, and local government agencies, private foundations, the Centers' endowment, and the generosity of individual donors committed to social change, as well as essential infrastructure support from Wellesley College. We seek to make our work accessible and useful to policymakers, thought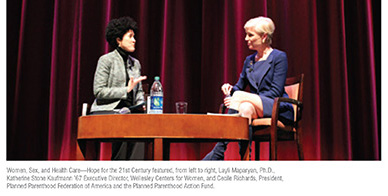 leaders, decision makers, academics, advocates, activists, direct service providers, funders, the media, and any others, including the general public, who have the power and desire to make positive change.