Goal 2: Sharing What We Know:
Research + Leadership = Accelerated Social Change
For the last 40 years, WCW has been cultivating its own unique brand of leadership based on excellence in research, theory, and action and their power to inform and drive social change. As we move forward into the next decade, we are re-imagining the possibilities of research, theory, and action to accelerate change under the rubric of research-informed social change leadership. Our focus on the power of research to inform, shape, and enhance leadership, particularly leadership for social action and leadership that addresses concerns related to women, girls, and gender, makes our contribution to the domain of leadership unique.
In today's world, three interrelated realities shape the domain of leadership: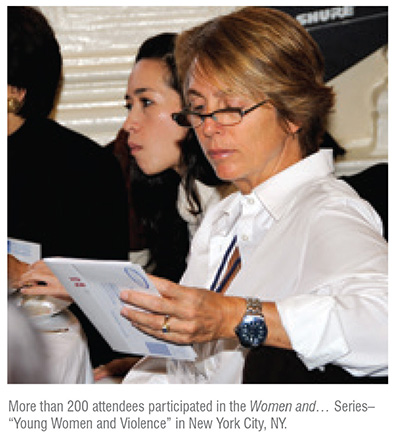 First, with the explosion of data of all kinds through an ever-increasing multitude of outlets, leaders need research literacy, that is, the ability to digest and utilize research and make sense of vast quantities of data, including competing findings. This need is particularly acute where women, girls, and gender are concerned, because thoughtful data disaggregation, that is informed by the sophisticated sociopolitical understandings of difference that come with gender-studies training and in-the-field scholarship, is essential to helping us know where gaps are and what kinds of solutions work for whom. Research literacy is now an essential skill for effective leadership, yet too few leaders are trained with this skill set. The Wellesley Centers for Women is poised to advance gender-informed research literacy for in-the-field social change actors, and established and emerging leaders, scholars, and students.
Second, leaders need high-quality research on the issues they care about in order to make effective decisions and navigate complex decision-making terrains. Not all research is of equal quality, yet, we have the power to insure that leaders gain access to high-caliber work, such as that produced by WCW researchers. While we will continue to produce peer-reviewed academic publications, which are the gold standard of research quality, in the coming decade, we will increase our efforts at research translation, that is, generating accessible versions of our research that can be quickly and easily digested by policymakers, advocates, activists, and direct service providers, members of the media, funders, and other key decision makers. We will pay particular attention to increasing our production of content that is accessible to a broad audience across technological platforms.
Third, despite inarguable gains over time, gender equality in leadership is still elusive – nationally and internationally. WCW can help move the needle on women's and girls' leadership in two ways: by conducting research on women, girls, and leadership, and by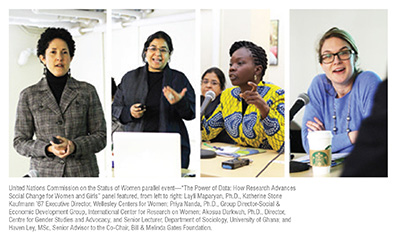 contributing to the training of future women leaders, particularly in ways that enhance their research literacy and their knowledge about how research can inform social change. In the next decade, we will launch several initiatives to help us get there.