Second Annual NYC Luncheon:
Young Women and Violence
November 10, 2009
The Yale Club of New York City

Thank you to all who attended!

Read program attendee and Newsweek online columnist Raina Kelley's piece, "When Boys Shouldn't Be Boys".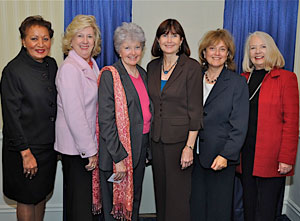 The evidence is everywhere we turn—in our newspapers, on television, in video games, on the Internet, in the lyrics of popular songs, in government reports, and in courtrooms. The incidence of sexual harassment, sexual violence, and exploitation of girls and young women is reaching pandemic proportions. Here. In America. Not "someplace else." Our young people are at risk. Laws, public policy, and education haven't seemed to stem the tide.
Panelists offered, from their different perspectives, their knowledge of what's working – and not – and shared ideas for intervention and prevention to help girls and young women.
Link to resources suggested by Jean Kilbourne.
Remarks:
Linda Wertheimer
Panel:
Linda Fairstein, J.D.
Jean Kilbourne, Ed.D.
Nan Stein, Ed.D.

(see bio sketches below)
"Women and …" Series:
"Women and …" is a continuing conversation organized by the New York City area supporters of the Wellesley Centers for Women to share the vitality and relevance of its research and influence.
New York City Committee:
Jennifer Askin, Michael Campbell, Joan Capelin Helpern*, Chloe Drew, Rebecca Goldenberg, Doug Gould, Kristen Kelch, Toni Liebman, Betty Pfaelzer Rauch*, Sophie Sa, Anne Simmons, Janet Waterhouse, Jaan Whitehead
*Committee Co-Chairs
Video recordings of last year's program, Post-Election: What's Next for Women and the Media, featuring leading women journalists, can be viewed online. Questions? Email us.
SPEAKER BIOS
Linda Fairstein, J.D. is a former prosecutor, best-selling crime novelist, and one of America's foremost legal experts on crimes of violence against women and children. She served as head of the sex crimes unit of the Manhattan District Attorney's office from 1976 until 2002. During her tenure, she prosecuted several highly publicized cases, including the "Preppy Murder" in 1986. Since leaving the District Attorney's office, Fairstein has continued to consult, write, lecture, and serve as a sex crimes expert for a wide variety of media outlets, including CNN, MSNBC, and Larry King, among others.
Jean Kilbourne, Ed.D. is a senior scholar at the Wellesley Centers for Women and is internationally recognized for her pioneering work on alcohol and tobacco advertising as well as the image of women in advertising. Her books, So Sexy So Soon: The New Sexualized Childhood and What Parents Can Do to Protect Their Kids, co-authored with Diane E. Levin, Ph.D., and Can't Buy My Love: How Advertising Changes the Way We Think and Feel, and award-winning documentaries, Killing Us Softly, Slim Hopes, and Calling the Shots, address critical social issues facing society. She has been featured widely in the media, including recent appearances on The Today Show, Good Morning America, NPR, and in the New York Times. Read more.
Joyce M. Roché, MBA brings a unique combination of sharp business acumen and strong commitment to building girls' confidence and leadership skills to her role as President and Chief Executive Officer of Girls Incorporated, a nonprofit organization dedicated to empowered girls and an equitable society. As a trailblazer in the corporate world for 25 years, Roché mentored women by encouraging them to find their voices and take bold career risks to excel. Her vision for empowered businesswomen now carries over into her work on behalf of girls—benefiting the range of programs, research, and advocacy carried out at Girls Inc. From pregnancy and drug abuse prevention to science and technology education, Girls Inc. programs are delivered across the country in school and after-school settings to empower and educate girls, many from underserved communities. Read more.
Nan Stein, Ed.D. is a senior research scientist at the Wellesley Centers for Women, where she directs several national research projects on sexual harassment, gender violence, and bullying in schools. She frequently gives lectures, keynote addresses, and training to school personnel, and serves as an expert witness in lawsuits on sexual harassment and child sexual abuse in K-12 schools. Stein has co-authored three teaching guides along with numerous other scholarly articles and has served as an expert source for media outlets including The Today Show, NBC Nightly News, The Oprah Winfrey Show, and NPR, among others. Read more.
Linda Wertheimer is senior national correspondent for National Public Radio (NPR). An award-winning and respected leader in U.S. media and a beloved figure to listeners who have followed her three-decade-long NPR career, Wertheimer provides clear-eyed analysis and thoughtful reporting on all NPR News programs. Before taking the senior national correspondent post, Wertheimer spent 13 years as a host of NPR's flagship news magazine, All Things Considered. As host, Wertheimer helped build the afternoon news program's audience to record levels. In the more than 30 year since, she has served NPR in a variety of roles including reporter and host. A 1965 graduate of Wellesley College, Wertheimer received its highest alumni honor in 1985, the Distinguished Alumna Achievement Award. Wertheimer holds honorary degrees from Colby College, Wheaton College, and Illinois Wesleyan University. Read more.
Sponsored By:
Thank you to our sponsors and to the Cowles/Sulzberger Fund at the Wellesley Centers for Women for their support of this program!