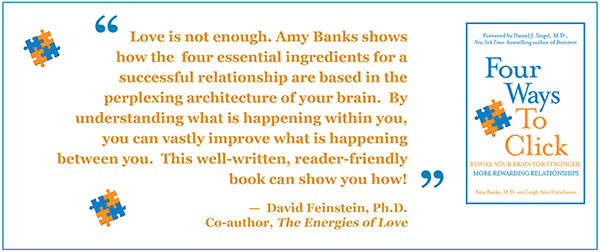 Four Ways to Click: Rewire Your Brain for Stronger, More Rewarding Relationships

by Amy Banks, M.D.
with Leigh Ann Hirschman
Forthcoming from Penguin Random House (February 2015)
Foreword by Daniel J. Siegel M.D.
We all experience moments when we feel isolated and alone. A 2006 Purdue University study found that twenty-five percent of Americans cannot name a single person they feel close to. Yet every single one of us is hardwired for close relationships. The key to more satisfying relationships—be it with a significant other, family member, or colleague—is to strengthen the neural pathways in our brains that encourage closeness and connection.

There are four distinct neural pathways that correspond to the four most important ingredients for healthy and satisfying relationships: calmness, acceptance, emotional resonance, and energy. This groundbreaking book gives readers the tools they need to strengthen the parts of their brain that encourage connection and to heal the neural damage that disconnection can cause.
Want to have more joy and contentment in your life? All the scientific studies of happiness, longevity, and mental and medical health point to one factor: the strength of your relationships with others. In Four Ways to Click, psychiatrist Amy Banks, M.D., provides an innovative and user-friendly summary of the extensive research on the neuroscience of relationships and offers readers practical ways to use this knowledge to retrain their brains for healthier, more rewarding relationships. What's in this for you? Simply put, you can intentionally transform your life by improving how you connect with others. Relationships are not simply the "icing on the cake" for a life well lived. Relationships are the cake.
After decades of studying how culture shapes our relationships as well as working as a psychiatrist in clinical practice, Amy Banks has brilliantly created what she calls the "CARE" system, which can help improve the four ways we "click" with one another: how calm we feel around others, are accepted by others, resonate with the inner states of others, and are energized by these connections. Using the CARE system as it is described in this book, readers can target their neural pathways that need fine tuning so that the quality of their relationships increases. With an understanding of how our brains truly work we can intentionally change how we live our lives!
I love this book! It is beautifully written, engaging, and inspiring.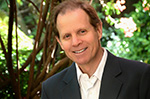 Want more happiness? Want to live longer? Want to be healthier in mind and body? Then learning these four ways to click into more meaningful and rewarding relationships is your passport to achieving these goals. Let Amy Banks be your guide to a better life of love and laughter. Enjoy!
Daniel J. Siegel, M.D.
Learn about an upcoming webinar series focused on Four Ways to Click!