For Immediate Release: September 25, 2017

Open Circle Announces the Appointment of New Director and Staff
Open Circle, provider of a unique, evidence-based social and emotional learning (SEL) curriculum and professional development for grades K-5, is pleased to announce to the following appointments: Kamilah Drummond-Forrester has been promoted to director; Brenda Messervy has been appointed finance and operations manager; and Lisa Bida has been named marketing and outreach manager.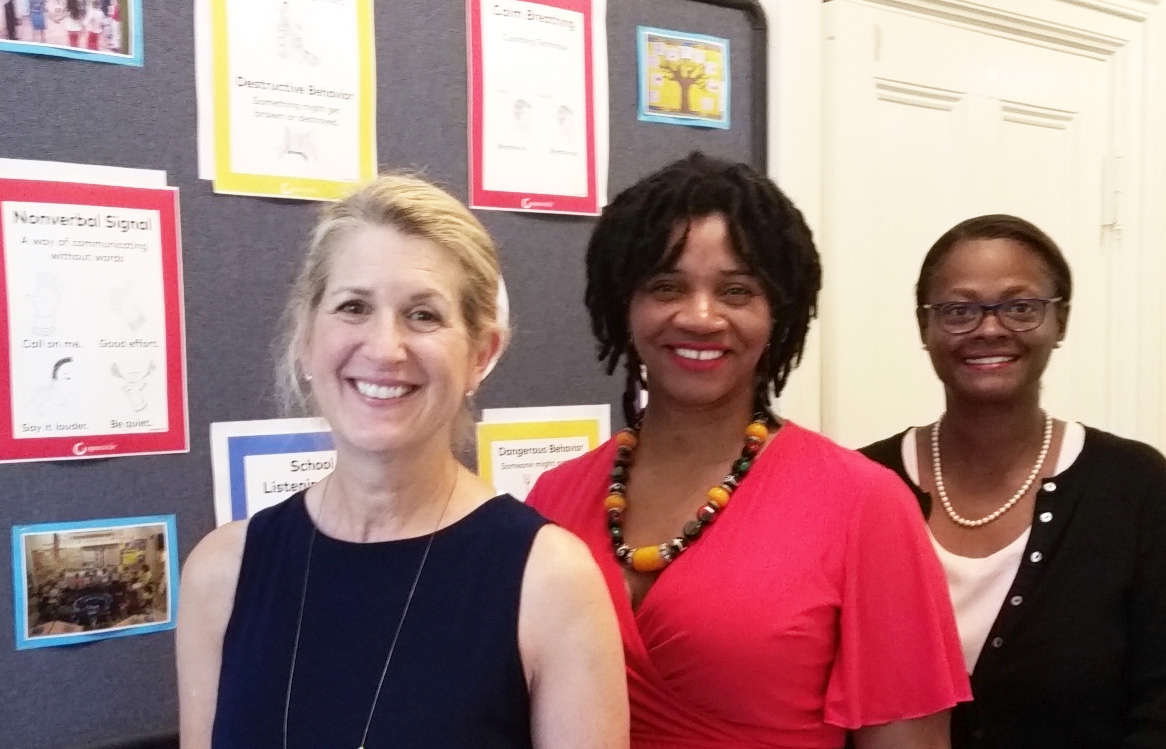 (L-R) Lisa Bida, Kamilah Drummond-Forrester, Brenda MesservyA program of the Wellesley Centers for Women (WCW) at Wellesley College, Open Circle was one of the first programs to define the field of SEL and advance children's wellbeing and learning by partnering with school communities to foster social and emotional development and caring learning environments.
"I'm confident that the position Open Circle has established in its three-decade history will be further strengthened by the seasoned team of educators and trainers, led by Kamilah, with support from a committed administrative staff," said Layli Maparyan, Ph.D., Katherine Stone Kaufmann '67 executive director of WCW. "It's more important than ever that school communities have the tools and skills to facilitate difficult conversations and provide supportive learning environments for all children. It's imperative to the creation of equitable and accessible classrooms and schools."
Since joining Open Circle as a program manager in 2013, Kamilah Drummond-Forrester has led teacher development programming and delivered training and coaching to teachers, administrators, and support staff. Drummond-Forrester is attuned to the changing landscape of education and works collaboratively with the Open Circle programming team to provide curricula, professional development, and implementation support that keeps the wellbeing of students at the center while meeting the needs of schools and educators.
Drummond-Forrester's passion for SEL, equity, and youth development is fueled by a professional career as a co-founder and director of Wellness at a Boston charter school and her work as director of an award-winning, educationally-based re-entry program at Suffolk County House of Correction. Both experiences have afforded her unique insight into the importance of social and emotional learning in the lives of children and the adults who care for them. "I am excited and humbled to be the new director of such a phenomenal program," remarks Drummond-Forrester. "I look forward to honoring Open Circle's legacy while expanding and deepening our work in more school communities and within the greater SEL field."
Drummond-Forrester received her Bachelors in Psychology and African American Studies from Brandeis University and earned a Masters in Vocational Rehabilitation Counseling as well as a Certificate in Advanced Graduate Studies from Assumption College.
Brenda Messervy joins Open Circle with more than 20 years of accounting, finance, project management, and operations experience from the corporate and non-profit sectors. Prior to joining Open Circle, Messervy worked as the director of finance and administration for Partners HealthCare for 17 years. Messervy has a Bachelor's Degree in Accounting from the University of Missouri-St. Louis. A wife and mother of two teenage boys, Messervy enjoys gardening, reading, meditation, and baseball. She is a hospice volunteer, prison ministry volunteer, teaches adult discipleship classes, and tutors math and physics.
Lisa Bida is an entrepreneurial business person who connects mission and marketing to inspire people and make a meaningful impact. Prior to joining Open Circle, Bida was a strategic marketing consultant for Wellesley Marketing Group, created global marketing programs for Velcro, and led the launch of two successful businesses for New Balance. Bida currently serves on the board of the Wellesley Education Foundation, a non-profit foundation missioned to enrich educational excellence and innovation in the Wellesley Public Schools. Bida completed a Marketing Leadership program at Columbia University and holds a B.S. in Business Administration from Bryant University. She is a passionate advocate of social and emotional learning as a life skill and has three children who have experienced first-hand the value of the Open Circle program.
Open Circle is used in elementary schools across the United States and continues to be a leading provider of evidence-based curriculum and professional development for SEL, reaching more than two million children and 15,000 educators. Open Circle is a program of the Wellesley Centers for Women at Wellesley College. Learn more about Open Circle's history.