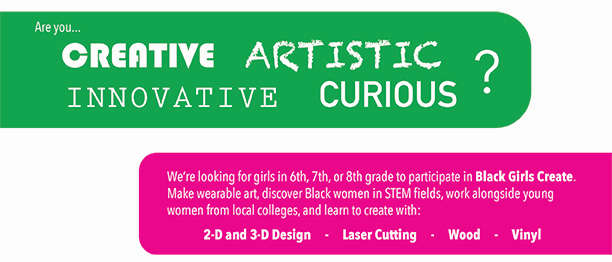 How do I know if Black Girls Create (B.G.C.) is appropriate for my child?
This program is for girls who want to learn about science, technology, engineering, and mathematics (STEM) through innovation, creativity, and hand-ons activities. Unlike traditional STEM programs, this program is geared toward girls' interest and helps them to build their confidence in STEM learning.
When is the application deadline?
October 30TH, 2018. The spots are first-come, first-serve, and space is limited to nine girls. All other students will be placed onto a waitlist.
When will students be notified of acceptance?
By Friday, November 2nd, 2018. Because it is first come first serve, we will begin reviewing applications in the order we receive them.
How much does it cost to participate in B.G.C.?
It is a one time, nominal $5.00 fee for Lena Park (community fellowship); financial assistance is available upon documentation of need.
What happens if an accepted student in unavailable to attend/participate in BGC sessions?
They must notify the program as soon as possible because that slot will then be given to the next available student.
What type(s) of food will served at these meetings and functions?
Light refreshments will be served. Please let us know if your child has any food allergies or dietary restrictions.
Do I need to attend any of the functions with my child?
You must attend the parent Orientation, and then attend at least 1 parent meeting throughout the program and a communal sharing event.
Is there a waitlist?
Yes; it will be contingent upon funding. But if funding is given, a second group will start in Spring 2019. Please check the website for updates. That said, please keep us updated as well. If funding is provided, there will be another program after this one ends.
Who can participate in B.G.C.?
Middle school girls in 6th, 7th, or 8th grade.
How can I enroll my child in the program?
You can just fill out the Google form online. We will notify you on or before November 2, 2008 about your child acceptance to the program.
Will B.G.C. create transportation for my child?
No…each student needs to have their own transportation to and from each session of the program. However, MBTA a couple of affordable options for transportation.
Where will the program sessions be held?
Lena Park, 150 American Legion Hwy, Dorchester, MA 02124
Who is the program director?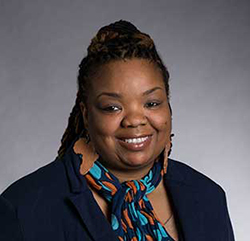 Dr. LaShawnda Lindsay-Dennis is a senior research scientist at the Wellesley Centers for Women.
Telephone: 781-283-2693
Email: llindsay@wellesley.edu
Black Girls Create Main Page>>
Ongoing since 2018