Project Directors: Susan McGee Bailey, Ph.D. and Rangita de Silva-de Alwis, LL.M., S.J.D.
Funder: The U.S. Department of State in a cooperative agreement with ICF International, LLC and Babson College
Academic Partners:
• Dar Al Hekma College, Jeddah, Kingdom of Saudi Arabia
• Babson College, Babson Park, Massachusetts, United States
• Wellesley Centers for Women, Wellesley College, Massachusetts, United States

This collaborative project involves sharing best practices and training to promote social entrepreurship by women in Saudi Arabia.

The U.S.-Saudi Women's Forum on Social Entrepreneurship aims to enrich the lives of women and their communities through the application of business and leadership skills to social needs, while generating societal and economic value.
Program Description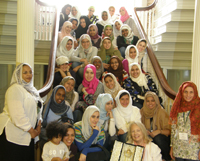 Dar Al Hekma (DAH), a private all-women's college in Jeddah, Saudi Arabia, is partnering with Babson College and Wellesley Centers for Women (WCW) to teach their students the business and leadership skills required to successfully implement a social enterprise. The program is focused on an exchange in which DAH students visit Babson for a two-week course on Social Entrepreneurship, which will train them to set up a social enterprise ("service project"). Students leave the exchange program with an action plan to implement a group service project in Jeddah. Prior to the exchange, students will take a short seminar to lay the conceptual foundation for the exchange program. The program will culminate with a leadership fair, showcasing the service projects of the students, and highlighting any other accomplishments of the Forum.
ICF International (NASDAQ:ICFI) partners with government and commercial clients to deliver professional services and technology solutions in the energy, climate change, environment, transportation, social programs, health, defense, and homeland security markets. Since 1969, ICF has sought to provide lasting solutions to society's most challenging management, technology, and policy issues that protect and improve the quality of life. More than 3,000 employees work worldwide in service areas that include strategic communication, human capital management, and management consulting.
The Middle East Partnership Initiative (MEPI), located within the Bureau of Near Eastern Affairs at the U.S. Department of State, assists efforts to expand political participation, strengthen civil society and the rule of law, empower women and youth, create educational opportunities, and foster economic reform throughout the Middle East and North Africa (MENA).