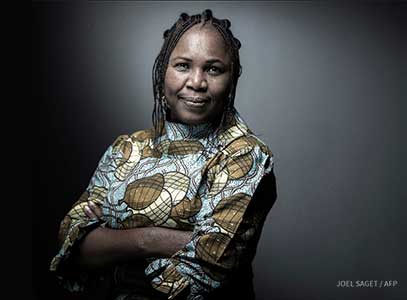 The Wellesley Centers for Women Lunchtime Seminar Series will continue on Thursday, March 7 with, "Mothers Without Borders: Steering Youth Away from Violent Extremism." The program will run from 12:40 to 1:30 p.m. in the Clapp Library Lecture Room at Wellesley College.
In 2014, Hauwa Ibrahim, J.D., S.J.D., M.L., was appointed by President Goodluck Jonathan of Nigeria to serve on the Presidential Committee working to rescue the 219 schoolgirls kidnapped by Boko Haram from Chibok in northern Nigeria. The rescue effort brought Dr. Ibrahim face-to-face with members of Boko Haram and their mothers. This experience led to the development of Mothers Without Borders -- Dr. Ibrahim's initiative to challenge extremist ideologies through the "soft power" of mothers. The initiative was further informed by Dr. Ibrahim's year-long work in Jordan to understand the strategies mothers use to slow down or prevent the recruitment of their children by ISIS.
During this presentation, Dr. Ibrahim will discuss her hands-on work in several countries, especially in West Africa and the Middle East, focusing on the "soft power" of mothers and women to tame the rising tide of terrorism and extremism while fostering a culture of peace, security, and reconciliation. She will share the short, medium, and long term goals of Mothers Without Borders, which ultimately aims to defeat the ideology of terror.
Dr. Ibrahim is a visiting scholar at the Wellesley Centers for Women and president of the Peace Institute. Prior to joining WCW, she was a visiting lecturer at Harvard Divinity School and a fellow at the Radcliffe Institute for Advanced Study as well as Harvard Law School's Human Rights Program and Islamic Legal Studies Program. She is a lawyer, author, mother, and recipient of the European Parliament's 2005 Sakharov Prize for Freedom of Thought.
The Lunchtime Seminar Series is free and open to the public. Guests are invited to bring their lunches, and the Centers will provide tea and coffee. For more information about the series, visit wcwonline.org/calendar. For accessibility questions, contact Disability Services at Wellesley College at disabilityservices@wellesley.edu or call 781.283.2434. For those who are unable to attend in person, the program will be streamed live on the Wellesley Centers for Women Facebook page (@wcwonline).
The Wellesley Centers for Women is the largest academic, women-and gender-focused, social-change-driven, research-and-action institute in the United States, located at Wellesley College. Scholars at the Centers advance gender equality, social justice, and human wellbeing through high-quality research, theory, and action programs. Areas of work include Education, Economic Security, Mental Health, Youth and Adolescent Development, and Gender-Based Violence.
February 21, 2019