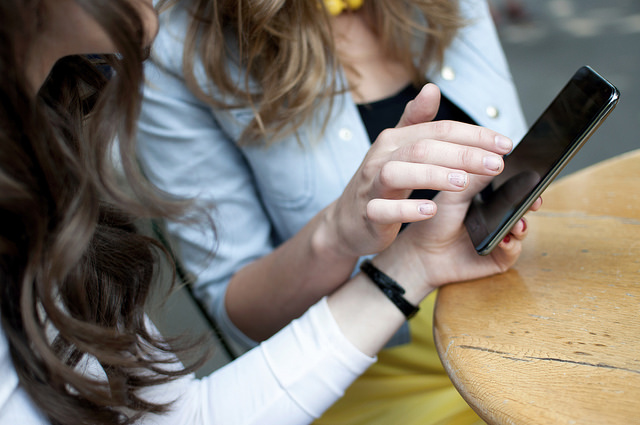 The Lunchtime Seminar Series hosted by the Wellesley Centers for Women will continue on Thursday, October 25, with the program, "Digital Citizenship, Health, and Wellness," from 12:30 to 1:30 p.m. in room 413 of the Lulu Chow Wang Campus Center at Wellesley College.
During this program, the WCW Youth, Media & Wellbeing Research Lab team will present brief updates of work in progress from two research projects -- a 2016 post-election survey on media and identity and a 2017-18 study on early adolescent social media use and wellbeing. Linda Charmaraman, Ph.D., director of the research lab, and her research assistants will share results from the post-election survey, which had over 1500 participants. They will discuss findings related to the health, wellbeing, and pertinent social issues of the voter and nonvoter participants as well as observations of both online harassment and social support following the 2016 U.S. presidential election. The team will also discuss how much a sample of almost 700 future voters (middle school youth) cares about politics and community building.
Dr. Charmaraman is a research scientist at the Centers and a former National Institutes of Child and Human Development postdoctoral scholar. Her research focuses on positive youth development, particularly around social media use, social identities, relational health, and civic engagement. She is currently conducting research funded by Children and Screens: Institute of Digital Media & Child Development to study parent and peer influences of social media use in middle school students and implications for behavioral health in diverse community contexts.
The Lunchtime Seminar Series at the Wellesley Centers for Women is free and open to the public. Guests are invited to bring their lunches, and the Centers will provide tea and coffee. For accessibility questions, contact Disability Services at Wellesley College at disabilityservices@wellesley.edu or call 781.283.2434. The Lunchtime Seminar Series schedule is subject to change. To confirm program lineup and location, call 781.283.2500 or visit wcwonline.org/calendar.
For those who are unable to attend in person, the program will be streamed live on the Wellesley Centers for Women Facebook page (@wcwonline). Recordings from past seminars are posted online at wcwonline.org/video.
October 1, 2018