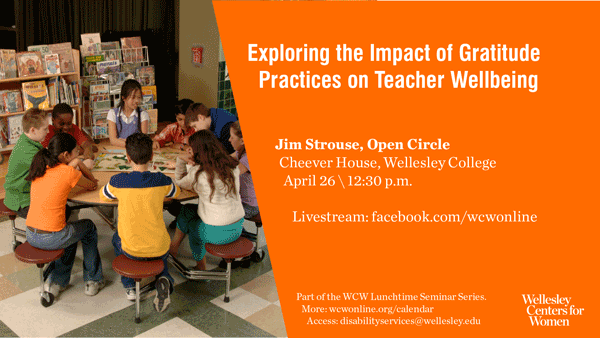 Wellesley College program manager will discuss emerging research on gratitude in elementary school classrooms
Research has shown that gratitude can be transformational for both students and teachers, increasing their wellbeing and lessening teacher burnout. Jim Strouse, M.Ed., of Open Circle will discuss this theory in the presentation, "Exploring the Impact of Gratitude Practices on Teacher Wellbeing," on Thursday, April 26, from 12:30 to 1:30 p.m. at Cheever House, 828 Washington St, Wellesley. This program is part of the spring Lunchtime Seminar Series hosted by the Wellesley Centers for Women (WCW), a program of Wellesley College.
During this presentation, Strouse will provide an overview of the emerging research in the field of gratitude in education, data and analysis of Open Circle's gratitude resources provided to teachers launched in December 2016, current findings based on educator feedback and impact of utilizing gratitude practices to promote wellbeing, and emerging gratitude resources developed by Open Circle.
Strouse is a program manager at Open Circle. Having worked in public schools, business, and higher education, he brings 15 years of varied training, coaching, and teaching experience to this role. Open Circle, an action program of WCW, is a leading provider of evidence-based curriculum and professional development for social and emotional learning in elementary schools. Since 1987, the program has reached 2 million children and 15,000 educators. It is currently used in over 300 schools across the United States.
The Lunchtime Seminar Series at WCW is free and open to the public. Most programs are held Thursdays, 12:30 - 1:30 p.m. at the Centers' Cheever House location (828 Washington St, Wellesley), and parking is available on site. Guests are invited to bring their lunches; WCW will provide tea and coffee. For accessibility questions, contact Disability Services at Wellesley College at disabilityservices@wellesley.edu or call 781.283.2434. The Lunchtime Seminar Series schedule is subject to change. To confirm program lineup and location, call 781.283.2500 or visit wcwonline.org/calendar.
For those who are unable to attend in person, the program will be streamed live on the WCW Facebook page (@wcwonline). Recordings from past seminars are posted online at wcwonline.org/video.
The Wellesley Centers for Women (WCW) is the largest academic, women-and gender-focused, social-change-driven, research-and-action institute in the United States, located at Wellesley College. Scholars at WCW advance gender equality, social justice, and human wellbeing through high-quality research, theory, and action programs. Areas of work include: Education, Economic Security, Mental Health, Youth and Adolescent Development, and Gender-Based Violence.
April 2, 2018