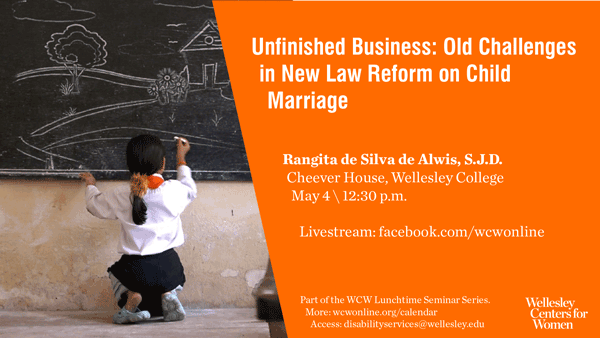 Renowned human rights scholar to visit Wellesley College to discuss challenges to reforming child marriage laws
In the developing world, one third of girls are married before the age of 18, according to the International Center for Research on Women. Rangita de Silva de Alwis, S.J.D., will discuss how advocates from across the globe are trying to change laws to prevent child marriage during the presentation, "Unfinished Business: Old Challenges in New Law Reform on Child Marriage," on Friday, May 4, from 12:30 to 1:30 p.m. at Cheever House, 828 Washington St, Wellesley. This program is part of the spring Lunchtime Seminar Series hosted by the Wellesley Centers for Women (WCW), a program of Wellesley College.
A rash of legislation combating child marriage, and pledges by political leaders—including those of Sheikh Hasina, the prime minister of Bangladesh, and Joyce Banda, the former president of Malawi— to fight child marriage in their countries, reveal loopholes in the laws that roll back the promise of law reform. In this presentation, Dr. de Silva de Alwis will consider recent legal revisions in Bangladesh and Zimbabwe, along with comparative perspectives of Malawi and other countries, to determine the promises and potential pitfalls of such reforms.
Two important reformist initiatives have captured the attention of women and their governments in Bangladesh and Zimbabwe. In both countries, child marriage is pervasive. Bangladesh has one of the highest child marriage rates in the world and the highest rate of marriage involving girls under age 15. According to figures published by UNICEF in 2016, 52 percent of girls in Bangladesh are married by the age of 18, and 18 percent by the age of 15. The numbers are even more troubling in rural areas, where 71 percent of girls are married before the age of 18, compared to 54 percent in urban areas. In Zimbabwe, according to UNICEF's data, 32 percent of girls are married by the age of 18. Dr. de Silva de Alwis will examine the complicated definition of the "Best Interest of the Child" in Bangladesh and Zimbabwe against the backdrop of a changing legal landscape for child marriage.
Throughout her career, Rangita de Silva de Alwis, S.J.D., has worked with networks of global institutions, civil society, and government organizations to develop human rights initiatives. She is a senior scholar at WCW and was the director of international human rights policy programs there until 2012. She was the inaugural director of the Global Women's Leadership Initiative and the Women in Public Service Project launched by Secretary Hillary Clinton and the Seven Sisters Colleges at Wellesley College, which then moved to the Woodrow Wilson International Center for Scholars. Currently, she is the associate dean of international affairs at University of Pennsylvania Law School where she teaches international women's human rights law.
The Lunchtime Seminar Series at WCW is free and open to the public. Most programs are held Thursdays (though this program will be held on a Friday), 12:30 - 1:30 p.m. at the Centers' Cheever House location (828 Washington St, Wellesley), and parking is available on site. Guests are invited to bring their lunches; WCW will provide tea and coffee. For accessibility questions, contact Disability Services at Wellesley College at disabilityservices@wellesley.edu or call 781.283.2434. The Lunchtime Seminar Series schedule is subject to change. To confirm program lineup and location, call 781.283.2500 or visit wcwonline.org/calendar.
For those who are unable to attend in person, the program will be streamed live on the WCW Facebook page (@wcwonline). Recordings from past seminars are posted online at wcwonline.org/video.
The Wellesley Centers for Women (WCW) is the largest academic, women-and gender-focused, social-change-driven, research-and-action institute in the United States, located at Wellesley College. Scholars at WCW advance gender equality, social justice, and human wellbeing through high-quality research, theory, and action programs. Areas of work include: Education, Economic Security, Mental Health, Youth and Adolescent Development, and Gender-Based Violence.
April 16, 2018