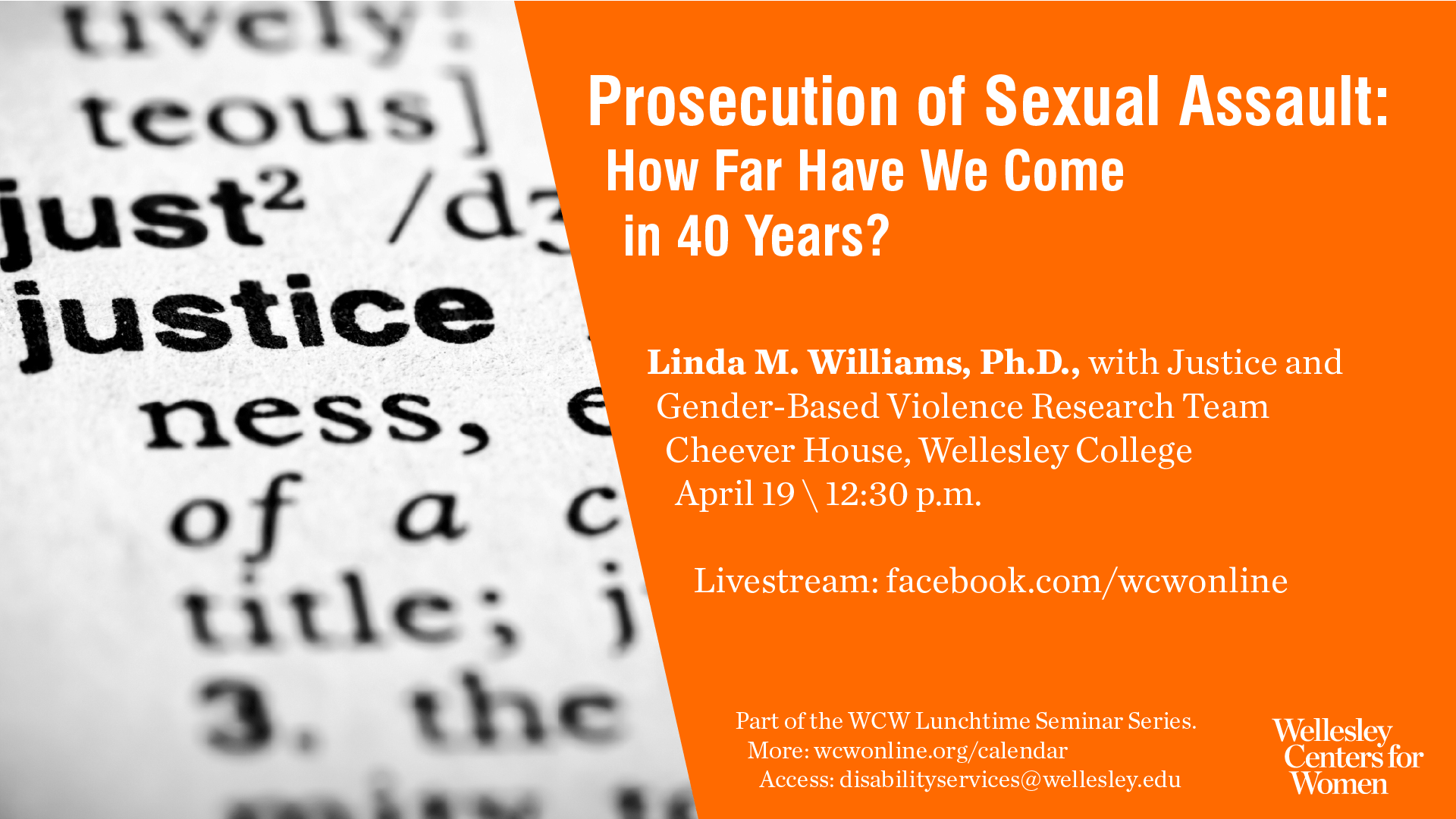 Wellesley College research scientist to discuss changes in the justice system response to sexual assault over the last four decades
In 1979, The Aftermath of Rape, co-authored by Linda (Meyer) Williams, Ph.D., was published and reported a very high level of sexual violence case attrition -- that is, many sexual assault reports made to the police were never followed up and few were prosecuted. Dr. Williams will discuss how the landscape has changed since during the presentation, "Prosecution of Sexual Assault: How Far Have We Come in 40 Years?" on Thursday, April 19, from 12:30 to 1:30 p.m. at Cheever House, 828 Washington St, Wellesley. This program is part of the spring Lunchtime Seminar Series hosted by the Wellesley Centers for Women (WCW), a program of Wellesley College. "In the past 40 years in the U.S., we have seen progress in response to sexual violence, but careful research shows that there remains a very high rate of case attrition," said Dr. Williams.
In this seminar, members of WCW's Justice and Gender-Based Violence Research (JGBVR) team, headed by Dr. Williams, will present new findings from their recent study of over 3,000 cases of rape reported to the police in six jurisdictions across the U.S. They found that most cases do not result in prosecution -- in fact one in three cases with probable cause did not result in arrest. Based on qualitative interviews with prosecutors, detectives, and victim services, the researchers will unpack the reasons, rationales, and justifications for case attrition and how law, justice, and system practices intersect to maintain the high rates of case attrition. The discussion will raise questions about how after four decades of advocacy for victims of rape, so few see justice served and whether and how the #MeToo movement will change this. Dr. Williams is a senior research scientist and co-director of the Justice and Gender-Based Violence Research Initiative at the WCW. The focus of her current work is on justice system response to sexual violence, commercial sexual exploitation of women and children, human trafficking, intimate partner violence, and child maltreatment. The Lunchtime Seminar Series at WCW is free and open to the public. Most programs are held Thursdays, 12:30 - 1:30 p.m. at the Centers' Cheever House location (828 Washington St, Wellesley), and parking is available on site. Guests are invited to bring their lunches; WCW will provide tea and coffee. For accessibility questions, contact Disability Services at Wellesley College at disabilityservices@wellesley.edu or call 781.283.2434. The Lunchtime Seminar Series schedule is subject to change. To confirm program lineup and location, call 781.283.2500 or visit wcwonline.org/calendar.
For those who are unable to attend in person, the program will be streamed live on the WCW Facebook page (@wcwonline). Recordings from past seminars are posted online at wcwonline.org/video.
The Wellesley Centers for Women (WCW) is the largest academic, women-and gender-focused, social-change-driven, research-and-action institute in the United States, located at Wellesley College. Scholars at WCW advance gender equality, social justice, and human wellbeing through high-quality research, theory, and action programs. Areas of work include: Education, Economic Security, Mental Health, Youth and Adolescent Development, and Gender-Based Violence.
March 26, 2018