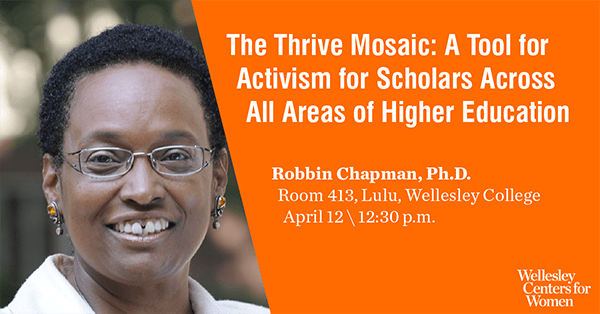 Robbin Chapman, Ph.D., higher education educator and strategist, will discuss the Thrive Mosaic
In today's politically-charged climate, activism is bubbling up across college campuses. Robbin Chapman, Ph.D., will share how scholars can get involved during the presentation, "The Thrive Mosaic: A Tool for Activism for Scholars Across All Areas of Higher Education," on Thursday, April 12, from 12:30 to 1:30 p.m. in Room 413 of the Lulu Chow Wang Campus Center at Wellesley College. This program is part of the spring Lunchtime Seminar Series hosted by the Wellesley Centers for Women (WCW), a program of Wellesley College.
"Few issues in academia are more complex than ensuring all talent can thrive without obstacles, whether due to intentional disruption or benign indifference," said Dr. Chapman. She asserts that scholars can work to make change on their campuses using the Thrive Mosaic, a developmental framework for equitable development, access, and opportunity for scholars across higher education.
The Thrive Mosaic developmental framework coalesces the elements of supportive sub-networks, focusing them on scholar development, advocacy, and self-care, and actively forestalling systemic marginalization and obstructionist practices. It uses systems thinking methodologies to identify the actors and artifacts that comprise the "ecology of academia" and to address causal deficiencies that impede scholar success. During this presentation, Dr. Chapman will discuss the framework and how scholars—students, faculty, and administrators—can utilize the Thrive Mosaic to better support overall achievement and success.
Dr. Chapman is associate dean of diversity, inclusion and belonging at the Harvard Kennedy School. She was formerly the associate provost and academic director of Diversity & Inclusion, and Lecturer of Education at Wellesley College. Dr. Chapman taught a design-based learning technology course, Learning and Teaching in a Digital World, that challenged her students to re-imagine how learning flourishes in partnership with digital technologies. Chapman earned her S.M. and her Ph.D. degrees in Electrical Engineering and Computer Science from Massachusetts Institute of Technology, where she conducted research at the MIT Artificial Intelligence Laboratory and the MIT Media Laboratory. Her research interests include design and use of computational tools for learning in public spaces, equity issues as they relate to learning technologies, and technologies for scholar activism.
The Lunchtime Seminar Series at WCW is free and open to the public. Most programs are held Thursdays, 12:30 - 1:30 p.m. at the Centers' Cheever House location (828 Washington St, Wellesley), though this program will be held in the Lulu Chow Wang Campus Center at Wellesley College. Guests are invited to bring their lunches; WCW will provide tea and coffee. For accessibility questions, contact Disability Services at Wellesley College at disabilityservices@wellesley.edu or call 781.283.2434. The Lunchtime Seminar Series schedule is subject to change. To confirm program lineup and location, call 781.283.2500 or visit wcwonline.org/calendar. For those who are unable to attend in person, the program will be streamed live on the WCW Facebook page (@wcwonline). Recordings from past seminars are posted online at wcwonline.org/video.
The Wellesley Centers for Women (WCW) is the largest academic, women-and gender-focused, social-change-driven, research-and-action institute in the United States, located at Wellesley College. Scholars at WCW advance gender equality, social justice, and human wellbeing through high-quality research, theory, and action programs. Areas of work include: Education, Economic Security, Mental Health, Youth and Adolescent Development, and Gender-Based Violence.
March 19, 2018