For Immediate Release: September 25, 2017
Contact:
Megan Cassidy, Senior Communications Associate
Wellesley Centers for Women
781.283.2483 \ megan.cassidy@wellesley.edu
Wellesley College Students Bring Science Education to Ghana
Presentation to feature history and next steps for non-profit science education startup.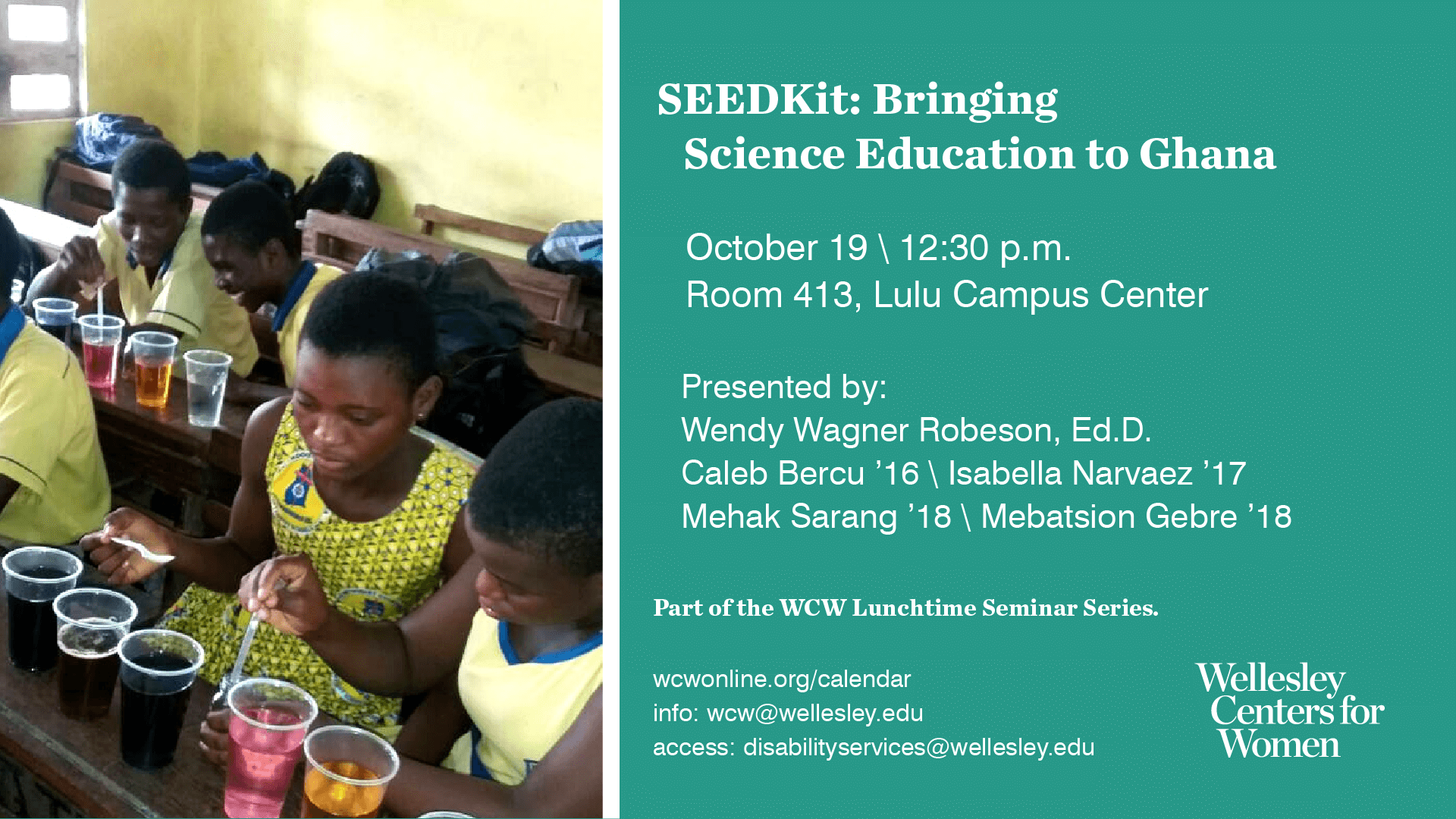 WELLESLEY, Mass. – With the assistance of a mentor from the Wellesley Centers for Women, a group of Wellesley College students came together to develop SeedKit, an affordable lab-in-a-box that can be used to teach hands-on science experiments in communities with few resources. The students -- Caleb Bercu '16, Isabella Narvaez '17, Mebatsion Gebre '18, and Mehak Sarang '18 -- along with their mentor, Wendy Wagner Robeson, Ed.D., will share the story of how SeedKit came to be during the presentation, "SeedKit: Bringing Science Education to Ghana," on Thursday, October 19, from 12:30 to 1:30 p.m., in Room 413 of the Lulu Chow Wang Campus Center at Wellesley College. This program will kick off the fall Lunchtime Seminar Series hosted by the Wellesley Centers for Women (WCW), a program of Wellesley College.
The non-profit SeedKit project originated in 2014 when Bercu, founder of the project, had the idea to create an all-inclusive lab-in-a-box that could be used without running water or electricity. To develop the idea, Bercu worked closely with David Ellerby, Ph.D., an associate professor in the Wellesley College Biological Sciences Department, who continues to mentor the group and has provided funding for the project in the past.
In the summer of 2015, Bercu further developed SeedKit while working as a student research intern with Dr. Robeson, a senior research scientist at WCW. The following summer, Narvaez continued this work, also as a student research intern with Dr. Robeson. That summer, and the following one (2016 and 2017), SeedKit members partnered with The Exploratory and the Practical Education Network and travelled to Ghana where they introduced SeedKit in rural schools. With sponsorship from the Wellesley College Career Education Department, the SeedKit team established a yearly summer internship in Ghana to continue future development of the project.
During the October 19 presentation, the SeedKit team will offer an overview of outcomes from the partnership in Ghana and discuss next steps for the project. They will also share how their hands-on approach to science education allows students to engage meaningfully with the material and take ownership of their education as they learn how science is a part of their everyday lives.
Wendy Wagner Robeson, Ed.D., a member of the Work, Families, and Children Team at WCW, studies child development, early child care, early education, and school readiness, and is a mentor to the SeedKit project.
Caleb Bercu '16 is the founder of SeedKit and a senior consultant at Booz Allen Hamilton. As a student at Wellesley College, Bercu was granted the Anne Murray Ladd fellowship by WCW, which funded his work as a research intern with Dr. Robeson. Isabella Narvaez '17 is from Colombia and holds a degree in Biological Sciences with a minor in Psychology. While at Wellesley College, she also worked as a student research intern with Dr. Robeson to develop methods for collecting data on the efficacy of SeedKit. Mebatsion Gebre '18 is an international student from Ethiopia studying Physics at Wellesley College and joined the SeedKit team in 2015. Mehak Sarang '18, a Physics major, also joined the project in 2015 and traveled to Ghana with the project in summer 2016.
The Lunchtime Seminar Series at WCW is free and open to the public. Most programs are held Thursdays, 12:30 - 1:30 p.m. at the Centers' Cheever House location (828 Washington St, Wellesley), and parking is available in the on-site lot. *This program will be held in Room 413 of the Lulu Chow Wang Campus Center at Wellesley College.* Guests are invited to bring their lunches, and WCW will provide tea and coffee. For accessibility questions, contact Disability Services at Wellesley College at disabilityservices@wellesley.edu or call 781.283.2500 The Lunchtime Seminar Series schedule is subject to change. To confirm program lineup, call 781.283.2500 or visit wcwonline.org/calendar.
For those who are unable to attend in person, the program will be streamed live on the Wellesley Centers for Women Facebook page (@wcwonline). Recordings from past seminars are posted online at wcwonline.org/video.
The Wellesley Centers for Women (WCW) is the largest academic, women-and gender-focused, social-change-driven, research-and-action institute in the United States, located at Wellesley College. Scholars at WCW advance gender equality, social justice, and human wellbeing through high-quality research, theory, and action programs. Areas of work include: Education, Economic Security, Mental Health, Youth and Adolescent Development, and Gender-Based Violence.