For Immediate Release: October 16, 2017
Contact:
Megan Cassidy, Senior Communications Associate
Wellesley Centers for Women
781.283.2483 \ megan.cassidy@wellesley.edu
Reading From a Novel by Amy Hoffman: The Off Season
Local author to read excerpts from her new novel about a lesbian couple living in Provincetown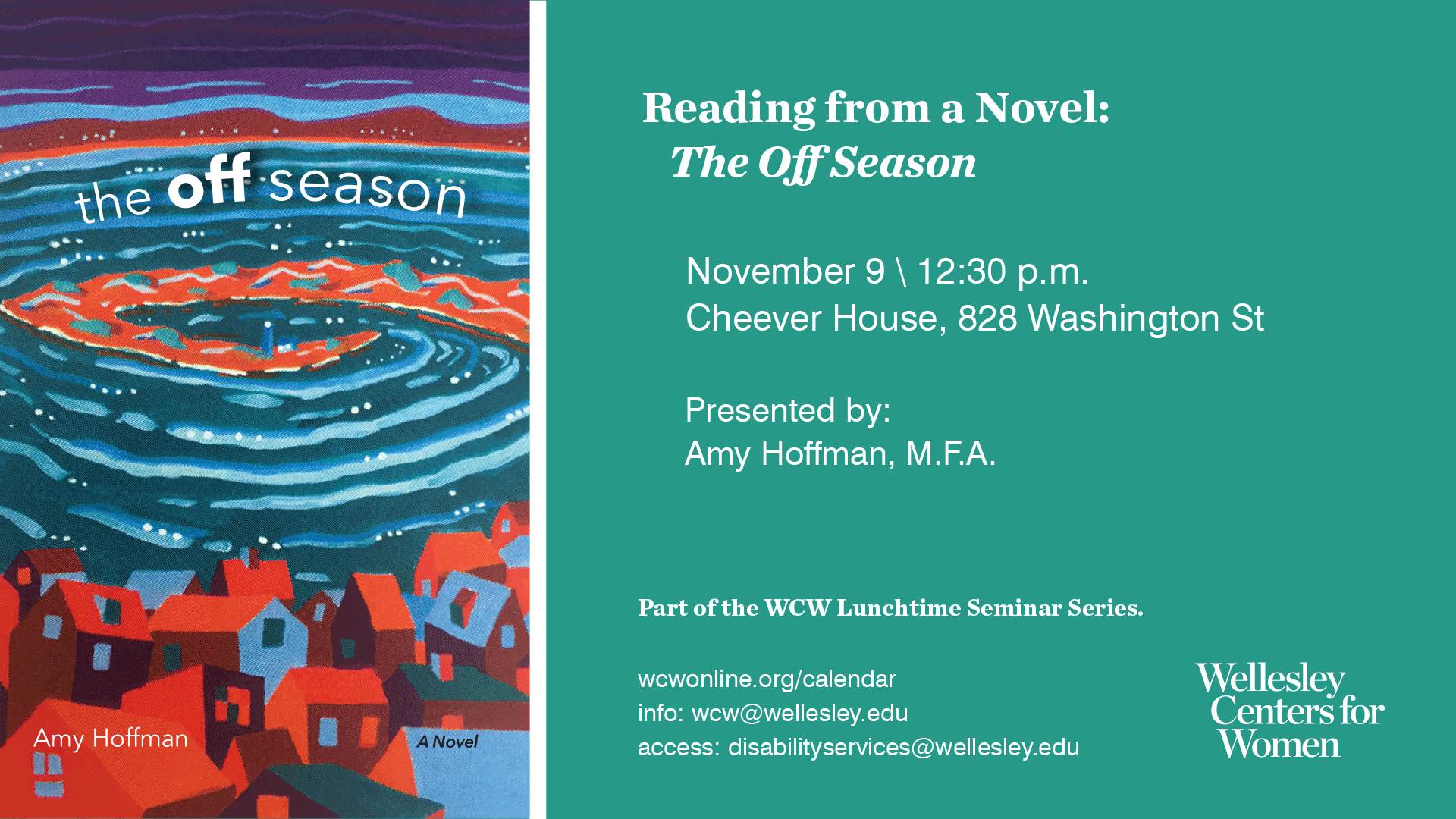 Amy Hoffman, M.F.A., a Massachusetts-based author and editor-in-chief of the Women's Review of Books, will read excerpts from her new novel, The Off Season on Thursday, November 9, 12:30 - 1:30 p.m., at Cheever House, 828 Washington St, Wellesley. Following the reading, attendees will have the opportunity to purchase the novel and speak with the author. This program is part of the fall Lunchtime Seminar Series hosted by the Wellesley Centers for Women (WCW), a program of Wellesley College.
The Off Season is set in the resort/LGBTQ haven/artists' colony of Provincetown, Mass. Nora Griffin, an artist, and her partner Janelle Burnside, a tech genius, have recently moved there from Brooklyn, for Janelle to recover from breast cancer treatment and for Nora to paint. But then, the charismatic Baby Harris flirts into Nora's life in her red cowboy boots, and during a damp, windy winter, Nora must contend with heartbreak, aging, and local environmental worries, while creating a mural she hopes will be her masterpiece. Along the way, she encounters the chain-smoking, motor scooter–driving landlady Miss Ruby; Reverend Patsy, the vegan minister of the Unitarian church; and Brunhilde, barista extraordinaire and rival for Baby's affections. As the first tourists begin to arrive in June, Nora must decide what she really wants from life.
Amy Hoffman, M.F.A., is editor-in-chief of the Women's Review of Books, which is published by the Wellesley Centers for Women in collaboration with Old City Publishing in Philadelphia. She is a member of the creative nonfiction faculty at Pine Manor College's M.F.A. program. A writer and community activist, she has been an editor at Gay Community News, South End Press, and the Unitarian Universalist World magazine. In addition to her novel The Off Season, Hoffman is the author of three memoirs -- Lies about My Family; An Army of Ex-Lovers: My Life at the Gay Community News; and Hospital Time.
The Lunchtime Seminar Series at the Wellesley Centers for Women is free and open to the public. Most programs are held Thursdays, 12:30 - 1:30 p.m. at the Centers' Cheever House location (828 Washington St, Wellesley) and parking is available on site. Guests are invited to bring their lunches, and WCW will provide tea and coffee. For accessibility questions, contact Disability Services at Wellesley College at disabilityservices@wellesley.edu or call 781.283.2434. The Lunchtime Seminar Series schedule is subject to change. To confirm program lineup and location, call 781.283.2500 or visit wcwonline.org/calendar.
For those who are unable to attend in person, the program will be streamed live on the Wellesley Centers for Women Facebook page (@wcwonline). Recordings from past seminars are posted online at wcwonline.org/video.
The Wellesley Centers for Women (WCW) is the largest academic, women-and gender-focused, social-change-driven, research-and-action institute in the United States, located at Wellesley College. Scholars at WCW advance gender equality, social justice, and human wellbeing through high-quality research, theory, and action programs. Areas of work include: Education, Economic Security, Mental Health, Youth and Adolescent Development, and Gender-Based Violence.