For Immediate Release: October 17, 2016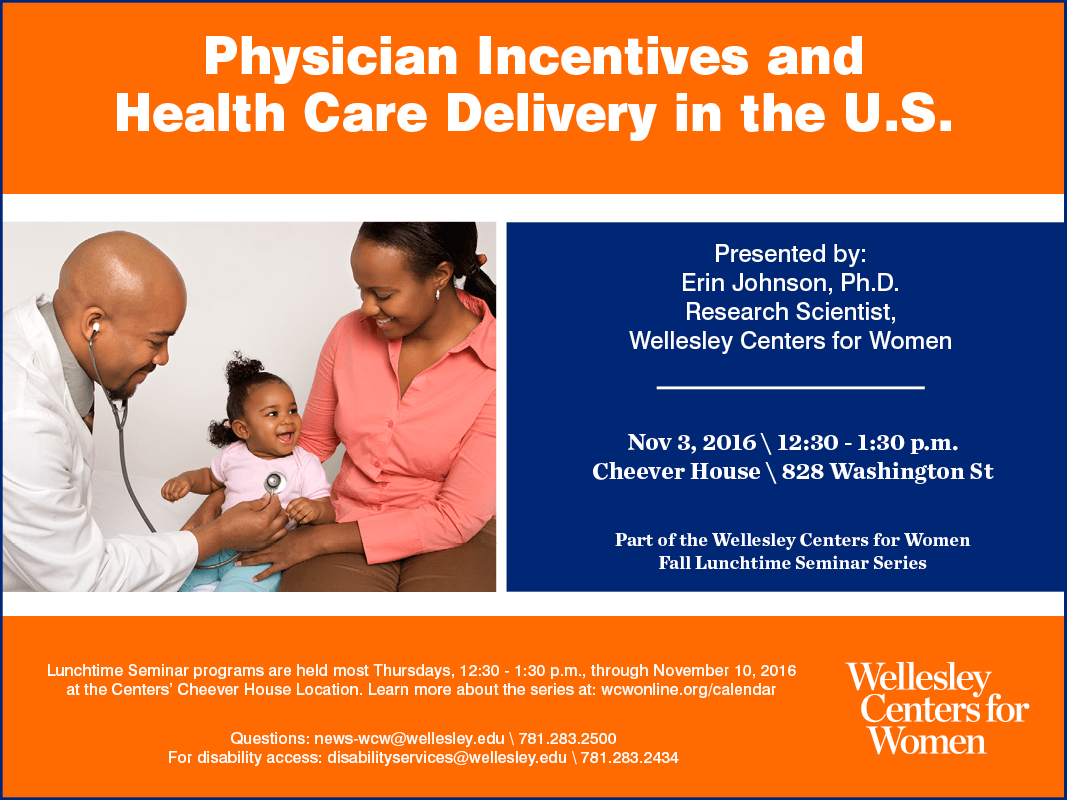 WELLESLEY, Mass. – Physicians face complex, often subjective, treatment decisions and are expected to act in their patients' best interest. However, physicians are human and susceptible to biases. Erin Johnson, Ph.D. will tackle this topic in the presentation, "Physician Incentives and Health Care Delivery in the U.S.," on Thursday, November 3, from 12:30 to 1:30 p.m., at Cheever House, 828 Washington St, Wellesley. The program is part of this fall's Lunchtime Seminar Series hosted by the Wellesley Centers for Women (WCW) at Wellesley College.
During this presentation, Johnson will explore the factors that influence physician decision-making, discussing how physicians are affected by financial incentives, convenience concerns, and relationships with patients, based on her research using large administrative datasets. The highlighted projects cover decision-making in cardiac care and in childbirth, with a focus on treatment choices and patient outcomes.
Erin Johnson, Ph.D. is a research scientist at the Wellesley Centers for Women (WCW) and a visiting lecturer in the economics department at Wellesley College. She is an applied microeconomist with a research focus on the economics of health care. Prior to joining WCW earlier this year, Johnson was an assistant professor at the Massachusetts Institute of Technology (MIT).
The Lunchtime Seminar Series at WCW is free and open to the public. Most programs are held Thursdays, 12:30 - 1:30 p.m. at the Centers' Cheever House location. Guests are invited to bring their lunches, and WCW will provide tea and coffee. For accessibility questions, contact Disability Services at Wellesley College at disabilityservices@wellesley.edu or call 781.283.2434. For those who are unable to attend in person, many programs are recorded and audio files are posted online at wcwonline.org/audio. The Lunchtime Seminar Series schedule is subject to change. To confirm program lineup, call 781.283.2500 or visit wcwonline.org/calendar.
The Wellesley Centers for Women (WCW) is the largest academic, women-and gender-focused, social-change-driven, research-and-action institute in the United States, located at Wellesley College. Scholars at WCW advance gender equality, social justice, and human wellbeing through high-quality research, theory, and action programs. Areas of work include: Education, Economic Security, Mental Health, Youth and Adolescent Development, and Gender-Based Violence.